Sports
WSU guard Mike Ladd plays through pain
Thu., Feb. 16, 2012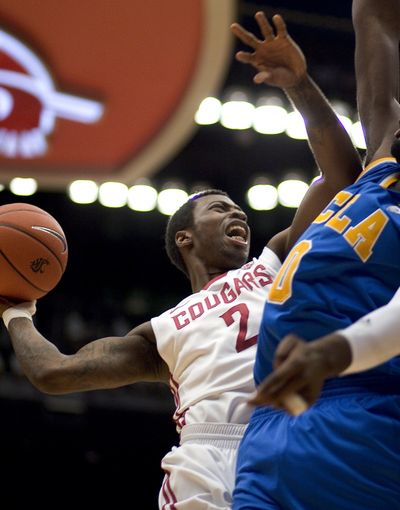 PULLMAN – If Mike Ladd is one of the toughest players on Washington State's roster, he is also one of the most honest. He knows his right thumb is hurting, just as it has been for much of this season, and the junior guard doesn't mince words when addressing the amount of pain he's feeling.
The way Ladd sees it, that's just how it has to be.
"You might see me grab my hand every once in a while, but I try not to show emotion on the court," Ladd said. "But it's hurting. It's hurting me. I'm not trying to show that much emotion, I'm just trying to play through the pain."
If he wants to continue playing at all this season, he doesn't have a choice. Ladd said the torn ligament in his right thumb will likely require surgery at season's end. But rather than continue to sit – he'd already missed 10 games this season – Ladd decided two weeks ago that he'd prefer to play with the pain instead of waiting for it to heal.
So uncertain was Ladd's health that coach Ken Bone said it was "up in the air" whether he'd be able to play again this year.
In four games since returning, Ladd has provided just about everything the Cougars could have expected, given the circumstances – solid defense, another athletic body crashing the boards and an increasing comfort shooting the basketball and driving to the rim. He's averaged 24.5 minutes per game in that span, and will likely need to give a similar contribution when the Cougars host Arizona tonight at 6 at Beasley Coliseum.
"I feel like what he's brought is exactly what we we're looking for," Bone said, "and he's done it in a situation where I know that thumb still bothers him, but I think he's fighting through some adversity. But he's not the only one."
Ladd's best offensive game was last Saturday, when he scored 13 points on 6-of-8 shooting in a loss to Oregon. Perhaps the highlight of that outing were the two perimeter jumpers he made, one of them beyond the 3-point arc and one just inside it. Ladd's 3-point acumen was expected to give the Cougars a boost this season – he was Fresno State's best 3-point shooter at 38.1 percent – but the thumb injury has held him back, and he's made just 8 of 24 attempts this season.
Showing the wrap on his right hand, Ladd explains that he's experimented with a number of tape jobs in an attempt to give himself the most comfortable grip for his jump shot as possible. But because he prefers to rest the ball on his palm and spread his thumb across the ball – a somewhat uncommon approach – he's had to tweak his release a bit.
It's likely not what Ladd, nor the Cougars, expected from the junior when he decided to transfer to WSU from Fresno State following the 2010 season (he sat out last season, per NCAA transfer rules). Ladd is good friends with junior point guard Reggie Moore – the two played together at Rainier Beach High School in Seattle, and have known each other since fourth grade – and Moore played middleman between Ladd and WSU's coaches when Ladd approached him about wanting to transfer.
"He can score more, he can be the primary defender," Moore said. "I'm sure he can lock up anybody in this conference if he really wanted to. He can score it better. He can dunk on anybody. You'll see more of that."
Bone said Ladd has handled his injury as well as any player he's coached. Even when he wasn't playing, Ladd still participated in every meeting and film session. Those leadership qualities earned him the privilege of being named one of the team's captains before he ever played a game here.
"I think that says a lot about his character and work ethic and how the guys respected what he was doing in preparation for our season," Bone said.
"There's not that many games left in the season," Ladd said. "It's either now or never. I could sit out the rest of the season and let it heal on its own, but I'd rather keep playing."
Local journalism is essential.
Give directly to The Spokesman-Review's Northwest Passages community forums series -- which helps to offset the costs of several reporter and editor positions at the newspaper -- by using the easy options below. Gifts processed in this system are not tax deductible, but are predominately used to help meet the local financial requirements needed to receive national matching-grant funds.
Subscribe to the sports newsletter
Get the day's top sports headlines and breaking news delivered to your inbox by subscribing here.
---