Obituary: Anderson, Della Elithe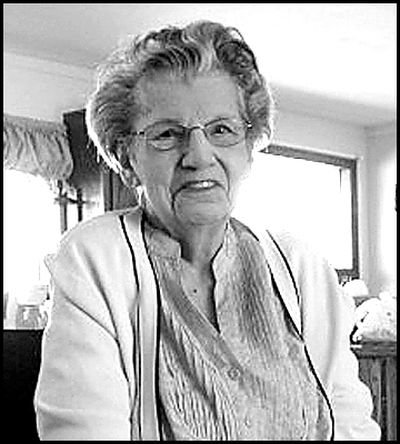 ANDERSON,

Della Elithe

(Age 92)

Passed away January 26, 2012 in Trout Creek, MT.
She was born March 12, 1919 in Lemon, SD to Naomi and Lesley Moore.
Her mother died giving birth to Della and her maternal grandmother (Pardum) legally adopted and raised both Della and her older sister Lillian.
She was married and had three children in Ekalaka, MT with Joseph Guy Gross.
After a divorce in 1946 she moved with her children to Spokane.
Della married Russell (Rusty) G. Anderson in 1948, becoming "Mom" to his son Terry, and Rusty "Dad" to her kids Leone, Lloyd and Richard.
Della and Rusty developed a loving home for their combined family where she used her innovative talents to provide the most she could with what she had to work with.
She loved to play cards and supplied laughter and fond memories for her opponents.
She is survived by her daughter Leone (Bill) Newman, Tucson, AZ; sons Lloyd (Betty) Anderson, Trout Creek, MT, Terry (Chris) Anderson, Bend, OR and Richard (Mary Kay) Anderson of Spokane; nephew Duge (Monte Lou) Munro, Ekalaka, MT; 14 grandchildren; numerous great-grandchildren and 4 great-great-grandchildren.
Della was preceded in death by her loving husband Rusty in 2010; sister Lillian and grandsons Darin Anderson, Christopher Anderson and Johnnie Madsen.
At her request a private graveside service will be held on Friday February 17th.
Memorial donations may be made to your local Hospice.
---