News > Washington Voices
Students' raps convey life lessons
Exercise uses music form to teach about bullying
Thu., Feb. 23, 2012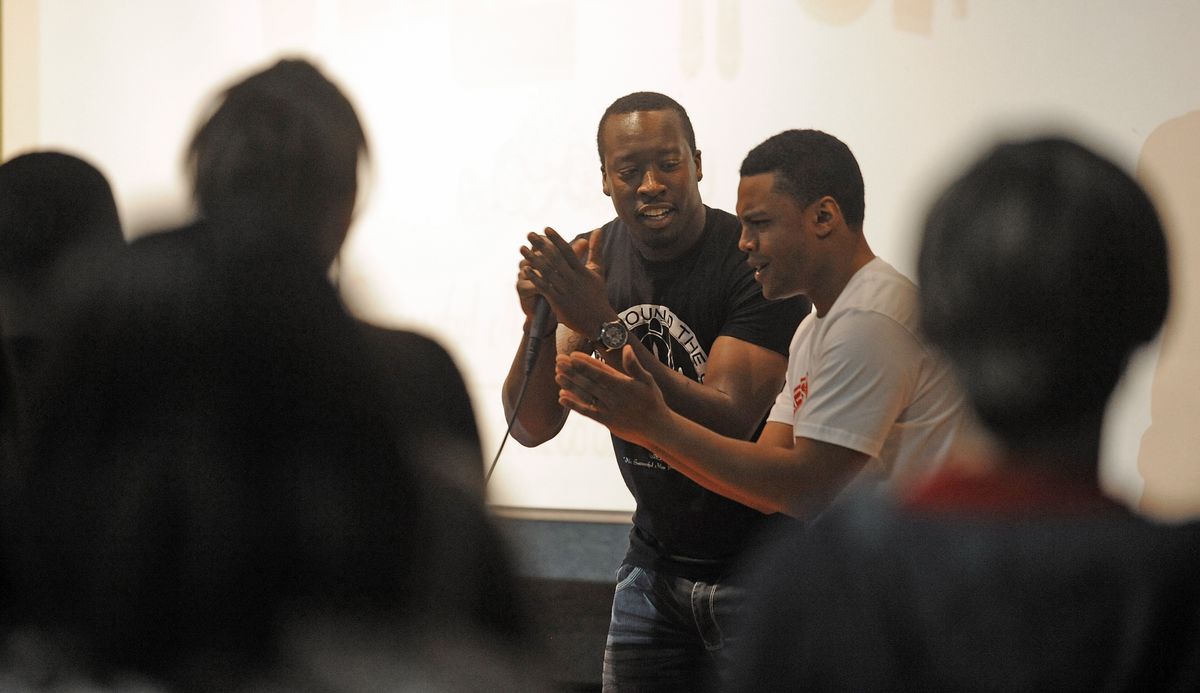 Isaac Butts, left, and Skylar Lamb, members of Wake Up, work a rap during a Sheridan Elementary School sixth-grade assembly on Friday. (PHOTOS BY CHRISTOPHER ANDERSON)
There's nothing uniform about sixth-graders. Some are so tall they look like high school freshmen, others so small they look like fourth-graders. Individual clothing styles run the gamut from jeans and a T-shirt, to sports logos galore and vintage dresses with a homemade twist.
Sixth grade is also a time when personal communication styles are being tried out, and sometimes that leads to bullying.
Adam Barry is a student teacher at Sheridan Elementary School in east Spokane, and during his time there he has put together an anti-bullying and self-esteem building curriculum using rap music.
On Friday, he invited his rap musician friends from the Tri-Cities to participate in a special assembly for Sheridan's sixth-graders.
"It went beyond my wildest expectations. The kids totally latched on to it," said Barry, who will get his teacher's certification in June.
Barry's rap musician friends Isaac Butts, Skylar Lamb and DeVaunte Lamb together form Wake Up, an inspirational rap group and no, there's not one four-letter word in their lyrics.
"They stayed throughout the day, went to lunch with the kids and went outside to play with them," Barry said. "And they did a question-and-answer session with the kids. The kids were asking very thoughtful questions."
Leading up to Friday's assembly, students in Barry's class had worked on writing their own raps and some got to perform at the assembly with Wake Up. The raps included lyrics such as "bad names don't last forever" and "people are bullied for no good reason" and "more dreams come through, when we stand together."
The students' raps were part of VocabuBarry.
"It's kind of my brainchild and now that I am a student teacher I get to implement it," Barry said. The VocabuBarry exercises used a family-friendly rap song with a clear message, as the foundation for working on English comprehension, vocabulary building and dictionary skills.
"I was very clear that I would only take clean songs, and songs that have something to say," Barry said.
The students embraced the idea. Together with study partners they penned their own rap songs in notebooks.
"The raps the kids wrote were about being unique," Barry said. "Sometimes I'd give them a line or two to start off with, like if someone had a problem – then they could write about trying to help them."
During the Wake Up presentation, Butts shared a bit of his personal story with the students, mainly that he was a successful walk-on football player at the University of Idaho.
"I played for all four years, and then I got into an altercation, my pride got the best of me and I got my jaw broke," Butts said. "I couldn't play any longer. I missed out. I didn't get to play in the NFL."
The message was clear: Don't get into a fight so you have to go to the principal's office, move on instead.
Wake Up then helped the students work through skits about how to deflect bullying using football terms:
Spin off the bully coming at you and just keep moving.
Stiff arm the bully coming at you, just say "I have no time for you today" and move on.
"Be mature. Walk away from it," said Butts, "put it behind you. Put it in the past."
Barry said the three rappers are some of his very best friends.
"They are just starting out with this idea of a Wake Up movement, and they are trying to make it a nationwide movement to spread positivity," Barry said. "Their message is to be optimistic and focus on setting goals and obtaining them. Wake up, and stop being a follower."
Barry is enrolled in the masters in teaching program at Washington State University, Spokane, and will present his thesis in December. He's now thinking of adding VocabuBarry and Wake Up to his thesis work, though that wasn't originally his plan.
"My favorite part of all this has been the support of everybody here at Sheridan," Barry said. "The support and help from the sixth-grade staff for the rap and for the Wake Up movement – that's been my favorite part."
Local journalism is essential.
Give directly to The Spokesman-Review's Northwest Passages community forums series -- which helps to offset the costs of several reporter and editor positions at the newspaper -- by using the easy options below. Gifts processed in this system are not tax deductible, but are predominately used to help meet the local financial requirements needed to receive national matching-grant funds.
Subscribe now to get breaking news alerts in your email inbox
Get breaking news delivered to your inbox as it happens.
---