Sports
Storm killed Alabama player's girlfriend as 2 huddled in home
Sun., Jan. 8, 2012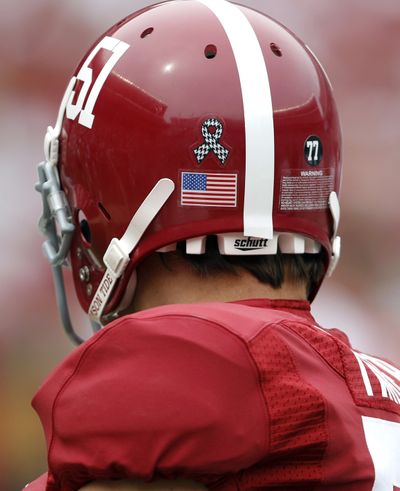 NEW ORLEANS – Carson Tinker remembers huddling in a walk-in closet in the house on 25th Street, squeezing his girlfriend, Ashley Harrison, as the rumbling grew louder and the walls began to shake.
She screamed that she was scared. He whispered that everything would be OK.
He doesn't remember much after that.
The long snapper for No. 2 Alabama was thrown like a ragdoll by the brute force of the EF-4 tornado. He was knocked unconscious when he landed some 50 yards away, his young, strong body torn up by debris twisting and churning at 190 mph.
It wasn't until Tinker awoke in the hospital hours later that he learned that Ashley had died, the love of his life literally ripped from his arms.
Now, as the Crimson Tide prepare to play in the BCS championship against top-ranked LSU on Monday night, the healing continues in Tuscaloosa. Players and coaches still find themselves at the oddest of times reflecting on that awful April day, when the twister tore through their picturesque college town, killing more than 50 and injuring hundreds more.
"We're a family, we really are," Tinker said this week. "There were guys who went through the same thing I went through."
Not many. Certainly not the same.
That day broke dark and angry, lightning streaming across the sky, reports periodically warning folks in Tuscaloosa that they should be prepared to seek shelter if a tornado was sighted.
Harrison, a senior honors student destined for law school, had decided to spend the afternoon with Tinker, her boyfriend of nearly a year. They watched a movie for a while before Tinker headed across the street to play with their dogs, his a German shepherd mix and hers a black Lab.
By the time he returned an hour later, the storm had grown in fury.
While they were taking shelter in the closet, Harrison called her mother back in Texas, something she did habitually whenever a storm was approaching. Darlene Harrison answered the phone.
"She said a storm was coming, and I said, 'Well, honey, are you OK?' And she said, 'Yeah, I'm OK. Everything's great.' They were kind of laughing," Darlene recalled, her voice cracking. "I said, 'Dad will call you in a little bit.' She said, 'I love you Mama,' and I said, 'I love you.' "
Darlene Harrison never heard from her daughter again.
"Forty minutes went by," she said. "We started calling, trying to find her, and couldn't get anybody. We tried her roommates, her friends from Dallas, nobody could answer. I thought, 'Oh my God, this is crazy.' I had to reach Ashley. I finally called Carson's mom, and she said, 'Darlene, Carson was taken in the storm. So was Ashley.' "
Tinker woke moments after the storm had passed, and was lucid enough to know that he had to find his girlfriend. He searched in vain, yelling out her name, before some bystanders realized how badly he was hurt. He was covered in blood, his wrist broken, to say nothing of the internal injuries.
He was in the hospital by the time Harrison's family arrived in Tuscaloosa.
"We searched all night long and we couldn't find her, and we finally got to the hospital around midnight," Darlene said.
"He was so torn up," she said. "We walked out of that room and said, 'If Carson looks like that, what does Ashley look like?' She was only 115 pounds."
They had resumed the search early the next morning when a police officer came to the site, asking them to identify a body on the tiny screen of a digital camera. It was Ashley.
Tinker still has a hard time talking about that day.
"I didn't choose to be in this situation," he said with a steady voice. "If everything was back to normal, I would be completely content with that. I didn't ask for this."
Tinker returned to the team this fall, helping the Crimson Tide to the verge of another national championship, the game of football giving him a chance to achieve some sense of normalcy.
He has also begun to speak at churches, giving a testimonial about living for the future and not the circumstances of today.
In the field across the street from where that house once stood, three small wooden crosses were put in the ground in the weeks after the tornado. One for Harrison, one for each of the dogs.
A lasting memorial of a night nobody will forget.
"I'm glad a lot of people have come up to me and told me that I've inspired them to do something," Tinker said, "and that's something I enjoy, and I get satisfaction from, being a blessing to others.
"I kind of hate how I got a spotlight put on me, though."
Local journalism is essential.
Give directly to The Spokesman-Review's Northwest Passages community forums series -- which helps to offset the costs of several reporter and editor positions at the newspaper -- by using the easy options below. Gifts processed in this system are not tax deductible, but are predominately used to help meet the local financial requirements needed to receive national matching-grant funds.
Subscribe to the sports newsletter
Get the day's top sports headlines and breaking news delivered to your inbox by subscribing here.
---