Sports
Daugherty's Cougars approach next hurdle
Sat., Jan. 14, 2012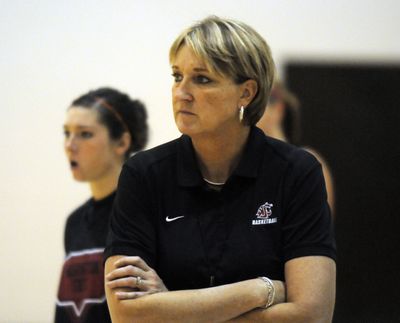 Smart coaches beg, borrow and steal from smarter coaches. 
June Daugherty also bought.
Specifically, when she and her husband, Mike, came to Pullman to reconstruct the women's basketball program at Washington State, they bought Dick and Anne Bennett's house.
Dick Bennett, of course, resurrected the terminal Cougars men's program before turning it over to his son Tony, who took it on a brief trip over the rainbow. During their interview trip to WSU, the Daughertys lunched with Tony and Laurel Bennett and inquired about Dick's retirement, at which point Tony offered, "Why don't you come up and meet him?"
So away they went to Dick's living room. Which is now June's living room. A Q-and-A ensued, and not about mortgages and garden mulch.
"I asked him, 'How did you turn this thing around?' " June recalled, "and what he shared was what you've heard before – that you have to find guys, I think he put it, you can live with while losing, who will learn from it and not freak out and can handle it – while getting better and understanding the big picture."
The big picture remains in a much softer focus for the Cougars women than what the Bennetts were able to sketch. Team Daugherty is not yet poised for an NCAA tournament breakthrough, even in Year 5 – but first things first.
The Cougars do appear poised to snap a 32-game losing streak to rival Washington today in Pullman, though the doing must still be done. 
Thirty-two in a row. Wait, you don't call that a rivalry. You call in the cavalry.
There is something of an asterisk attached to the streak, as Daugherty was on the other side for 22 of them before her surprise firing at UW in 2007 and resurfacing at Wazzu. Having proclaimed at her introduction how hungry she'd be to inflict some noogies on her old school, surely that desire hasn't been lost on her players – and possibly some paralysis has resulted. Maybe that's why Daugherty took pains this week to moderate the emotional factor.
"The important thing for us is play at the same level we play against Stanford or Cal and everybody we play this year."
OK. Now can we put the fun back in it, please?
"Anytime you're in an instate-rival game, there's always a lot more tension … and certainly a lot more on the line," she admitted. "It's just important to distinguish motivation from going out and playing your game."
The Cougars' game looks to be as good as it's been in 15 years or more, given the 9-7 record and the fact that more than half the losses have been to Top 25 teams. If the schedule has taken a toll on some of the Pac-12 statistical barometers, it's also kept WSU in the RPI's top 50 nationally – or about 250 spots ahead of the program Daugherty took over.
At the core are three seniors – April Cook, Rosie Tarnowski and Jazmine Perkins (who leads Wazzu in points, rebounds and steals) – who signed on with Daugherty that first year. This year is their chance to show that they're players the Cougs can win with as well as, like Dick Bennett put it, live with while losing.
It is a bit of a paradox that Bennett offered similar counsel to Paul Wulff when he took over the WSU football, and the progress of the two programs tracked along parallel lines. Daugherty's first four teams won 27 percent of their games; Wulff's, with fewer opportunities, 15 percent. But as athletic director Bill Moos noted, gains were made in recruiting, retention, development and all the off-the-field categories.
As a result, Daugherty got a reworked contract and extension to 2016. But Wulff got fired.
For which Moos had a particularly blunt rationale:
"Women's basketball," he said, "doesn't pay for football.
"To go back to somewhat old news, we needed to inject some energy into our (football) fans and we have seen that. My experience is that when football experiences success and it's the buzz, your other programs not only become better off financially but recruiting sees an uptick – all of a sudden your school is the fun place to be. When I was at Oregon, we won 13 Pac-10 championships – but only two of those were in football."
A championship still seems far away, but Daugherty can see the progress in small milestones – road wins at Arizona State the past two seasons, for instance, or the first weekend sweep in 10 years (and another to open Pac-12 play this year).
"The culture has changed in women's basketball here," Daugherty said, "and the way people look at Washington State. Fans enjoy coming out. It's an exciting brand of basketball. We've worked hard to become a much better team. We're changing the idea that it's the same old Cougs."
It's another reason why Washington isn't just another opponent. It's one thing to be 0-52 against Stanford – the Cardinal have been the league bully forever. But a good many of the Husky teams during this 32-game dominance have been ordinary, and some not even that.
Changing the culture has to come before changing the results. But eventually, the results have to change, too.
S-R correspondent John Blanchette can be reached at blanchettejp@gmail.com
Local journalism is essential.
Give directly to The Spokesman-Review's Northwest Passages community forums series -- which helps to offset the costs of several reporter and editor positions at the newspaper -- by using the easy options below. Gifts processed in this system are not tax deductible, but are predominately used to help meet the local financial requirements needed to receive national matching-grant funds.
Subscribe to the sports newsletter
Get the day's top sports headlines and breaking news delivered to your inbox by subscribing here.
---