Sports
Cougars come home after long gap
Thu., Jan. 19, 2012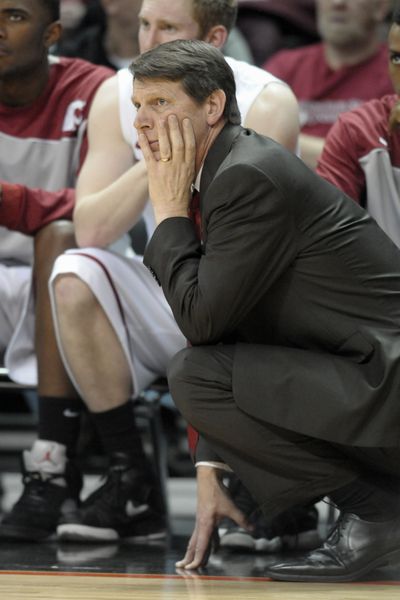 PULLMAN – Every dribble, every corner, every square inch of the Beasley Coliseum hardwood feels like home to Washington State senior Charlie Enquist.
"I've been practicing on this court for five years," the 6-foot-10 forward said. "I pretty much know every dribble that I take, how it's going to bounce.
"We need to get back to Beasley."
The Cougars (9-8, 1-4 Pac-12) will, finally, with a 7:05 game tonight against Pac-12 co-leader Stanford, after a 31-day span that saw WSU play a nonconference game in Seattle and its first two conference games in Spokane before hitting the road for three straight games.
It's the longest WSU has gone between games in Pullman since the 2004-05 season, when similar scheduling – "home" games in Spokane to begin Pac-10 play – had WSU away from Beasley for 36 days from Dec. 7 though Jan. 13.
And considering the Cougars' efforts away from here – they're 2-4 away from Beasley since a Dec. 18 win over Western Oregon – the timing is as good as any, even with Stanford (15-3, 5-1) and California (15-4, 5-1), tied atop the Pac-12 standings, coming to town.
Coach Ken Bone said he understood the reasoning behind playing Oregon and Oregon State in Spokane on Dec. 29 and 31. With WSU students gone for Christmas break, the best way for the Cougars to maximize their attendance was to move the games elsewhere.
"That's just the way it's set up and that's a good situation," Bone said. "On the flip side, anybody would rather play their games on their home court every night if we could."
Much grousing occurred during football season when the Cougars played just one game in Pullman in a seven-week span, because of the scheduling of a "home" game against Oregon in Seattle.
And while athletic director Bill Moos said he received much positive feedback regarding the basketball team's Spokane appearances – the Cougars drew more than 18,000 fans total that weekend – he also conceded that he'd like to ensure WSU isn't away from Pullman this long in the future.
"We should probably look at nonconference scheduling to hopefully assure that we've got a home game right before they (students) head home for break," Moos said via telephone on Wednesday, "and that wouldn't make it such a gap."
Part of the issue this season, Moos points out, is simply the conference's scheduling. The no-Pullman gap wouldn't have been as long if the Cougars had been able to play Washington at home last week instead of in Seattle. That's something Moos said he'll pass along to the conference and its television partners.
"We'll make that known, and kind of look at where the conference scheduling is going here in the future," Moos said. "However, as we found out in football, the TV partners have far more input than in previous years."
The players are just glad to be home, though they'll be tasked with stopping Stanford's steady trio of Josh Owens (12.7 ppg), Aaron Bright (12.3) and Chasson Randle (12.2).
"Mr. Moos does a good job of going out and understanding what's going to make money for our program in a real good way," senior guard Abe Lodwick said. "And these bigger venues sometimes will do that. So I definitely can see that and understand that, so I'm in support of it.
"But it's definitely always great to come back and have games back in Pullman."
Local journalism is essential.
Give directly to The Spokesman-Review's Northwest Passages community forums series -- which helps to offset the costs of several reporter and editor positions at the newspaper -- by using the easy options below. Gifts processed in this system are not tax deductible, but are predominately used to help meet the local financial requirements needed to receive national matching-grant funds.
Subscribe to the sports newsletter
Get the day's top sports headlines and breaking news delivered to your inbox by subscribing here.
---