News > Spokane
Chief candidate's resume questioned
Degrees claimed were not offered at accredited La Salle University
Tue., July 24, 2012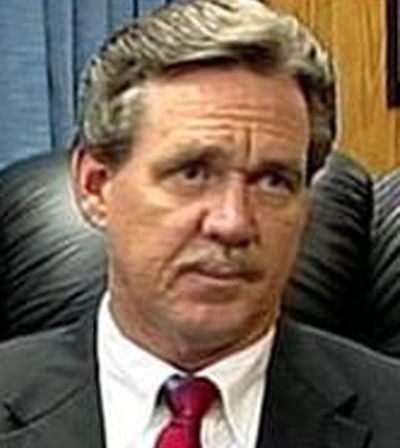 Update, 11 a.m.: Ulring has withdrawn his name from consideration
Blair Ulring, one of four applicants chosen as finalists for the job of Spokane Police chief, lists on his resume degrees that may have been purchased from a diploma mill.
The former police chief of Stockton, Calif., submitted a resume to the city of Spokane last week declaring that he earned a bachelor of science degree in administration of justice in 1997, and then a master of science in law enforcement management in 2002, both "summa cum laude," from "La Salle University."
The Catholic university, founded in the midst of the Civil War in Philadelphia, however, has no record that Ulring ever attended, according to the registrar's office. Furthermore, university spokesman Jon Caroulis said the school has never offered degrees in law enforcement management or administration of justice.
Ulring did not return numerous telephone or email requests seeking comment. Those requests were relayed to him by the city of Spokane's human resources department beginning last week. Diploma mill experts believe the candidate's academic credentials are questionable.
City spokeswoman Marlene Feist said officials are just becoming aware of the issue.
"We haven't done our background checks yet on the candidates," Feist said. "We wouldn't hire anybody without doing our background checks."
Mayor David Condon was not available to comment on Ulring's academic record.
The city has also not heard any response on the matter from Ulring, who is set to visit Spokane on Wednesday for a job interview that will be open to the public.
Federal agents uncovered a diploma mill operation in the 1990s at the similarly named "LaSalle University" in Mandeville, La. The school handed out phony degrees, usually for just a few thousand dollars apiece.
Students could bargain on the price of a degree and sometimes even get two for the price of one, John Bear, the author of a number of books on diploma mills, said Monday.
"It was considered, at best, a useless degree," he said.
The FBI raided LaSalle in 1996 and found just three faculty members running the show for about 15,000 students, said Allen Ezell, a retired FBI agent who created the agency's diploma mill task force.
Thomas James Kirk, who ran the LaSalle diploma mill, made about $36 million off the operation, according to the (New Orleans) Times-Picayune. Prosecutors convicted Kirk of 18 federal crimes, including mail fraud and tax violations.
A judge sentenced Kirk to five years in federal prison.
New owners took over the school later and attempted but failed to achieve national accreditation, according to the New Orleans newspaper. The school changed its name in 2001 to Orion College. It closed a year later.
LaSalle purported to be a legitimate distance-learning institution but never received national accreditation, although the school claimed it had it in its marketing materials.
Class papers were graded by their weight on a scale, and faculty offered students credit for life experience rather than actual classes, Ezell said.
The average time needed to complete a degree at LaSalle was nine months, he said. Some former students contend that they took correspondence courses and a test at the end.
Ulring worked at the Stockton Police Department during the time he says he earned the LaSalle degrees – from 1994 to 2002, according to his resume. He doesn't specify whether he took courses online, traveled to a campus or was in a distance-learning program.
Diploma mill expert George Gollin, a physics professor at the University of Illinois, said the city should have noticed something suspicious in Ulring's academic record. It takes just a few minutes to verify the authenticity of a degree by making a quick call to the university registrar's office, he said.
"You're dealing with people who are in positions of trust," Gollin said. "I don't understand why this wasn't caught ahead of time."
Spokane has its own history with diploma mills.
"Spokane was the diploma mill capital of the world (several years ago)," Bear said.
Dixie Ellen Randock and her husband, Steven Karl Randock Sr., orchestrated a web of 121 fabricated online schools that sold illegitimate degrees to more than 10,000 people around the world for six years.
Dixie Randock used more than a half-dozen aliases and ran the operations out of office buildings in Post Falls and Mead. The scheme brought the couple millions of dollars and, in 2008, a three-year prison sentence.
Local journalism is essential.
Give directly to The Spokesman-Review's Northwest Passages community forums series -- which helps to offset the costs of several reporter and editor positions at the newspaper -- by using the easy options below. Gifts processed in this system are not tax deductible, but are predominately used to help meet the local financial requirements needed to receive national matching-grant funds.
Subscribe now to get breaking news alerts in your email inbox
Get breaking news delivered to your inbox as it happens.
---