News > Spokane
Work begins on missing Centennial Trail link
Path will go through Kendall Yards
Thu., June 7, 2012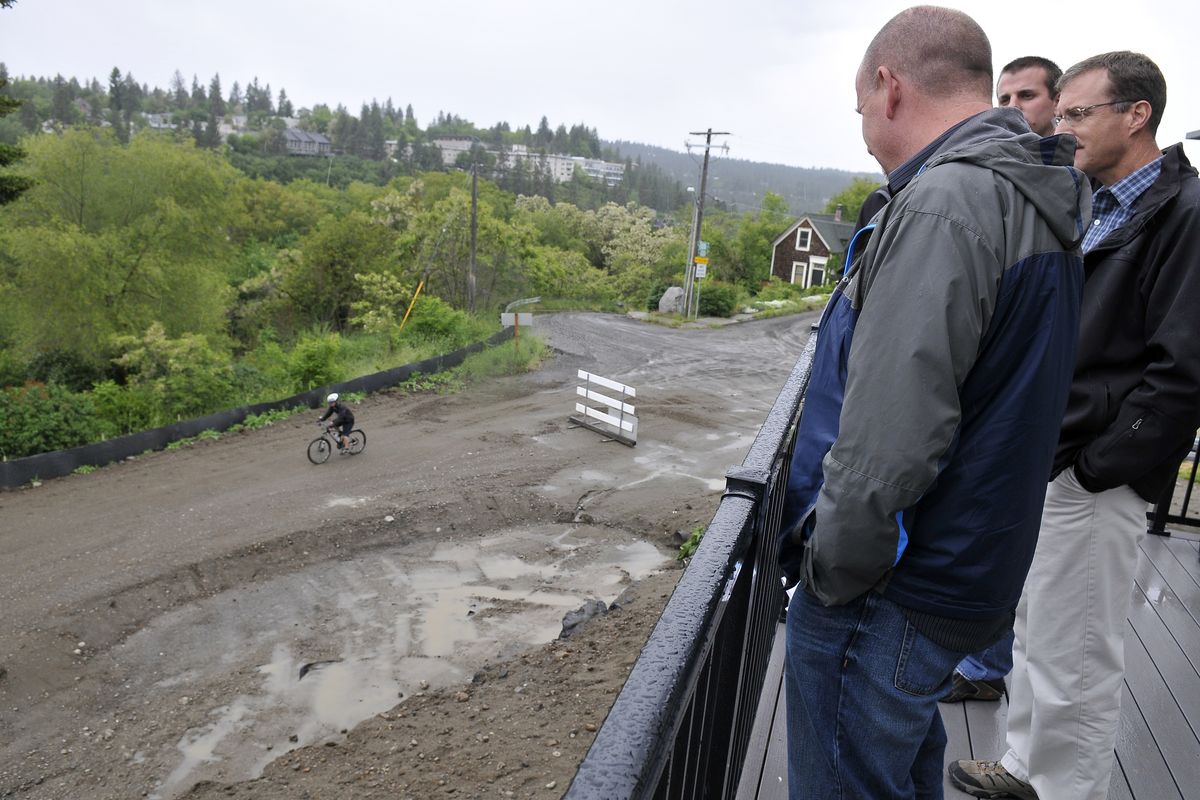 A mountain biker rides along the roughly graded section of the Centennial Trail while visitors look down from a new townhome at Kendall Yards on Wednesday. At far right (in glasses) is Michael Terrell, the landscape architect for the trail project. Greenstone Corp., which is building the homes at Kendall Yards, celebrated the final plan Wednesday for the two miles of trail from Monroe Street to the end of Kendall Yards to the west. (Jesse Tinsley)
Twenty years after the Centennial Trail opened in the Spokane area, work has started on what has always been considered a key missing piece: the two miles running west from Riverfront Park on the north bank of the Spokane River.
It is a stretch that offers commanding views above the river gorge and provides links to other trails heading southwest toward Cheney and beyond.
A $2 million state jobs grant is financing the construction through the Kendall Yards mixed-use development in what was described on Wednesday as a useful government-industry collaboration.
"For us, it's kind of a dream come true," said Jim Frank, chief executive officer of Greenstone Corp., developer of Kendall Yards.
So as the housing portion of the development expands, workers will be hired to build the Centennial Trail at the prow of the river bluff.
Plans call for a series of overlooks and a small park to be named Olmsted Brothers Green, in honor of the landscape architects and consultants who told Spokane leaders in the early 1900s to preserve a "great gorge park" below Spokane Falls.
"It's a remarkable asset," Frank said during a gathering of trail supporters and public officials Wednesday afternoon.
The event had been billed as a groundbreaking but was moved inside a gorge-view residence to keep the crowd dry during Wednesday's rainstorm.
"It's fabulous," said Kevin Hennessey, board member of the Friends of the Centennial Trail.
Construction of the segment stalled over the years when two earlier development plans for Kendall Yards failed.
Hennessey said the 20th anniversary of the trail – named to commemorate Washington's centennial of statehood in 1989 – arrives later this year, making construction along the north bank fitting for the occasion.
Work on the new portion of the trail should be completed by the end of summer.
The Centennial Trail runs a total of 61 miles from Nine Mile Falls to Higgens Point on Lake Coeur d'Alene.
Local journalism is essential.
Give directly to The Spokesman-Review's Northwest Passages community forums series -- which helps to offset the costs of several reporter and editor positions at the newspaper -- by using the easy options below. Gifts processed in this system are not tax deductible, but are predominately used to help meet the local financial requirements needed to receive national matching-grant funds.
Subscribe now to get breaking news alerts in your email inbox
Get breaking news delivered to your inbox as it happens.
---