News > Nation/World
Going to the mat for Make-A-Wish
Thu., June 21, 2012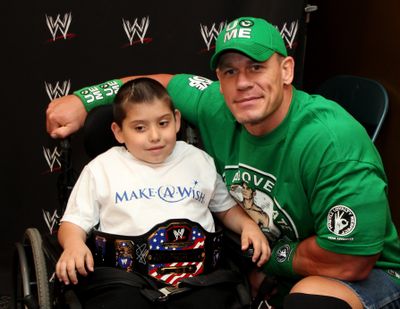 WWE superstar John Cena granted his 300th wish to a 7-year-old Pennsylvania boy with a spinal condition, continuing his streak as the most popular celebrity granter in Make-A-Wish Foundation history.
Jonny Littman wanted to meet his hero, and the star accommodated that wish Monday night before an episode of "Raw" live from New York's Long Island.
On Wednesday morning, Jonny was being interviewed on "Good Morning America" when Sam Champion asked him about his green T-shirt. After Jonny told him it was because he's a fan of John Cena, to Jonny's surprise the pro wrestler and actor walked out and presented him with tickets for him and his family to attend the 1,000th episode of the WWE show.
To put Cena's 300 granted wishes in perspective, Michael Jordan has granted around 200 and Kobe Bryant is in the 100-wish range.
Cosby slides out of jazz fest emcee job
As the 34th annual Playboy Jazz Festival wrapped up on Sunday, Bill Cosby danced across the stage to play his final solo beneath the iconic bunny.
"It's my last time here," he announced to the applauding crowd, which filled the Hollywood Bowl to the last bleacher. "And I'm gonna give you something you've never heard before. Take it back to the bridge!"
Cosby grabbed a trombone from the Preservation Hall Jazz Band, who followed his order with upbeat, New Orleans-style jazz.
The comedian tapped his foot, held the instrument to his mouth, threw his head back – and abruptly pulled it into two pieces.
Cosby, 74, who has hosted the event 31 times, announced earlier in the week he was ending his reign as the festival's master of ceremonies.
The birthday bunch
Actor Bernie Kopell is 79. Actor Monte Markham is 77. Songwriter Don Black is 74. Comedian Joe Flaherty is 71. Rock musician Ray Davies is 68. Actress Meredith Baxter is 65. Don Airey (Deep Purple) is 64. Joey Kramer (Aerosmith) is 62. Rock musician Nils Lofgren is 61. Cartoonist Berke Breathed is 55. Actor Michael Dolan is 47. Actress Juliette Lewis is 39. Musician Justin Cary is 37. Rock musician Mike Einziger (Incubus) is 36. Britain's Prince William is 30.
Local journalism is essential.
Give directly to The Spokesman-Review's Northwest Passages community forums series -- which helps to offset the costs of several reporter and editor positions at the newspaper -- by using the easy options below. Gifts processed in this system are not tax deductible, but are predominately used to help meet the local financial requirements needed to receive national matching-grant funds.
Subscribe to the Coronavirus newsletter
Get the day's latest Coronavirus news delivered to your inbox by subscribing to our newsletter.
---
Subscribe and log in to the Spokesman-Review to read and comment on this story