News > Spokane
Shooter's alleged helper will remain behind bars
Judge cites Ruth's history in setting $100,000 bond
Sat., June 23, 2012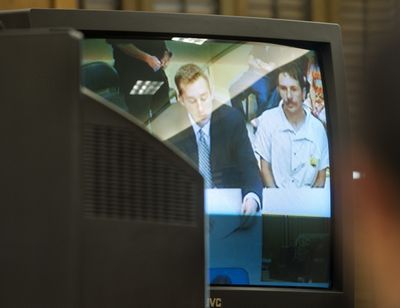 A Spokane man accused of helping the fugitive who shot two deputies will remain jailed on $100,000 bond.
Robert Lee "Bo" Ruth, 42, has seven felony convictions, 15 misdemeanor convictions and has failed to appear in court 20 times, court officials said Friday.
A public defender, Kyle Zeller, noted that Ruth's latest felony conviction was in 2000.
"He has been doing a good job the last several years, staying completely out of trouble and doing what he needs to do as far as getting treatment and help," Zeller said. "Obviously, this entire situation is difficult, and I don't want to comment too much on the facts, but I do know he will come to court."
But Superior Court Judge Annette Plese noted Ruth's history of skipping court, as well as the facts surrounding his arrest, when she imposed the prosecution's requested bond of $100,000.
"Looks like I'll be residing right here, your honor," Ruth said through a closed-circuit television from the Spokane County Jail.
Ruth is accused of helping hide suspected heroin trafficker Charles Robert Wallace, 41, after Wallace left court-ordered rehab in Spokane Valley. He lied to drug detectives about his involvement with Wallace and allowed Wallace to store motorcycles and other items at his family's property in the 8800 block of North Alcan Street in north Spokane, police said.
Ruth's sister, girlfriend and parents attended the hearing but declined to comment afterward.
His sister, Rhonda Smith, told Plese that her brother "is not a risk if he's let out."
"He's been keeping his life on the right track, despite everything that's in the reports and what's been said," Smith said.
Ruth was shot on May 29 when the house he and his girlfriend rented was robbed.
Ruth's girlfriend, Jennifer Cordero, with whom he has a 3-week-old son, told Plese they recently moved out of the home at 903 E. Princeton Ave. and are staying with her father.
On Tuesday, about an hour before Wallace is believed to have shot two deputies, members of the Spokane Regional Task Force followed him and Ruth, who were in separate vehicles, from the Alcan Street location to North Newport Highway.
They contacted Deputies Matt Spink and Mike Northway and asked them to stop the Chevy Tahoe to identify the three occupants. They were looking for Wallace, who was disguised in a hat with a mullet-style wig attached, but did not know for sure if he was inside.
Spink and Northway were told "that Wallace was believed to be armed and had made statements that he was not going back to jail," according to court documents filed late Thursday.
Seconds after the Tahoe stopped on Elm Road just off the highway, Wallace exited and opened fire on Spink and Northway. Spink was struck once in the leg; Northway was hit four times and might have bled to death had a bystander not helped control heavy bleeding from an artery in his left arm, police officials said.
Police called Ruth just after the shooting and told him what happened, but Ruth said he didn't know where Wallace was and hung up. He was arrested Wednesday.
Police found $2,529 in the Tahoe, as well as a survival knife and BB gun, according to a search warrant filed Friday.
The search warrant said that Joshua Fowler and Brittany A. McCullough, 21, were in the Tahoe with their two-year-old child when Wallace shot Spink and Northway. The couple left Wallace at the scene and abandoned the Tahoe on Graves Road before dropping off their child with a relative on North A Street.
Police contacted Fowler and McCullough Tuesday night and obtained statements from them. They identified Wallace as the shooter, according to the warrant.
Local journalism is essential.
Give directly to The Spokesman-Review's Northwest Passages community forums series -- which helps to offset the costs of several reporter and editor positions at the newspaper -- by using the easy options below. Gifts processed in this system are not tax deductible, but are predominately used to help meet the local financial requirements needed to receive national matching-grant funds.
Subscribe to the Coronavirus newsletter
Get the day's latest Coronavirus news delivered to your inbox by subscribing to our newsletter.
---