News > Spokane
Charges expected against two more Spokane officers
Thu., March 22, 2012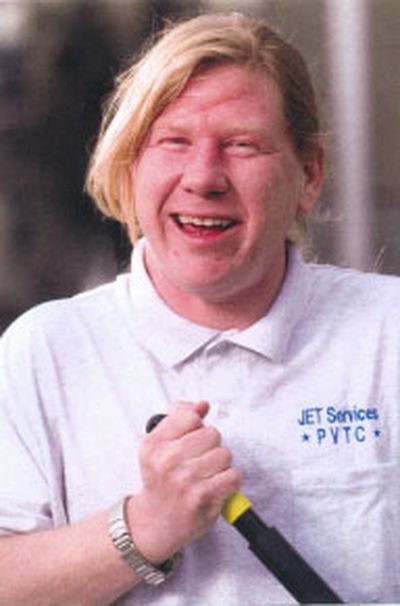 Federal obstruction charges are expected to be filed soon against two more Spokane Police officers in connection with the city's handling of the Otto Zehm investigation, which U.S. Department of Justice officials have called an "extensive cover-up." Attorneys representing Officers Sandra McIntyre and Tim Moses both confirmed today that they have entered discussions with federal prosecutors about potential obstruction of justice charges relating to their clients' testimony during the investigation that led to the Nov. 3 conviction of former Officer Karl F. Thompson Jr. Attorney Rob Cossey, who is representing McIntyre, said he will meet Tuesday with Assistant U.S. Attorney Joseph Harrington. His client had long ago received what's known as a target letter indicating that prosecutors were seeking to charge her with obstruction. "It's definitely going to blow up," Cossey said, referring to the expected charges. Moses' attorney, Chris Bugbee, also confirmed today that he has entered discussions with Harrington, but he would not divulge the substance of those talks. "I've had negotiations with Mr. Harrington about Mr. Moses' participation in the Otto Zehm trial," Bugbee said. "And that's all I want to say." Bugbee said Harrington did not indicate when any potential federal grand jury indictments were expected to be handed down. And he declined to make his client available for interviews. "At this point, I'm quite sure that Officer Moses does not want to make any statements or personal comments," Bugbee said. "I think this is just a preliminary stage. I want to make sure the process is not influenced by anything I might say." U.S. Attorney Mike Ormsby could not immediately be reached for comment. But the discussions described by Bugbee and Cossey are very similar to those held with Thompson prior to his 2009 indictment. According to court records, Thompson and his attorney, Carl Oreskovich, were invited to talk with federal prosecutors and negotiate a settlement to his charges prior to the actual indictments in 2009 charging him with using unreasonable force and lying to investigators about his confrontation with Zehm on March 18, 2006. Thompson was the first officer to arrive that night at the Zip Trip, 1712 N. Division St., after two young women erroneously reported that Zehm had taken their money from a nearby ATM machine. A jury convicted Thompson after the video showed him strike the unarmed and retreating Zehm almost immediately during a struggle that later included six other officers. Zehm was struck as many as 13 times with a baton, shocked with a Taser multiple times and was eventually hogtied. After a plastic mask was placed on his face, he stopped breathing and never regained consciousness. He died two days later. On the night of the incident, McIntyre was one of dozens of officers who converged at the scene. Her responsibility was to review the video tape from the store's surveillance cameras. Federal prosecutors told the jury during trial that Thompson told department officials that Zehm "attacked" and "lunged" at him, which prompted him to use his baton. However, after McIntyre viewed the video prosecutors say she told Thompson that the video showed no lunge and he then stopped making that claim. McIntyre testified three times before the grand jury in 2009. She admitted during her testimony at the 2011 trial that she met with an assistant city attorney who suggested that she answer "I don't recall" to questions about the incident when in fact she did remember some portions of the event. "So you lied?" said Victor Boutros, a Justice Department trial attorney. McIntyre disagreed during trial. "When you don't recall 100 percent you don't get a chance to explain. That's what I wanted." As for Moses, he was one of the first officers to arrive after Zehm was subdued. According to court testimony, Thompson told Officer Moses – who considers Thompson a close friend – that he hit Zehm in the head with the baton. Moses later testified under oath to a grand jury about Thompson's statements, which Moses also relayed to two ambulance workers, according to court testimony. Moses testified at Thompson's trial only after the U.S. Department of Justice obtained a waiver preventing him from seeking protection from self-incrimination under the 5th Amendment. During his testimony, Moses claimed that federal prosecutors intimidated him into giving that grand jury testimony. "They made it very clear to me I was going to face obstruction charges if I didn't testify the way you wanted me to," Moses said at the trial.
This story is developing and will be updated
Local journalism is essential.
Give directly to The Spokesman-Review's Northwest Passages community forums series -- which helps to offset the costs of several reporter and editor positions at the newspaper -- by using the easy options below. Gifts processed in this system are not tax deductible, but are predominately used to help meet the local financial requirements needed to receive national matching-grant funds.
Subscribe now to get breaking news alerts in your email inbox
Get breaking news delivered to your inbox as it happens.
---