News > Spokane
WSU program for organics outgrows space
Farm will expand to 30 acres, roads, greenhouses in master plan
Thu., March 22, 2012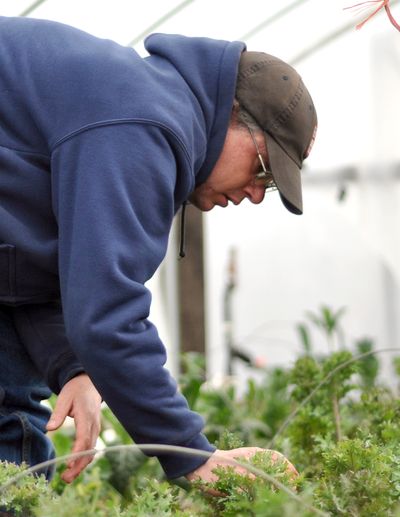 Organic farmer Brad Jaeckel carries a razor-sharp, seven-inch blade and trowel with an exotically wicked name: the Hori-Hori.
The Hori-Hori, "a pretty common tool," is just one item in a toolbox for organic agriculture that's always growing, said Jaeckel, Washington State University's organic farm manager and instructor. Since the university broke ground on its organic farm in 2003, WSU has provided a place to put each of those tools to the test. Now, after nine years, the farm is getting an upgrade that could cost $15 million, depending on fundraising.
As part of a campus master plan, the WSU Organic Farm will expand from approximately three acres to as many as 30. The new area will include a community center, a residence for students working at the farm, livestock ranges, an industrial teaching kitchen, alternative energy sources and more space for crops.
"I'd really call this the big picture," Jaeckel said. "Making organic available is all about education, and this new farm can really do that."
WSU offered the first organic agriculture major in the country. The program now has almost 30 major students, said John Reganold, regents professor of soil science and agro-ecology. The organic farm provides a working laboratory for those students.
"It's really outgrown itself," Reganold said. "That's partially why we need the new land: to continue to carry out the day-to-day mission of the farm."
Reganold said the money is coming from efforts by the WSU Foundation to find donors and sponsors.
"We're doing it in pieces," Reganold said. "Our hands are full with the project, but that's OK. It's the big deal; it's the main focus."
Construction on the new site, including roads, greenhouses and some croplands, could begin as early as this summer, said Laurie Mooney, a graduate student in landscape architecture who helped design the expansion.
Mooney designed the master plan for the farm while working with Jaeckel each week. She also took a class with Jaeckel and works at the organic farm.
"I think we have the same mission when it comes to teaching people about organic agriculture," Mooney said. "We're both so excited about this new space."
The need for an expansion grew out of the popularity and support the farm has received over the years, Reganold said. He brought the idea of the farm to his department board in 2002 after hearing from students who wanted to take organic agriculture classes.
With the help of graduate student Kathi Colen-Peck, he established the WSU Organic Farm and instructional practicum for organic agriculture a decade ago.
"We got a great spot, and Kathi went all in," Reganold said. "When she was about to graduate and leave, I was worried no one could keep up the farm, but she assured me she found someone who she had already been working with. That turned out to be Brad."
Jaeckel, now 39, already had his own organic farm near Moscow. He took over at WSU as farm manager in the fall of 2004. The farm lost its operational grant money when Colen-Peck graduated, but Jaeckel had a plan to keep things running, Reganold said.
The funding solution was a community supported agriculture system, as well as weekly income from a Wednesday farmers market in Pullman. A community supported agriculture system provides paying members with packed boxes of produce each week during the growing season. For the WSU Organic Farm, that season is from May through October and supports approximately 300 members per week.
"Sometimes we don't have enough membership spots for everyone at the height of demand," Jaeckel said.
With the finances of the farm in place and a dedicated leader in Jaeckel, more emphasis on education was a logical next step, Reganold said.
Until the official growing season in May, Jaeckel works primarily in the hoop houses, which are half-cylinder plastic greenhouses built on metal frames. The radiating heat of the sun warms anything inside faster than the heat can escape, allowing Jaeckel to grow winter greens such as spinach and lettuce.
He begins to grow vegetable transplants for the main season crops in the winter as well, in a greenhouse on campus.
During the summer, the organic farm has approximately 80 crops to be maintained, including Italian plums, asparagus and even medicinal herbs. Students work alongside paid seasonal workers to do the planting, weeding and harvesting.
Mooney was one of those students helping with the farmers market and the community supported agriculture system on Wednesdays.
"Everybody has to eat," Mooney said. "We might as well work with nature instead of against it, and I think that's what sets organics apart."
The Murrow News Service provides local, regional and statewide stories reported and written by journalism students at the Edward R. Murrow College of Communication at Washington State University.
Local journalism is essential.
Give directly to The Spokesman-Review's Northwest Passages community forums series -- which helps to offset the costs of several reporter and editor positions at the newspaper -- by using the easy options below. Gifts processed in this system are not tax deductible, but are predominately used to help meet the local financial requirements needed to receive national matching-grant funds.
Subscribe now to get breaking news alerts in your email inbox
Get breaking news delivered to your inbox as it happens.
---