News > Spokane
At Broken Mic, performance poetry thrives
Sat., May 12, 2012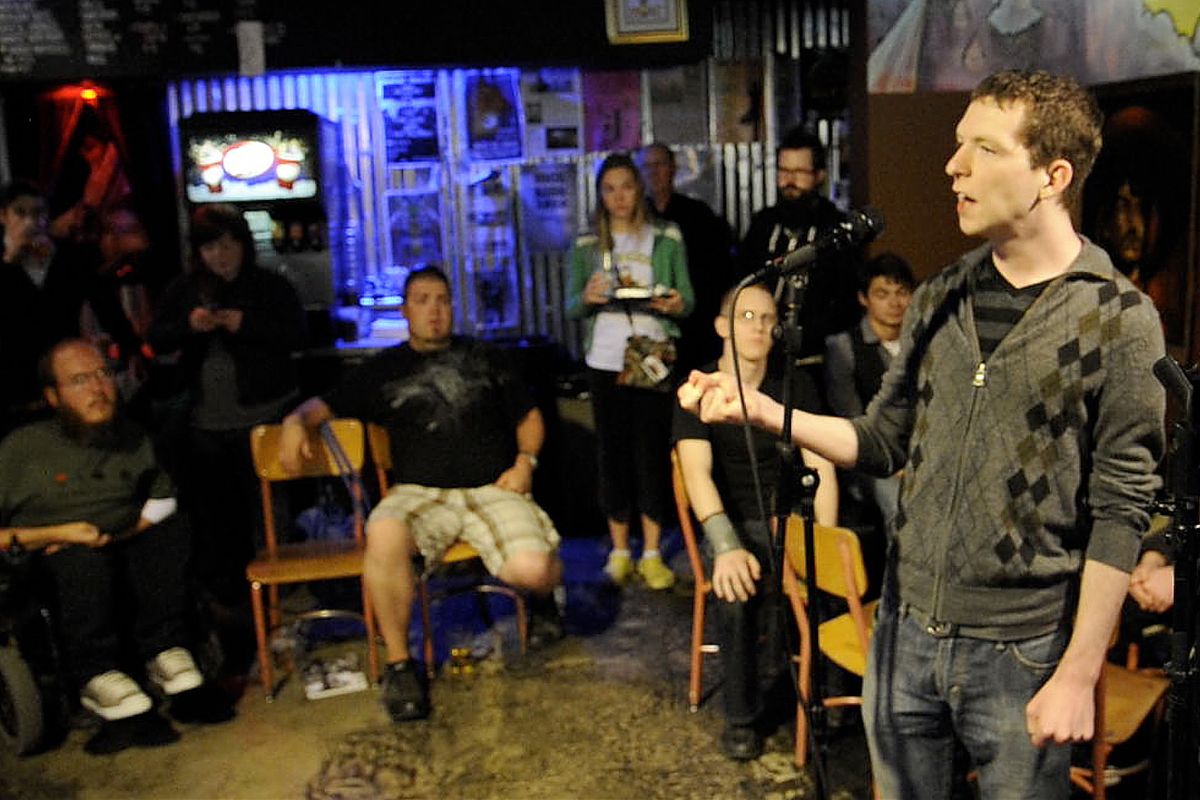 Mark Anderson, who emcees Broken Mic night at Neato Burrito in Spokane, recites a poem. Poets and writers share their work with the public each Wednesday from 6:30 to 9 p.m. (Colin Mulvany)
If your image of a poetry reading is a quiet, genteel affair, you've obviously never been to a Broken Mic reading.
The weekly open-mic event in downtown Spokane operates by different rules. People eat and drink and clank silverware. No one turns off their cellphone, and they talk if they feel like it. The audience hoots, hollers and heckles – all officially, heartily endorsed behavior.
"If you heckle, heckle loud," says Mark Anderson, the impresario of this poetry circus, and the audience obeys enthusiastically.
The raucous, barroom spirit is just one of the ways that Broken Mic – held every Wednesday night at Neato Burrito – is setting itself apart. It's also grown into a standing-room-only portion of the city's literary scene, and marks a small but thriving presence for performance poetry in Spokane.
"The group of people who come down here to read are willing to be berated," said Travis Naught, a poet and writer who's a regular at the reading. "Not in a bad way."
Anderson is Broken Mic's organizer, emcee, lighting director, donations collector and guiding spirit, as well as one of the chief poets. Like several of the regulars, he's a performance poet – reciting from memory, emphasizing the spoken rather than written nature of the work. It's not unique to these readings or Spokane – the spoken-word form shares a long history with slam poetry, coffeehouse readings and hip-hop traditions – but the genre seems to be undergoing an intense, if relatively small, resurgence.
"It's sort of like a fraternity of poets," said Jade Sylvan, a traveling performance poet who was the featured guest on Wednesday. "If you're a working performance poet, there will be at least one night (in any city) where people come together. … There is actually a very ravenous audience for performance poetry. It's smaller than for music, but they're very passionate about it."
In Spokane, Anderson is the center of that particular universe. A graduate of Eastern Washington University in psychology, the 24-year-old Anderson is living with his folks and devoting himself full-time to writing, performing and organizing poetry. His own work is surprising and funny, darting from the smart to the strange in unexpected ways. He's also – for someone who strikes you initially as quiet and perhaps shy – a clever, extroverted performer.
He says he's been writing, in one form or another, for about as long as he can remember.
"Off and on, I've written since I was a little kid – since I learned how to write, in first grade or second grade or something," he said.
He became more serious about it around age 19, and he started attending the "Anarchy Slam" open mics at the Empyrean coffee house. When the Empyrean closed and that reading lost its home, he began looking for a way to carry it forward.
At some point, he and others found themselves meeting at Neato Burrito – the small, eclectic burrito shop that sits in front of the small, eclectic Baby Bar on West First Avenue – to discuss possible locations, when it dawned on them that they might be sitting in one. The owners were amenable, and Broken Mic started there in January 2011.
From the beginning, it had a core of regulars and its own ragged spirit, poets say. But in recent months momentum has been building; the number of people who sign up to read is rising, and those raucous crowds – those heckling, burrito-eating, beer-drinking crowds – are growing.
"It's halfway between a normal poetry reading and a rock concert or something," Anderson said. "Part of the spirit of it is you go and listen and you get to cheer on these people."
On Wednesday, there were more would-be readers than Anderson could fit into the schedule. The crowd was heavy on young creative types – lots of flannel and intentional facial hair, lots of piercings and thrift-store fashion, lots of black – but there was also a wide variety of readers and readings. The work ranged from sentimental to sarcastic, from straightforward to oblique, from traditional to experimental, and while that audience did indeed heckle loudly on occasion, the spirit of the thing was supportive, not mocking.
"I get very excited about reading in front of people every week," Anderson said. "It's really very much about the spirit of the audience."
And the spirit of the audience, at least judging by Wednesday night, is good.
"So many of Mark's constituents call it their church," said Naught.
Local journalism is essential.
Give directly to The Spokesman-Review's Northwest Passages community forums series -- which helps to offset the costs of several reporter and editor positions at the newspaper -- by using the easy options below. Gifts processed in this system are not tax deductible, but are predominately used to help meet the local financial requirements needed to receive national matching-grant funds.
Subscribe now to get breaking news alerts in your email inbox
Get breaking news delivered to your inbox as it happens.
---