Sports
Blanchette: WSU legend Dietz gets his due
Wed., May 23, 2012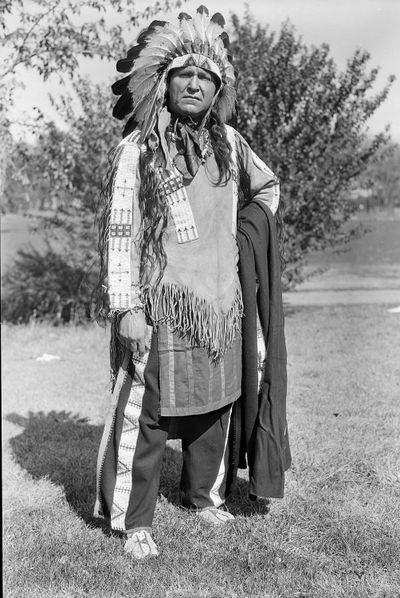 By any reckoning, if you can coach Washington State into the Rose Bowl, they should probably chisel your name on some campus building.
If you win it, well, legendary coaches should ask if they can be in your hall of fame.
Which makes it all the more curious that only on Tuesday did William H. "Lone Star" Dietz – the only man to coach the Cougars to victory in the Rose Bowl – receive the proper anointing from the College Football Hall of Fame as part of its 2012 induction class.
He's only been dead for 48 years.
Did his bona fides somehow improve since then?
"Holy cow," said Tom Benjey, Dietz's biographer, when The Spokesman-Review phoned him with the news Tuesday. "I had given up."
And for good reason. The National Football Foundation actually took Dietz's name off the ballot a couple of years ago.
But maybe a character as flamboyant and multifarious as Dietz who traveled such a pitted road in life would find his delayed and sideways entrée into the hall apt, if not amusing.
The case of Lone Star in a nutshell: A teammate of Jim Thorpe and protégé of Pop Warner – two of sport's mythical figures – at Carlisle Indian Industrial School, Dietz landed his first head coaching job at Wazzu in 1915 and promptly took the Cougars to an undefeated season capped by a 14-0 win over Brown in the Rose Bowl.
It was a watershed moment – the first victory by a Pacific Coast Conference team.
"It put West Coast football on the map," Benjey said.
Two years later, the Cougs were undefeated again – but with World War I percolating, the Rose Bowl invited two military teams, and WSU president E.O. Holland – never a Dietz fan – used the unsettled times as an excuse not to invite his coach back.
That started him pinballing through the college football world – to Purdue, Louisiana Tech, Wyoming, Haskell and finally Albright, where the next world war ended his career. Wedged in there were stints two years in the NFL as head coach of the Washington Redskins, whose owner used Dietz's native heritage as the inspiration for a nickname that remains a cultural flashpoint to this day.
"It was a crime," Benjey insisted, "that he wasn't in the hall before."
Well, possibly. Dietz did win 60 percent of his games, but his record beyond Wazzu was less convincing – often because of unfavorable situations. Purdue and Wyoming had been perennial losers; midway through his tenure at Haskell, the government downgraded the Kansas Indian junior college to a high school.
So when Benjey and others campaigned to get Dietz voted in several years ago, he didn't generate a lot of appeal – and was subsequently dropped.
But the hall considers candidates who were major college figures and those from small colleges in different batches – and this is how Dietz was elected this year. His class includes players from Illinois Wesleyan and Oklahoma Panhandle, and coaches from Millersville and what used to be Texas A&I.
So much for putting Wazzu on the map.
"He coached more at college division schools than he did at the FBS level," said Steve Hatchell of the Hall of Fame, though he acknowledged, "You're really splitting hairs with a guy like that long ago."
In fact, college football historian James Howell's research – the basis for the data collected on sports-reference.com – doesn't regard Washington State as having been a major college program until 1917.
Guess the Cougs needed some rebranding even back then.
Yes, it's arbitrary. If what the likes of Bucknell, Newberry and Sewanee were playing in that era was big-time, surely what the Cougs were doing qualifies.
However the levels were parsed, Hatchell was adamant.
"He was an unbelievably fascinating character," he said, "and our attitude was, we've got to get him in the Hall of Fame."
Fascinating? He makes Mike Leach look like a wallflower. He was an accomplished artist and appeared in motion pictures – and combined the two interests in contributing sketches for Disney's "Bambi." He even toured with the Washington State glee club to promote the school.
He also had to endure a humiliating trial for draft evasion in Spokane when the government tried to prove – unsuccessfully – that he was not an Indian. Unable to afford to defend himself a second time after a jury hung the first trial, he pleaded no contest and spent 30 days in jail – a sentence, given the hysteria of the day, that the judge seemed almost embarrassed to impose.
By that standard, waiting to get into the College Football Hall of Fame seems a minor slight.
"This is a little bittersweet," Benjey said, "just because they brought him in through the back door. But the important thing is that he's in."
Not that he needed a hall to validate his fame.
Local journalism is essential.
Give directly to The Spokesman-Review's Northwest Passages community forums series -- which helps to offset the costs of several reporter and editor positions at the newspaper -- by using the easy options below. Gifts processed in this system are not tax deductible, but are predominately used to help meet the local financial requirements needed to receive national matching-grant funds.
Subscribe to the sports newsletter
Get the day's top sports headlines and breaking news delivered to your inbox by subscribing here.
---