News > Spokane
Incumbents prevail
Cantwell, McMorris Rodgers, Labrador breeze past challengers
Wed., Nov. 7, 2012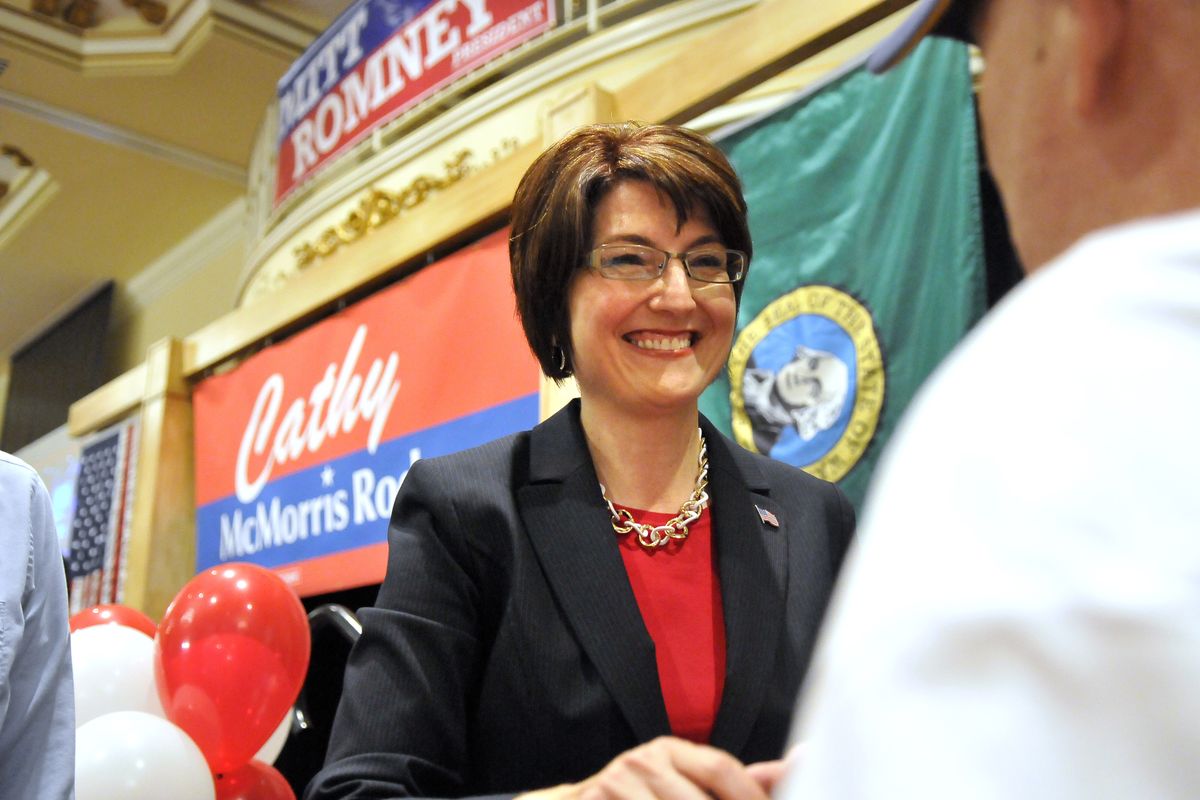 U.S. Rep. Cathy McMorris Rodgers shakes hands with constituents after a short victory speech election night at the Davenport Hotel. (Jesse Tinsley)
The Inland Northwest's congressional delegation remained intact Tuesday, with incumbents coasting to victories in early returns.
On the Washington side, voters gave new terms to Democratic U.S. Sen. Maria Cantwell and Republican U.S. Rep. Cathy McMorris Rodgers, of Spokane.
Cantwell defeated Spokane Republican Michael Baumgartner, a 6th District state senator, by an unofficial Tuesday night tally of 893,434 to 603,061, according to the Washington secretary of state.
"People should know that I am not going back to Washington, D.C., to salute more stalemate – but to work with my colleagues on economic solutions that will put people back to work," Cantwell said Tuesday night.
Reached by phone, Baumgartner said he felt his campaign dispersed its resources across the state as well as possible despite being outspent 10 to 1.
"The campaign shouldn't be about who has the most money, it should be about who has the best ideas," Baumgartner said.
He added that he is looking forward to a trip to Cambodia before getting back to the state Legislature to tackle issues like the budget. "I owe my wife a vacation," Baumgartner said.
In Washington's 5th Congressional District, Republican incumbent McMorris Rodgers won in a landslide against Democrat Rich Cowan.
This will be McMorris Rodgers' fifth term, winning with more than 61 percent of the vote, according to unofficial results.
"This has been a long campaign," she said in a speech at the Davenport Hotel Tuesday night. "We have to continue to do what is best for this community, what is best for Eastern Washington."
She added after her speech that being in tune with the people and the issues of the area were what drove her to victory. Her priorities, she said, will be addressing the "fiscal cliff" and looking for continued economic opportunities.
Across the river at the Red Lion Hotel at the Park, Cowan conceded the race soon after results were released and said he planned to call McMorris Rodgers to congratulate her.
Cowan noted McMorris Rodgers' significant fundraising advantage.
"When you're outspent 5-to-1, you do the best you can," he said.
In an interview, Cowan said he is considering a rematch in two years.
In Idaho's 1st Congressional District, Republican U.S. Rep. Raul Labrador easily fended off challenges from three hopefuls, including former NFL football player Jimmy Farris, a Democrat.
Labrador campaigned on a platform of less government and lower taxes and helped Republican presidential candidate Mitt Romney reach Latino voters.
Local journalism is essential.
Give directly to The Spokesman-Review's Northwest Passages community forums series -- which helps to offset the costs of several reporter and editor positions at the newspaper -- by using the easy options below. Gifts processed in this system are not tax deductible, but are predominately used to help meet the local financial requirements needed to receive national matching-grant funds.
Subscribe now to get breaking news alerts in your email inbox
Get breaking news delivered to your inbox as it happens.
---