News > Spokane
A solemn day at Fort George Wright
Fairchild officials looking into other agency to care for site
Mon., Nov. 12, 2012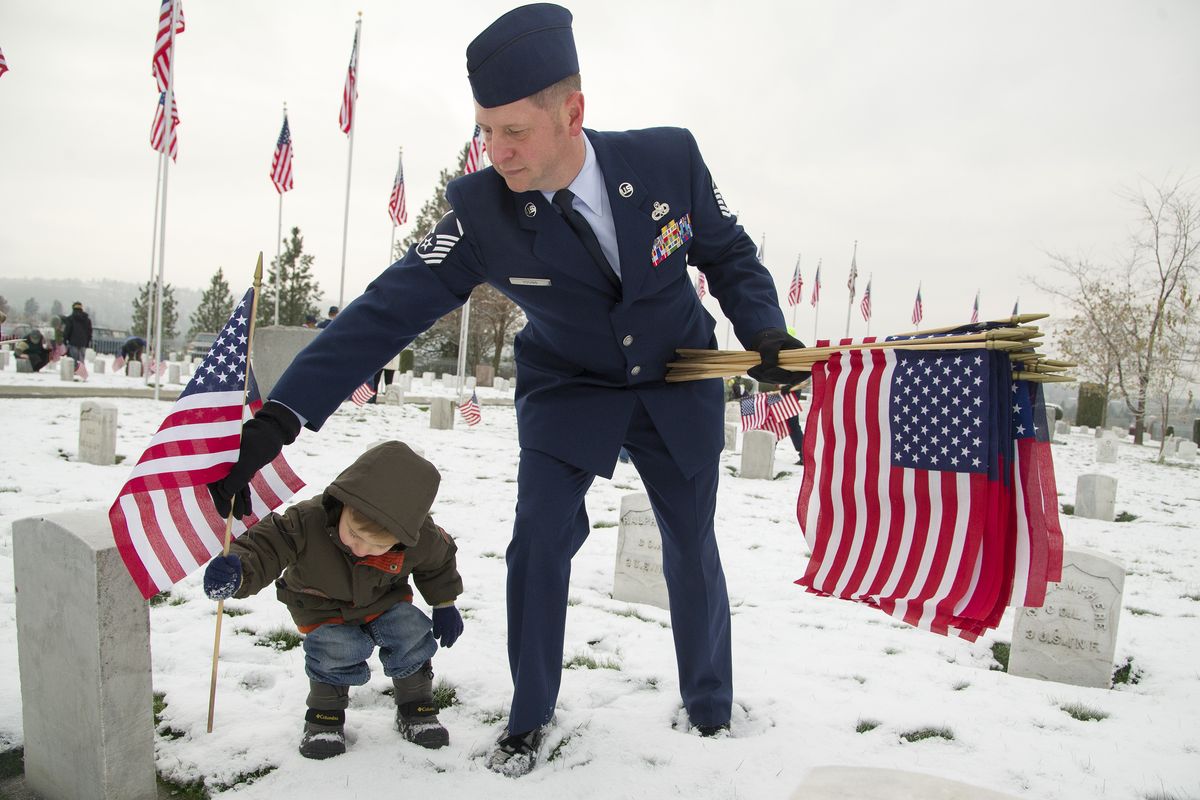 Master Sgt. Jason Young from Fairchild Air Force Base and his son Cooper, 3, place American flags next to gravestones of U.S. military veterans before the Veterans Day ceremony Sunday at Fort George Wright Cemetery. (Colin Mulvany)
Onlookers quietly watched as a group of Scouts raised a flag Sunday to honor those who have served the nation.
They were participating in a Veterans Day ceremony at the Fort George Wright Cemetery, which sits atop a bluff overlooking the Spokane River. David Guinsler, commander of Airway Heights Veterans of Foreign Wars Post 3386, said the ceremony was a celebration of the courage and patriotism of veterans past and present.
"That's what makes us free, is you," he said to the crowd. "That's why we can come out here and do this – because of you. I want to thank you all for what you have done for our country."
Members of the Airway Heights VFW, Scouts from Fairchild Air Force Base and other Fairchild officials gathered early Sunday to line the cemetery's walkway with flags and place them on graves before the ceremony began.
Fairchild Air Force Base has owned the small cemetery since the Army left Fort George Wright in 1957, when the base took responsibility for maintaining the grounds and accountability for the dead buried there. But that could change as Fairchild officials look for another government agency to take over the cemetery's management.
In August, a couple weeks after joining Fairchild, Col. Konrad Klausner, the 92nd Mission Support Group commander, emailed the Civil Engineering commander and the Force Support Squadron commander and requested they look into moving the cemetery to another federal government agency.
"We absolutely have a responsibility to our fallen that have gone before us," Klausner told The Spokesman-Review. "We're very proud of the cemetery. We do a fantastic job of the entire management of it. However, the management of it, it's not really our core function. Although we can do it and we do it well, there may be other agencies that are suited for it."
The Air Force manages a cemetery at the Air Force Academy, but most military cemeteries are managed by the U.S. Department of Veterans Affairs, and many states have also established state veterans cemeteries. The Department of the Interior's National Park Service maintains 14 national cemeteries, including Gettysburg National Military Park and Antietam National Cemetery. The Army maintains two national cemeteries, including the Arlington National Cemetery.
The Fort George Wright Cemetery costs about $10,000 a year to maintain, Klausner said. The maintenance duties are rolled into the Civil Engineering Squadron's responsibilities, and the Force Support Squadron is in charge of accountability.
"It is an additional duty, but it's not that big of a draw on our resources," he said. "It's not a budgetary thing."
He said they've made no big steps toward transferring ownership of the cemetery, emphasizing they are in an informal "fact-finding" stage.
"It's such a small cemetery, such a small item, and it's being managed very well," he said. "There are a lot bigger things that the Air Force is worried about than trying to pass the responsibility on to another agency."
And, he said, it may prove difficult to find another agency willing to take over the cemetery's management.
"Quite honestly, any government agency is not necessarily looking for more work when we're not really going to give them any people or any money to do the job," he said.
The remains of about 650 veterans and their families are buried there, including more than 260 children of military personnel buried between 1945 and 1959, when Spokane saw an unexplained spike in infant mortality.
"It kind of offends me, I guess, that these are a bunch of veterans and their family and this guy comes in and says 'Eh, let's get rid of it,' " said Gerald Johnson, who was the facility manager for almost 20 years. "If people knew they were thinking about it, there'd be a lot of upset people."
Johnson, a civilian employee at Fairchild who retired in July, said the cemetery is important to many in the area. Scouts often do service projects at the cemetery, and others, including the Airway Heights VFW, donate time there.
"There's a lot of community interest," he said. "We've done a lot of neat things out here. It's absolutely gorgeous."
The first remains interred in the cemetery arrived from Fort Spokane in 1900, and burials are still taking place there to this day. The cemetery is now closed except to reservations made prior to the 1960s. There are remains of service members from all military branches.
"It's a pretty special place," Johnson said. "There's quite a history to it. It's pretty interesting."
Klausner, who spoke at Sunday's ceremony, said Fairchild will continue to play an active role with the cemetery, partnering with the community for such events.
"We've been doing this for years," he said of the ceremony. "We'd continue to do these kinds of things. There's a direct connection to our lineage. The management is one thing. Our connection to it and our dedication to the cemetery will never change."
Local journalism is essential.
Give directly to The Spokesman-Review's Northwest Passages community forums series -- which helps to offset the costs of several reporter and editor positions at the newspaper -- by using the easy options below. Gifts processed in this system are not tax deductible, but are predominately used to help meet the local financial requirements needed to receive national matching-grant funds.
Subscribe now to get breaking news alerts in your email inbox
Get breaking news delivered to your inbox as it happens.
---