News > Business
U.S. brands discovered in fire
Retailers say production was unauthorized
Thu., Nov. 29, 2012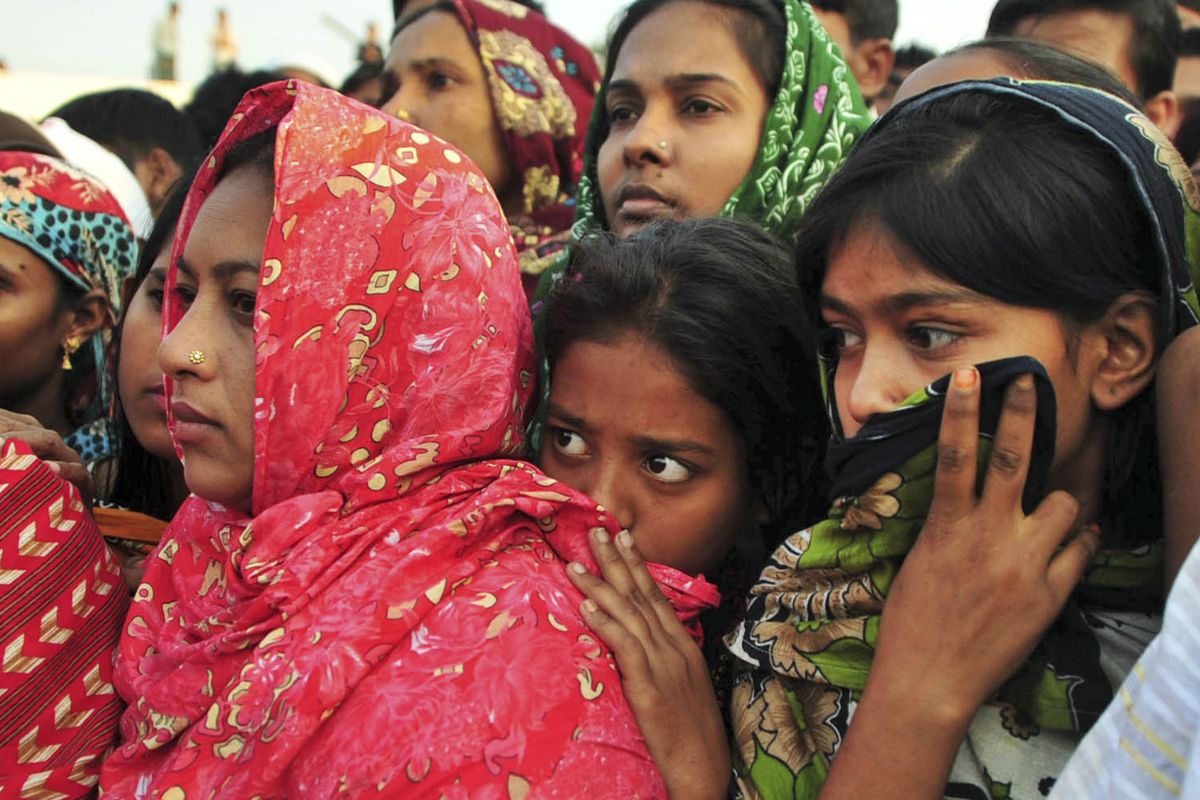 Bangladeshi women watch the bodies of some of the victims of Saturday's fire in a garment factory being prepared to be buried in Dhaka, Bangladesh, on Tuesday. (Associated Press)
DHAKA, Bangladesh – A hooded Mickey Mouse sweatshirt from Disney. Children's shorts with Wal-Mart's Faded Glory label. Clothes with hip-hop star Sean Combs' ENYCE tag.
The garment factory in Bangladesh where 112 people were killed in a fire over the weekend was used by a host of major U.S. and European retailers, an Associated Press reporter discovered Wednesday from clothes and account books left amid the blackened tables and melted sewing machines at Tazreen Fashions Ltd.
Wal-Mart had been aware of safety problems at the factory and said it had decided well before the blaze to stop doing business with it. But it said a supplier had continued to use Tazreen without authorization.
Sears, likewise, said its merchandise was being produced there without its approval through a vendor, which has since been fired. The Walt Disney Co. said its records indicate none of its licensees have been permitted to make Disney-brand products at the factory for at least a year. Combs' Sean Jean Enterprises did not return calls for comment.
The tragedy at the beginning of the holiday season is putting a spotlight on dangerous workplace conditions around the world, with no clear answers to how consumers should react or who is ultimately responsible, given the way many major retailers rely on a long and complex chain of manufacturers and middlemen to keep their shelves stocked.
Labor activists have long contended that retailers in the West bear a responsibility to make sure the overseas factories that manufacture their products are safe. They seized on the blaze – the deadliest in Bangladesh's nearly 35-year history of exporting clothing – to argue that retailers must insist on more stringent fire standards.
Charles Kernaghan, director of the Institute for Global Labour and Human Rights, said nothing will change unless clothing companies protect workers as vigorously as they do their brands.
"The labels are legally protected," he said. "But there are no similar laws to protect rights of the worker."
Bangladesh's fast-growing garment industry – second only to China's in exports – has long provided jobs and revenue for the desperately poor country, while turning out the low-priced products shoppers in the U.S. and other countries have come to enjoy.
But the industry has a ghastly safety record; more than 300 workers have died in garment factory fires in Bangladesh since 2006.
On Wednesday, police arrested three factory officials suspected of locking in the workers who died in Saturday's blaze on the outskirts of Dhaka. Police Chief Habibur Rahman said the three will be questioned. He said the factory owner was not among those arrested.
About 1,400 people worked at the factory, about 70 percent of them women. Most the fire's devastation took place on the second and third floors. Nightgowns, children's shorts, pants, jackets and sweatshirts were strewn about, piled up in some places, boxed in others. Cartons of kids' hooded sweaters, off-white with red and black print, were marked "Disney Pixar." Among the Disney garments was a gray sweatshirt emblazoned with the image of Lightning McQueen, the star of Pixar's "Cars" movies.
A pair of blue ENYCE shorts was still on a sewing machine. There were also sweaters from the French company Teddy Smith and the Scottish company Edinburgh Woollen Mill.
At least four register books listed such buyers as Wal-Mart, Disney and Sears.
Josh Green, chief executive of New York-based Panjiva, which tracks shipments for factories outside the U.S., said some companies are more conscientious than others in selecting factories. Some pick a manufacturer and do little or no investigation, he said, while others analyze factories' past infractions and visit monthly.
It is also hard for retailers to keep track of their supply chain, Green said. Moreover, "you have relentless pressure that consumers put on retailers and that retailers put on their suppliers to deliver lower and lower prices," Green said. "And that pressure is a key reason why you see factories cutting corners."
TV reports said about 3,000 garment workers held protests Wednesday over the fire.
Local journalism is essential.
Give directly to The Spokesman-Review's Northwest Passages community forums series -- which helps to offset the costs of several reporter and editor positions at the newspaper -- by using the easy options below. Gifts processed in this system are not tax deductible, but are predominately used to help meet the local financial requirements needed to receive national matching-grant funds.
Subscribe now to get breaking news alerts in your email inbox
Get breaking news delivered to your inbox as it happens.
---