Sports > Seattle Seahawks
Bears baffle Romo
Dallas QB throws five picks, two for TDs, in defeat
Tue., Oct. 2, 2012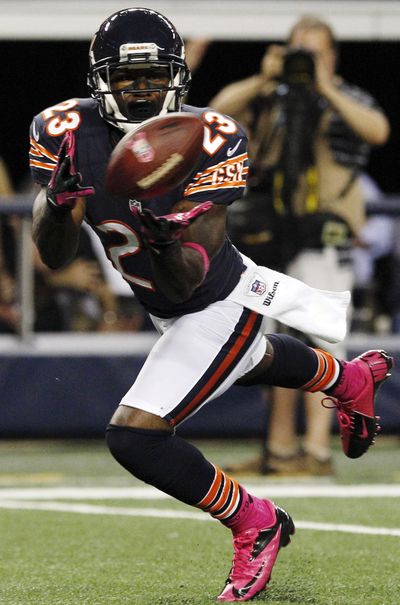 Those 30-something defenders for the Chicago Bears showed Tony Romo how much they can still play.
Lance Briggs and Charles Tillman, two of the five defensive starters for Chicago in their 30s, returned interceptions for touchdowns, and the Bears beat the Dallas Cowboys 34-18 on Monday night in Cowboys Stadium.
Though Romo was only sacked once, on the Cowboys' opening series, he was pressured relentlessly and threw five interceptions. That matched his career high, set five years ago in his first full season as a starter.
"Just outstanding play by our defense," Bears coach Lovie Smith said. "Seems like everybody had a say. Those were all good plays."
Briggs' 74-yard interception return came in a wild two-play exchange of turnovers midway through the third quarter.
"I got the ball, I just tried to score," said Briggs, who had not returned a pick for a touchdown since 2005. "I needed to get in the end zone."
Bears quarterback Jay Cutler was nearly flawless after halftime, when he completed 11 of 12 passes for 219 yards and two touchdowns. That included a 34-yard score to Devin Hester to start the half and a 31-yarder to Brandon Marshall with 6 1/2 minutes left.
Cutler was 18 of 24 overall for 275 yards. Marshall had seven catches for 138 yards.
Chicago's first fumble of the season came when Cutler was sacked by DeMarcus Ware and Victor Butler recovered at the Bears 27.
On the very next play, Romo was trying to escape pressure when he was hit from behind by Henry Melton. The ball popped forward into the air and Briggs grabbed it and rumbled for the score to put the Bears (3-1) ahead 24-7.
Once again, the Cowboys (2-2) are a .500 team. They are also one of the lowest-scoring teams with only 65 points.
Wilson still the guy
Despite the continued struggles of the Seattle Seahawks' offense and the worst passing production in the NFL, coach Pete Carroll is not ready to make a switch from rookie Russell Wilson at quarterback.
Carroll said Monday that Wilson remains the Seahawks' best option despite throwing three interceptions in Sunday's 19-13 loss in St. Louis.
Seattle's passing offense is last in the league with just 523 net yards in four games. Wilson is completing 60 percent of his passes, but the big chunks of yardage are largely missing.
"We're going with Russell right now," Carroll said. "He's working his tail off to get it right, and where all of the focus that goes to the quarterback position, there's a lot of guys that figure into what's going on, and he's one of them. So we're just trying to get better."
Locker day-to-day
The Titans' Jake Locker has no structural damage to his left, non-throwing shoulder and coach Mike Munchak said the quarterback will be day-to-day this week.
Locker dislocated his shoulder Sunday early in a 38-14 loss to Houston when sacked by Texans cornerback Glover Quinn. Locker had an MRI exam Monday.
The Titans (1-3) will know in the next day or two whether Locker will be able to play Sunday at Minnesota (3-1).
Around the league
The Jets' Santonio Holmes' left foot is not broken, but he is still expected to be sidelined for at least a few weeks. … The Jets have signed cornerback Aaron Berry, who was arrested twice this offseason. … Denver Broncos linebacker Joe Mays says he's not going to change his style after getting suspended a game for a hit that sent Houston quarterback Matt Schaub's helmet and a piece of his ear flying.
Local journalism is essential.
Give directly to The Spokesman-Review's Northwest Passages community forums series -- which helps to offset the costs of several reporter and editor positions at the newspaper -- by using the easy options below. Gifts processed in this system are not tax deductible, but are predominately used to help meet the local financial requirements needed to receive national matching-grant funds.
Subscribe to the sports newsletter
Get the day's top sports headlines and breaking news delivered to your inbox by subscribing here.
---