News > Spokane
Occupy Spokane movement spotlighting its cause
Fri., Oct. 5, 2012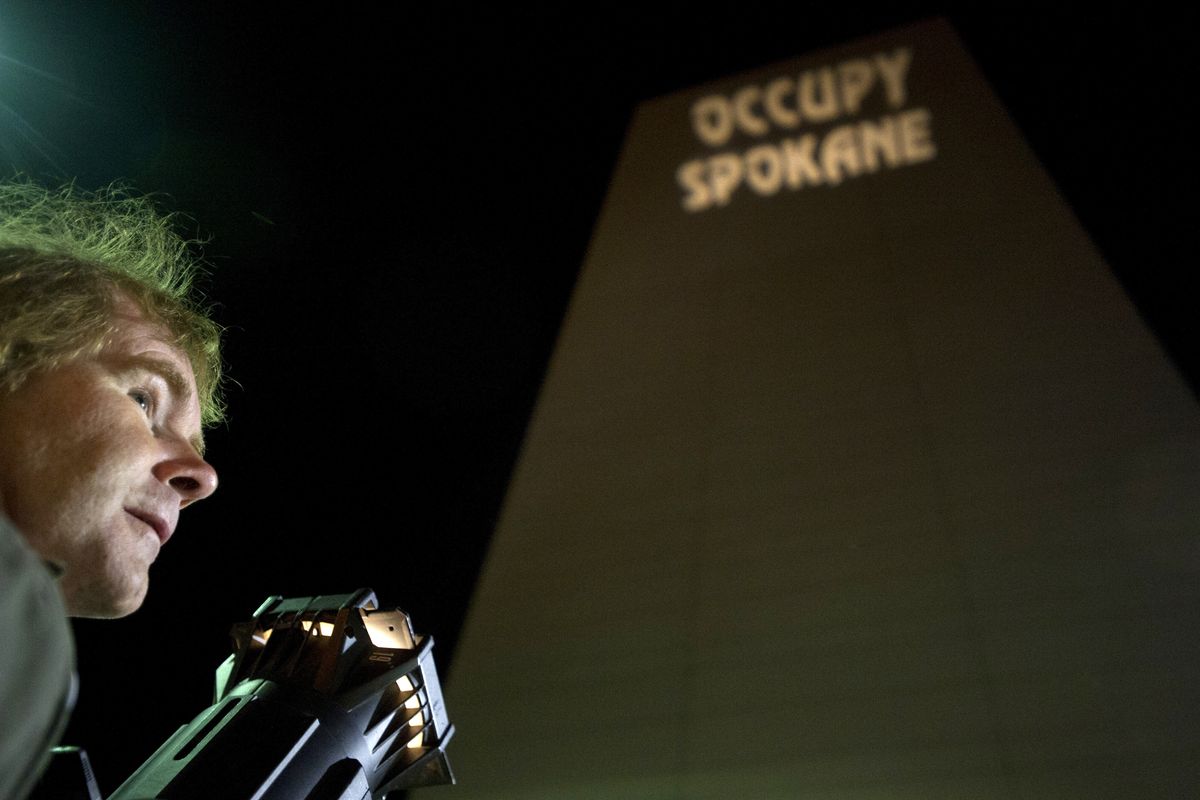 Ziggy, an activist with Occupy Spokane, uses a theater-grade light to project a message on the east side of the Wells Fargo Center on Wednesday in downtown Spokane. The message was visible looking west at the skyline and by motorists traveling westbound on I-90. (Tyler Tjomsland)
A man who calls himself Ziggy leans against his bumper-stickered Dodge Stratus sedan, anchoring a stage light between his body and the roof of the car.
He gazes up at the light's path and tries to steady the equipment as the words "OCCUPY SPOKANE" in white lettering dance across the top of the Wells Fargo Center in downtown Spokane.
With a portable generator supplying power, Ziggy and a handful of other Occupy Spokane members linger on the sidewalk below, discussing politics and waving to people – and uninterested law enforcement – who happen to drive or walk by.
The demonstration is one of a growing trend of light displays used by activists around the country. Training camps are available to teach the use of the equipment and the best strategies to reach the largest audience.
So far, no one has raised significant legal issues about the demonstrations, although the local group has had a few run-ins with property owners unhappy about their buildings being hijacked for the Occupy message.
Occupy organizer Wayne Spitzer contends the group is within its rights of free speech as it continues to find ways to convey its message more than a year after the start of the national movement.
"We've managed not to encounter too many problems yet," he said. "It's kind of one of these constitutional gray areas, which is probably why a lot of us see it as so deliciously appealing."
Better effect than marches
The Spokane light shows began this summer after Ziggy, a 54-year-old landscaper who declined to give his real name, attended a training session with grass-roots activists from the Backbone Campaign.
He purchased the projector light for about $300 and spent another $150 on the generator. The group had several filters made to display different messages, including "Coal Kills," "No Fracking" and even a joke "Ziggy Was Here" note. All the group needed after that was the side of a building.
Their backdrops so far have included the Davenport Hotel, the clock tower at Riverfront Park and the Wells Fargo Center, which is owned by Inland Northwest Health Services.
"It really gets people's attention," Ziggy said. "I'm not sure why exactly it works so well. It gets us much better effect than even our marches or spending time (along the streets)."
He said the buildings are chosen because they present a tall, flat surface for the display.
"It wasn't anything against the Davenport," Ziggy said.
Hotel management didn't see it the same way.
Matt Jensen, director of marketing for the Davenport, said security noticed the protesters shining a light on the hotel tower the evening of Sept. 13 and asked them to leave.
"We weren't offended by it," Jensen said, "but we were curious why they were doing it. It seemed a little random."
Ziggy said he and another person putting up the display that night were on public sidewalks, leaned the light against a fire hydrant and didn't trespass on private property. Security told them police had been called, but no officers showed up. Nevertheless, they packed up their equipment and left.
An earlier incident at the annual Pig Out in the Park festival over Labor Day weekend escalated to a confrontation between the Occupy protesters and event organizer Bill Burke.
Burke said a concert was under way in Riverfront Park when the Occupy Spokane image appeared on the side of the Clocktower. With concerns for sponsors who had paid to have their messages displayed at the event, Burke said he asked the protesters to turn off the light.
"We collect a whole lot of money and we give (the event) to Spokane for free," Burke said. "Shame on those people for trying to take over."
Burke said he was threatened by a member of the crowd, causing him to call security to end the demonstration.
Organizer Spitzer said the display was about seizing an opportunity, as upward of 100,000 people attended the festival that weekend.
And until someone can prove what they are doing is illegal, he said, the light shows will continue.
Freedom of speech defense called weak
The Occupy protesters have done their legal research.
Member Deb Conklin, a former lawyer, said security personnel and law enforcement rarely bother Ziggy during the light displays.
"They haven't been able to come up with anything to cite him for," she said.
Ziggy has traveled to cities in four states in the past month to help lead similar protests, and he said no one objected even as the lights shined on capital buildings.
Spitzer said the group knows it may be pushing a legal envelope, but "the Occupy movement from the start has been about challenging those assumptions."
Law experts say a freedom of speech defense is weak.
"There are no First Amendment issues or rights when it comes to private property," Spokane lawyer F.J. Dullanty said, explaining that people have a fundamental right to exclude whomever they wish from their property.
Even when it comes to public property, he said, it could be argued that rejecting a message projected onto that property isn't a free speech violation.
David Callies, a property law expert and professor at the University of Hawaii, said property rights trump freedom of speech rights.
"You have no right to use someone else's property as a forum," he said, adding that without a specific ordinance for police to enforce, it would likely be an issue for civil court.
The Spokane County Zoning Code's lighting restrictions dictate only that lights coming from private or commercial property be "positioned and shielded so that the direction of the light is downward and within the property lines."
While the legalities are still up for debate, the Occupy members said they are achieving their goal of spreading their message. Festooned in buttons that read, "We are the 99%," the group maintains that while the movement has slowed in the past year, organized events like the light displays continue the conversation.
"It's an easy way to get the message out," Ziggy said. "The police know there's really nothing they can do about it."
Local journalism is essential.
Give directly to The Spokesman-Review's Northwest Passages community forums series -- which helps to offset the costs of several reporter and editor positions at the newspaper -- by using the easy options below. Gifts processed in this system are not tax deductible, but are predominately used to help meet the local financial requirements needed to receive national matching-grant funds.
Subscribe now to get breaking news alerts in your email inbox
Get breaking news delivered to your inbox as it happens.
---