Young people raising awareness about homelessness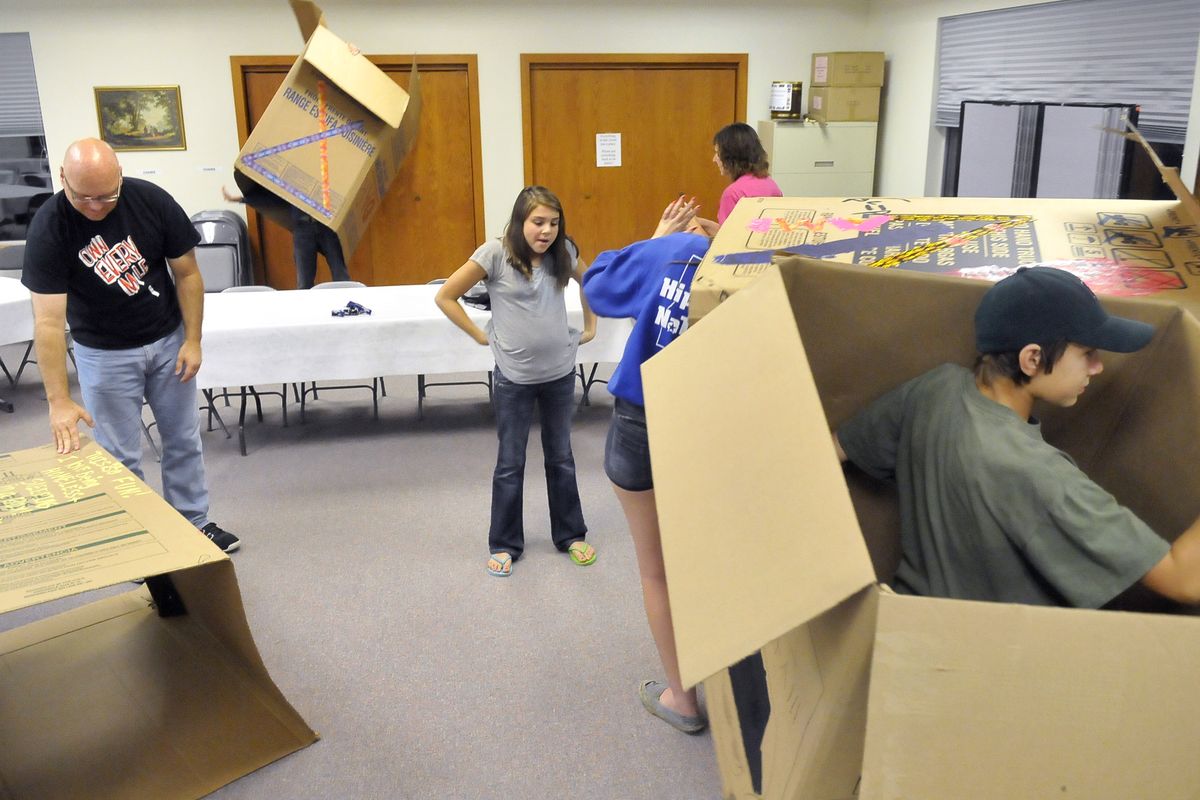 Katrina Boik has never been homeless and the closest she's ever gotten to spending a night outdoors is camping with her family. That's going to change Friday night, when Boik sleeps in a cardboard shelter she built as part of a homelessness awareness project put on by Family Promise of Spokane.
"I'm excited about it. I know I'm pretty spoiled with what I have at home," said the 18-year-old who's homeschooled and a dual credit student at North Idaho College. "I am going to bring a lot of stuff to help me stay warm."
Family Promise of Spokane, Shalom Ministries and the Mission Community Outreach Center are behind the temporary cardboard box city that will be erected at Highland Park United Methodist Church, 611 S. Garfield St.
Most of the young people who'll spend the night there are part of youth groups at area churches.
Boik said about eight youths from her church are participating.
"We have about 25 youth signed up," said Madelyn Bafus, executive director of Family Promise of Spokane. "Family Promise does this all over the United States, at different times of the year. We coordinated our event with Family Promise of North Idaho."
The homeless are not always visible. They may camp in parks or under bridges and are often on the move again by the time everyone else wakes up. This cardboard box city event aims to raise awareness about Spokane's homeless.
"The most recent count of the homeless in the Spokane area indentified 1,185 homeless people, including 170 homeless families," said Mark Kinney, executive director of the Mission Community Outreach Center. "This is an opportunity for the community to get involved and assist these families."
Bafus said she hopes the event will raise $5,000. Initially, participants had to raise $100 in pledges but Bafus said anyone is welcome no matter how much they have raised.
"We want to impact the kids who are spending the night outside," said Bafus. "The thought is that it's probably going to be uncomfortable for them for one night and then they get to go home. But for a lot of people that we serve, going home is not an option."
The Women's and Children's Free Restaurant is making dinner for the cardboard city dwellers Friday night.
Bafus said they will take donations on site and people are welcome to visit.
"We lost the band that was going to play for us, but we're still hoping there will be some live music," Bafus said.
Visitors may buy votes for a quarter apiece and vote for the best-decorated cardboard box.
"I'm going to go for that award," said Boik, adding that she had given some thought to weatherizing her cardboard box. "We can bring a tarp to cover it if it rains. Mostly, I just think it's going to be really cold."
Bafus said it's the first time Family Promise of Spokane is doing a cardboard box city, but she hopes it will become an annual event.
The cardboard city dwellers have to hand over all electronics and cellphones for the night.
"That's going to be a little hard," said Boik, "but really, for us it's just one night so we are not making that much of a sacrifice compared to people who are really homeless."
---