News > Health
Care personified
Benewah Medical Center will open expanded services to all
Tue., Oct. 16, 2012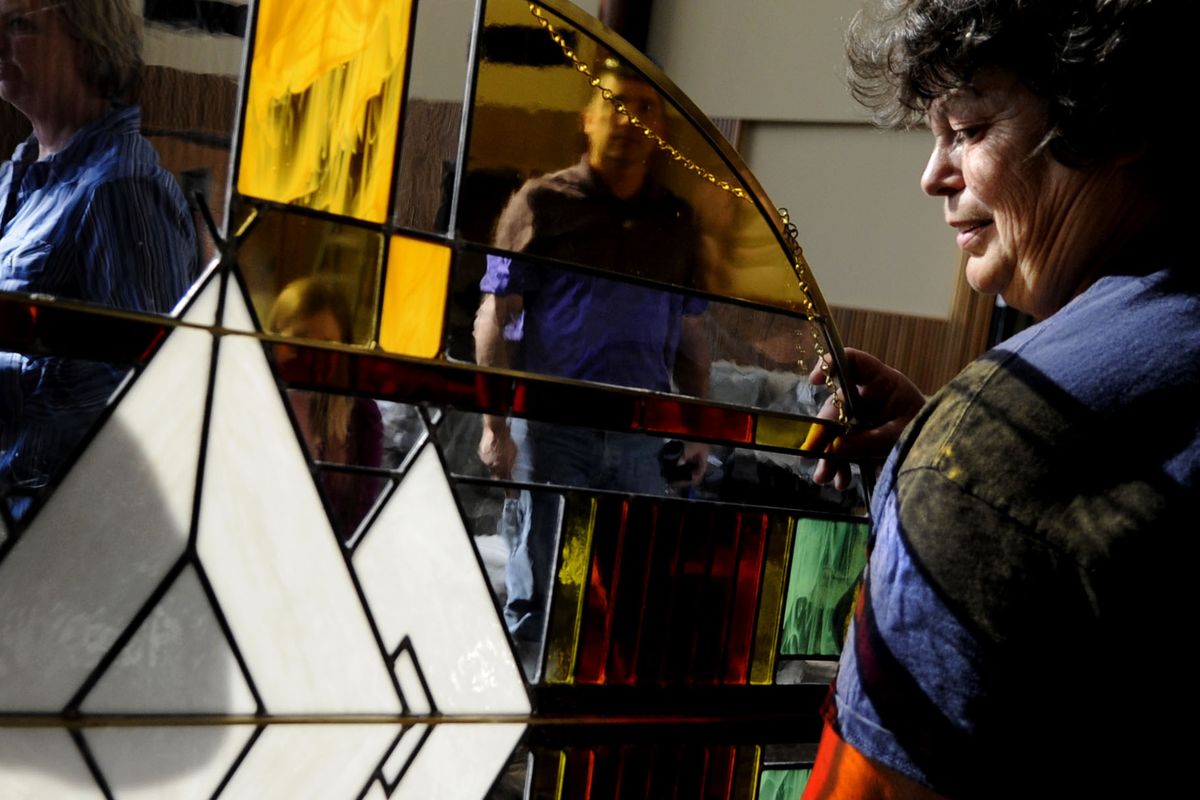 Kathy Quinn, right, housekeeping supervisor for Benewah Medical Center, moves a stained-glass piece into the lobby of the new facility on Oct. 9. The grand opening is Friday. (Kathy Plonka)
PLUMMER, Idaho – Gary Leva joked that employee productivity would drop with the opening of the new Benewah Medical Center.
With its rooftop gardens, open atrium and sweeping mountain views, it's easy to see how the CEO might worry his professionals could get lost in the landscape.
But increased services and overall growth of medical offerings on the Coeur d'Alene Reservation are the top goals for the new $17 million facility.
It's among several health facilities popping up on Native American reservations as proceeds from casinos funnel through the tribes into infrastructure.
Leva said the medical focus may be primary care, however the center will also function like an urgent care center and clinic. There will be diabetes and nutrition services, maternal and pediatric care, chronic illness monitoring, school-linked health services, foot care and tobacco cessation programs among the offerings.
The facility will be open to anyone, not just the tribe's 2,300 members.
The medical center consolidates services now offered at several buildings around the area. This will be the first time in years that patients won't have to visit separate buildings for medical and dental care or services like counseling.
"We really have all the components that you need to treat chronic disease and help people through rehab and trying to address lifestyle issues," Leva said.
The 50,000-square-foot building features 24 medical exam rooms and 10 dentist pods. It will employ 170 people, including five full-time doctors, two family nurse practitioners and three dentists.
The medical building is located near the tribe's wellness center, which includes a pool and recreation areas. The wellness center promotes preventive care; it will be used for physical therapy and rehabilitation in tandem with the medical center.
Chief James Allan, chairman of the tribe, said tribal elders generally feel more comfortable seeking health care from a provider within the tribe. There also is a community expectation to provide state-of-the-art care, he said.
"When we opened our first medical facility (in 1990) it was a model for rural health back then," Allan said. "For us to step our game up again 22 years later, I almost want to say our community's gotten spoiled. They're real excited, but it's almost expected."
The tribe was able to build the facility without going into debt. Of the $17 million price tag, about $12 million came from a federal grant from the Health Resources and Services Administration. Another $2.5 million came from the tribe's funds, which are Coeur d'Alene Casino proceeds. He said the tribe previously used casino dollars to build houses on the reservation.
The Coeur d'Alene Tribe is far from the first to put casino proceeds into infrastructure.
In 2008, the Kalispel Tribe built an $18 million Camas Center for Community Wellness on its reservation in northeast Washington, using profits from the tribe's Northern Quest Casino outside of Spokane.
The center includes a pool and gym as well as medical, dental, physical therapy, chiropractic and massage therapy services.
Ron Poplawski, the Kalispel clinic's business manager, said the facility has increased the number of tribe members who seek primary care.
Having a medical facility offering such broad-based health care for a small community gives residents access they typically wouldn't have, Poplawski said.
The tribe has a history of concerning itself with access, as Leva said it was the first in the country to receive federal funding to be able to offer patients a sliding fee scale.
He said about half of the medical center's patients are uninsured.
"People still have a great demand for care," Leva said. "Many of the private primary practices still do not accept Medicaid and Medicare or people without resources."
The center averages about 100 new patients a month, he said, but with the opening of the new facility, they have received 1,300 new patients so far this month.
With demand for care high, the new facility was built to handle expected growth.
"The demand I think will always outstrip the supply," he said. "We tried to build this building so that we could really accommodate growth."
Local journalism is essential.
Give directly to The Spokesman-Review's Northwest Passages community forums series -- which helps to offset the costs of several reporter and editor positions at the newspaper -- by using the easy options below. Gifts processed in this system are not tax deductible, but are predominately used to help meet the local financial requirements needed to receive national matching-grant funds.
Subscribe now to get breaking news alerts in your email inbox
Get breaking news delivered to your inbox as it happens.
---