News > Health
Positive diagnosis
Riverpoint's research and medical school building reflects a stage of campus development that has leaders brimming with optimism
Wed., Oct. 17, 2012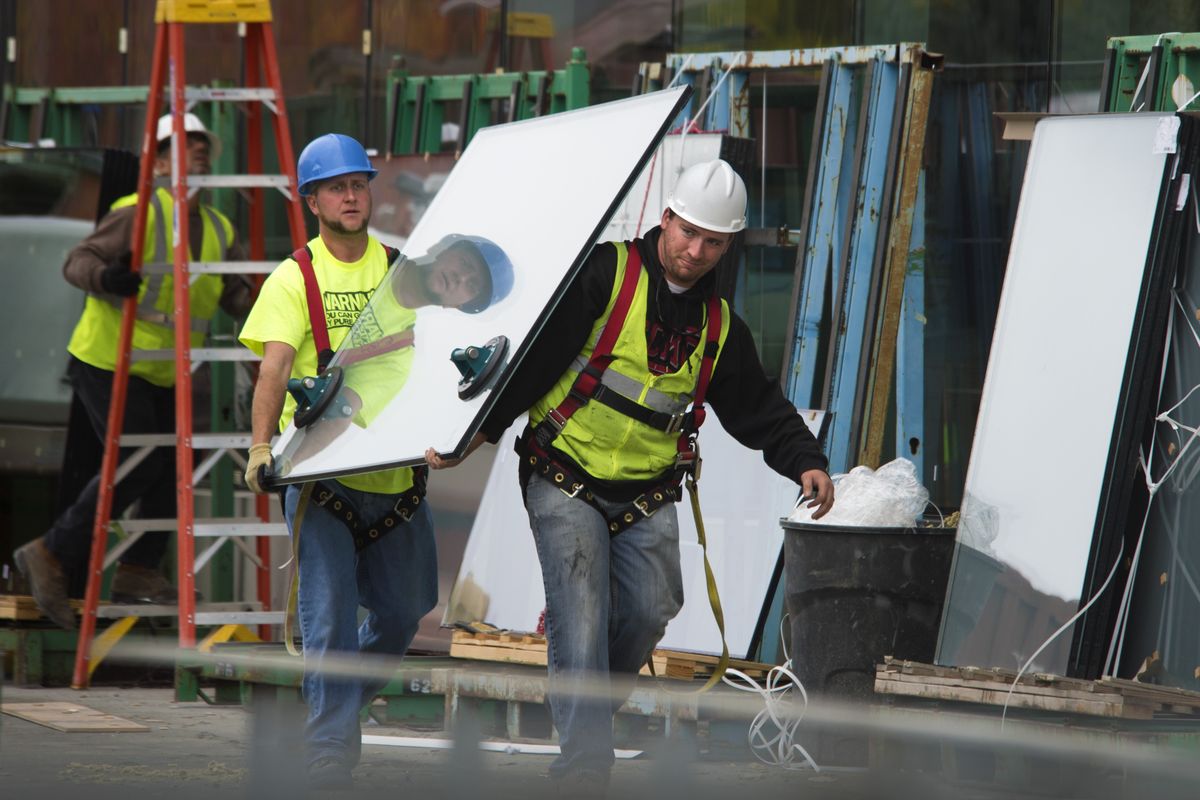 Jacob Williams, left, and Anthony Pendergraft, of Skaug Brothers Glass, carry windows for placement on the building Monday.
The foundation is poured, the frame is set and the reflective-glass exterior is being carefully placed on Spokane's long-anticipated medical school – Washington State University's Biomedical and Health Sciences Building.
Excitement among Spokane's community and business leaders and residents has been building too, and WSU officials say news about Spokane's health sciences complex is already spreading.
"While we might be more modest (compared to other universities with a health sciences focus), we are growing faster than anyone in the country, which is already drawing some interest," said Gary Pollack, dean of the College of Pharmacy and vice provost for health sciences. "We are starting to get calls from people already who say, 'I know you aren't looking for someone like me right now, but in the future please keep me in mind.' "
He added, "That's pretty gratifying to hear."
The building should be completed in about a year and equipped for classes by January 2014, said Doug Nadvornick, health sciences communications coordinator. The total cost is expected to be about $78.6 million.
The new building will have five floors and 125,000 square feet of space; about 26,000 square feet will be used for research labs.
"The theme of the building is really a research building," said WSU Spokane Chancellor Brian Pitcher. "It will be home to the programs in pharmacy and medicine."
Pollack said the research labs will focus on "new drugs on the pharmacy side, and on the medicine side, mainly on understanding disease processes."
The building will house classrooms for medical students, helping Spokane offer four-year medical education through the University of Washington School of Medicine for the first time.
And by fall 2014, WSU's entire pharmacy program will be relocated to the new facility in Spokane, Nadvornick said.
The Biomedical and Health Sciences Building will have room for 18 to 24 principal researchers and 108 graduate and postdoctoral students, said Ryan Ruffcorn, capital planning and development director. It will have 37 faculty offices, 25 administrative offices, four medical science classrooms, four anatomy labs, three pharmacy teaching labs and an auditorium that can seat 150.
The Riverpoint campus is already home to a number of WSU's health science programs including the College of Nursing, speech and hearing sciences, a health policy and administration program, part of the nutrition and exercise physiology program, and two years of the pharmacy program. Eastern Washington University's programs for communication disorders, occupational therapy, physical therapy and dental hygiene are also located there, as is a dental education program offered by EWU and the University of Washington.
The newest addition is not the end of the campus development, Nadvornick said. The new biomedical building will likely have two or three additions, but the timeline is unclear.
Pollack said, "The bigger picture – it starts with our ability to recruit new faculty and graduate students. As we build a reputation it will be easier to attract people to the area."
Overall, he added, "300 new scientists will come to the area – postdoctoral fellows, graduate students and faculty … there will be $40 (million) to $50 million in research expenditures. But the real value could come in faculty spinning off their own companies and drawing established companies to the area."
Local journalism is essential.
Give directly to The Spokesman-Review's Northwest Passages community forums series -- which helps to offset the costs of several reporter and editor positions at the newspaper -- by using the easy options below. Gifts processed in this system are not tax deductible, but are predominately used to help meet the local financial requirements needed to receive national matching-grant funds.
Subscribe now to get breaking news alerts in your email inbox
Get breaking news delivered to your inbox as it happens.
---