Obama says path forward won't be quick or easy
Thu., Sept. 6, 2012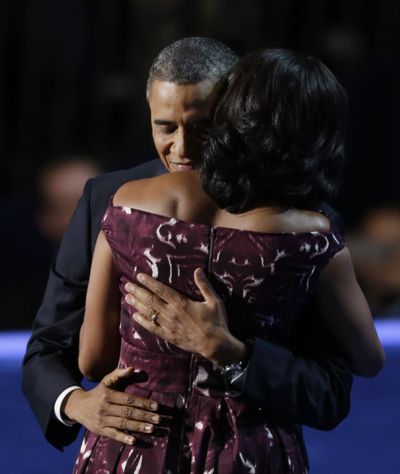 CHARLOTTE, N.C. (AP) — Preaching patience, President Barack Obama is telling voters at the Democratic National Convention that solving many of the nation's toughest challenges will take a few years.
Obama says that Republicans are calling for tax cuts to solve every problem. While he supported breaks for the middle class, he says he doesn't believe tax cuts for the wealthy would generate jobs or pay down the deficit.
Obama say job gains in the manufacturing sector over the last two years have reversed a decade of declines. He says the nation needs to invest in job training and education because it's the gateway to a middle-class life.
On foreign policy, Obama accused Republican challenger Mitt Romney of wanting to take the nation back to what he called an era of blustering and blundering.
Local journalism is essential.
Give directly to The Spokesman-Review's Northwest Passages community forums series -- which helps to offset the costs of several reporter and editor positions at the newspaper -- by using the easy options below. Gifts processed in this system are not tax deductible, but are predominately used to help meet the local financial requirements needed to receive national matching-grant funds.
Subscribe to the Coronavirus newsletter
Get the day's latest Coronavirus news delivered to your inbox by subscribing to our newsletter.
---