News > Spokane
State grants Straub training waiver
Nine-week course will suffice
Thu., Sept. 13, 2012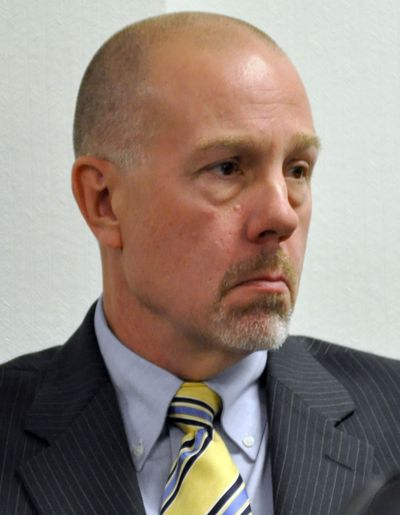 BURIEN, Wash. – Spokane's new director of law enforcement will not have to attend a five-month police academy to become a commissioned officer in Washington.
The state Criminal Justice Training Commission on Wednesday granted Spokane city officials' request for a waiver, ruling instead that Frank Straub can take a nine-week online course starting in January. That course focuses on differences in Washington's laws and procedures and is essentially designed for out-of-state officers transferring to a job in this state.
Straub, who attended the commission's meeting at the police training complex west of SeaTac airport, said he didn't take for granted the waiver would be approved.
"It's very important that I'm able to establish my bona fides in the state of Washington among my colleagues," he said. "You don't know whether they're going to let you in or not."
In the end, all but one commissioner at the meeting voted to waive full academy training. The lone dissenting vote was cast by Spokane County Sheriff's Deputy Dale Stidham, who told KHQ-TV later that it wasn't a question of Straub's qualifications. Rather, he said, it was a recognition that the commission had refused past waivers for applicants whose training has been from federal agencies and that Washington officers regard academy training as "sacred."
Commission staff said Straub has an extensive law enforcement background but has not attended a police officer's training course that is recognized by the state. The course he took as a federal officer is not among those the state recognizes, commission staff member Tisha Jones, who reviewed the waiver, said Wednesday.
Straub has 28 years in the profession, she said, but "he has not worked in a certified police officer position … ever."
Straub told the commission, however, that he was certified as a federal law enforcement officer and a New York state police officer.
Whatcom County Sheriff Bill Elfo, commission vice chairman, said Straub's resume is impressive, but he was concerned about setting a precedent by waiving the academy requirement. In the end, the commission decided to grant the waiver based on the "totality" of his experience.
"It's not important for us to decide who the agencies hire," Hoquiam police Chief Jeff Myers, the commission chairman, said. "Our job is to make sure Washington state training is … the best it can be."
Spokane Mayor David Condon said he was pleased with the state's decision and that Straub's official title will change to police chief once he's successfully completed the online course. He'll start his job, with an annual salary of $152,737, on Oct. 1.
The union that represents higher-ranking officers, the Spokane Police Lieutenants and Captains Association, has strongly backed Straub's appointment. But the union representing the rank and file, the Spokane Police Guild, opposed Straub's appointment to a director's position rather than chief.
The union opposes the appointment to that position on principle, Guild President Ernie Wuthrich, a detective, said. Straub has an impressive resume, Wuthrich said, adding that once he is commissioned, the union will have no opposition to his selection.
"I like what I've heard him say so far," Wuthrich said after attending Straub's first news conference on Tuesday.
On Monday, however, Wuthrich sent an email to City Council President Ben Stuckart raising serious objections to appointing Straub to the position of law enforcement director, which he described as a made-up title for a job that doesn't exist. He cited state statutes requiring a police chief to complete "at least two years of regular, uninterrupted, full-time commissioned law enforcement employment involving enforcement responsibilities with a government law enforcement agency."
"I don't see how the mayor can get around (that) requirement," Wuthrich wrote to Stuckart in an email obtained by The Spokesman-Review under a public records request.
The council, however, approved Straub's hiring on a 6-0 vote at Monday's meeting.
Local journalism is essential.
Give directly to The Spokesman-Review's Northwest Passages community forums series -- which helps to offset the costs of several reporter and editor positions at the newspaper -- by using the easy options below. Gifts processed in this system are not tax deductible, but are predominately used to help meet the local financial requirements needed to receive national matching-grant funds.
Subscribe to the Coronavirus newsletter
Get the day's latest Coronavirus news delivered to your inbox by subscribing to our newsletter.
---
Subscribe and log in to the Spokesman-Review to read and comment on this story