News > Obituaries
Obituary: Werner, Harold Lewis
Age 84
Sun., Aug. 11, 2013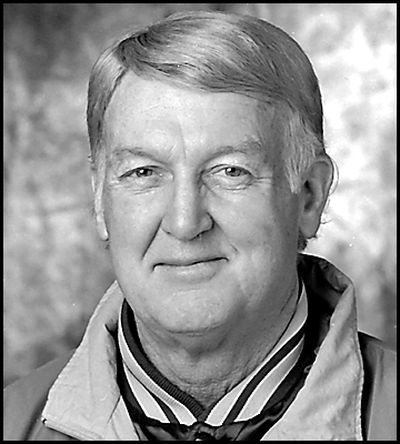 WERNER, Harold Lewis March 19, 1929 - August 4, 2013 Harold "Hal" L. Werner passed away unexpectedly Sunday, August 4th, after suffering multiple heart attacks.
He was 84.
Hal was born in Wenatchee, WA to Edgar Oren and Mabel Naoma (Titchenal) Werner.
Werner, a former Eastern Washington University (EWU) student-athlete and Track and Field Coach will be honored posthumously with an induction to the Eastern Athletics Hall of Fame ceremony on October 5th, 2013 at EWU.
A tireless athlete, coach and contributor to the sport of track of field worldwide, Werner spent two seasons at Eastern as an athlete, four years as head coach and another seven as an assistant coach.
A 1947 graduate of Wenatchee High School, Werner had a four-year stint in the Air Force as a survival instructor during the Korean War, culminating in an honorable discharge in 1959, which continued into a career of service in the Air National Guard from which he retired in 1987 with the rank of Major.
Werner attended Brigham Young University, where he qualified for the NCAA Championships in 1956.
He competed internationally and went on to earn his master's degree at Washington State University (WSU).
At 45 years of age he concluded his throwing career by winning a gold medal in has age group (45-50) at the 1975 World Master's Championships.
While at EWU Hal coached five NAIA All-Americans, designed a cross country course and an indoor track for the field house and started the Eastern women's program.
He spent eight years at Simon Fraser University in Vancouver, BC where he coached four Canadian Olympians and six NAIA All-Americans.
Hal returned to the Inland Northwest to serve as an assistant coach at Whitworth College from 1981-88.
He rejoined EWU's staff from 1988-95.
Most recently, Werner served as an assistant coach at St. Martin's University in Lacey, WA.
Werner also has extensive coaching experience internationally as throwing coach for the Kuwait National Olympic Team in 1978, coaching in Africa, Hungary, Mexico and Syria.
Werner's life experiences have also included 37 jumps as a Smoke-Jumper for the U.S. Forestry Service.
Hal is survived by his wife Mercy Werner; daughters Seija (Bill) Brown and Liesl Carson; stepson Francis Akinlabi; stepdaughter Sheba "Kate" Akinlabi; grandson Zachary Brown; granddaughter Kalie Brown, and numerous family and friends.
A graveside service will be held on Wednesday, August 14th, at 1:00 pm, at the Cashmere City Cemetery, 101 Woodring Street, Cashmere, WA 98815-1034, to be followed by a light reception where family and friends are invited to share memories of Hal's life.
Information regarding Hal's Memorial Service may be obtained by calling or emailing Ward's Funeral Chapel in Leavenworth, WA, 509-548-7011, wardsfuneralchapel@nwi.net.
Local journalism is essential.
Give directly to The Spokesman-Review's Northwest Passages community forums series -- which helps to offset the costs of several reporter and editor positions at the newspaper -- by using the easy options below. Gifts processed in this system are not tax deductible, but are predominately used to help meet the local financial requirements needed to receive national matching-grant funds.
Subscribe now to get breaking news alerts in your email inbox
Get breaking news delivered to your inbox as it happens.
---