Valley Hospital turns away nurses, others after strike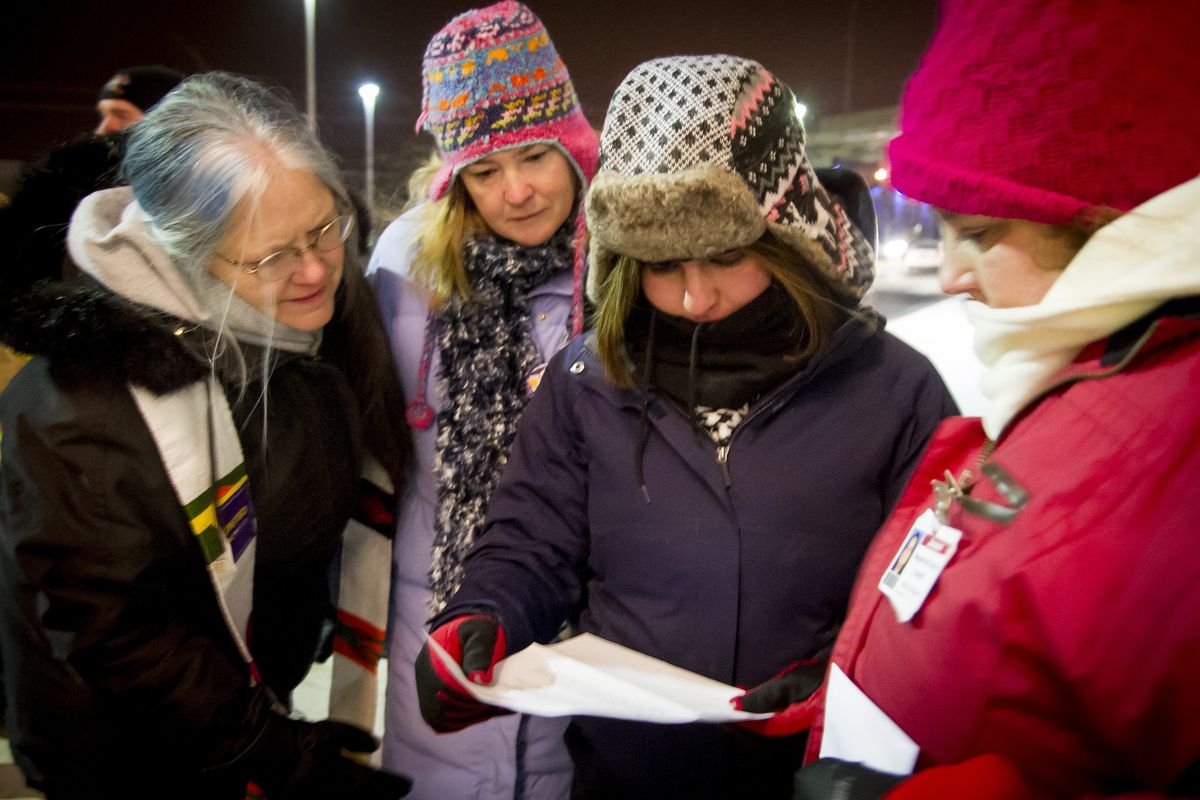 Valley Hospital has locked out at least 80 nurses and other employees in the aftermath of Wednesday's one-day strike and the hiring of temporary replacement workers.
The lockout will be lifted Saturday, but the problems dividing unionized staff and hospital administrators will linger. Nurses have been working under a contract that expired a year ago. Other health care workers at Valley and Deaconess Hospital who went on strike have been working without a contract for months.
The issue comes down to a question being posed across the country: How many nurses does it take to staff a hospital?
Several states are grappling with possible answers as they look at regulating hospitals.
California went first: Lawmakers there approved nurse staffing ratios 14 years ago.
Hospital leaders say such laws are too costly, misguided and impinge on their ability to make staffing decisions that achieve the balance of patient care and cost control.
In Washington, a hospital trade group helped turn lawmakers against mandatory staff ratios during the last legislative session by focusing on inflexible work rules, higher costs and the threat of having hospitals turn patients away for staffing reasons.
Service Employees International Union 1199NW representatives said hospitals are spreading staff too thin as they continue to reap large profits. They say laws are needed, especially as the rapid consolidation of hospitals and physicians concentrates health care among relatively few giant companies – whether that's Community Health Systems Inc., the large Tennessee-based corporation that owns Valley and Deaconess hospitals, or Providence Health and Services, the Catholic organization based in Renton that owns Sacred Heart Medical Center, Holy Family Hospital and many more hospitals and clinics across the Northwest.
SEIU intends to redouble three years of effort to legislate staffing ratios, said Teri Nicholson, a Valley Hospital nurse on the union bargaining team.
"If you think about it, the state regulates how long truckers can drive, how many providers must be in a day care and so on; why not staffing ratios in our hospitals to ensure the most vulnerable people in our community are assured attentive care?" Nicholson said. "They have it in California, why not here?"
Studies vary on the effectiveness of the California law, yet other states are considering similar legislation.
During a tense but peaceful end to Wednesday's strike, dozens of union members dissolved their picket line and marched into Valley Hospital to report for shifts.
Security guards hired by administrators used bullhorns to order people who were not scheduled to work to leave the property, including firefighters, Teamsters and teachers who came to support the union.
Guards asked state Rep. Marcus Riccelli, D-Spokane, to leave and declined his request to meet with leaders.
Hospital spokeswoman Sasha Weiler said the hospital had run without any problems during the strike.
Administrators hired many replacement workers on 72-hour contracts to keep the hospital open. The hospital intended to fulfill the terms of those contracts.
Riccelli asked the hospital to eat the cost of the replacement worker contracts and allow the full return of its nurses and other workers, but the hospital declined.
There were 57 patients in the hospital early Thursday morning, said Carol Torrey, chief nursing officer.
As disagreements played out in the lobby of the hospital, patients waiting for admission and their families looked on – some in awkward disbelief of what was unfolding.
"We were like 'Whoa, what's happening here?' " said Larry Hodgson, whose wife was scheduled for back surgery Thursday. "She was really nervous. I hope they take good care of her."
Barbara Shields came to be with the Hodgsons and said she supported better staffing levels because of personal experience.
Her elderly mother was a patient at Deaconess recently, and while she appreciated the hard work and expertise of the nurses, she was upset that they didn't have time to feed her mother. A meal tray was delivered, but her mother was too weak to lift food to her mouth.
Shields fed her mother when she arrived and after several hours had to ask someone to take away the tray.
"That's not acceptable," she said, noting that her mother had to be readmitted later. She chose a different hospital.
The hospitals say staffing levels are appropriate and claim the strike was related to a push for higher wages, including a union demand for 5 percent annual pay raises for three years.
No bargaining sessions with the union are planned.
---