News > Washington Voices
Friendship helps programs prosper
CV coaches work together to benefit athletes, teams
Sat., Dec. 21, 2013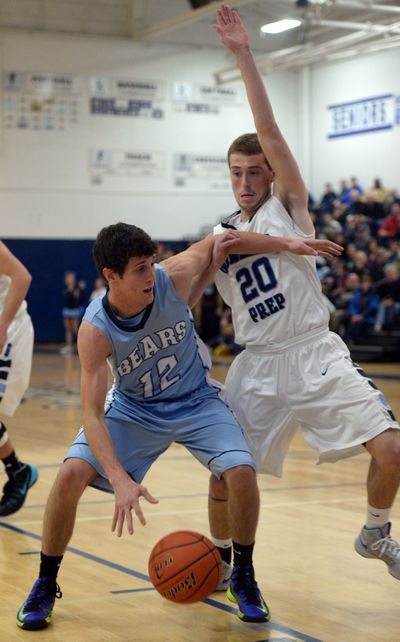 The Central Valley head boys basketball coach and head football coach share more than a common first name.
Rick Giampietri and Rick Sloan both are longtime coaches and longtime friends.
"I think when the head football coach and the head basketball coaches are friends it does make things a little easier," Sloan said. "Rick and I have been friends for a long time. More than that, I admire how he coaches and he's a coaching role model for me.
"We both have the best interest of the kids at heart, and we both believe in getting kids to play hard and to play everything. We both want them to get as much out of their high school experience as they can."
The relationship the two share helps blend their programs over the summer, when kids who play everything can get pulled in different directions. Football asks players to dedicate themselves to the weight room and conditioning programs, with football camps thrown in. Basketball plays in summer leagues.
It helps that Sloan is an integral part of the football program in addition to his basketball duties.
"I was the offensive coordinator when Rick got his first head coaching job," Sloan said. "Central Valley is a very good place to be a coach. The kids tend to come from good families, we have good athletes who tend to be very coachable. And I think they come in putting team goals ahead of individual goals, and that's important."
The two programs overlap in the other ways.
For example, both Sloan and Giampietri have like approaches to teaching athletes to be leaders. Strong senior leadership is something both programs routinely have in common.
"We do have a good group of six seniors this year, and they've done a good job," Sloan said. "Last year we just had two seniors. The year before that we had a very big senior class."
Senior guard Adam Chamberlain was the football team's starting quarterback and his back-up, sophomore Tanner Sloan, is not only a swing player between the junior varsity and varsity basketball teams, he's the head coach's son.
Starting forward Beau Byus was a standout tight end, and at 6-feet-6 an important presence in the middle for basketball.
"Looking at both the varsity and junior varsity I'd have to say that about half of our players were out for football," Sloan said.
Dedicated time in the weight room and conditioning is something that helps both programs.
And while football players generally come into the start of basketball practice a little banged up from the just-finished season, they're in good shape physically.
"I do think a lot of it has to do with having good athletes," Sloan said.
"It's amazing that the better athletes you have, the better coach you become."
Summer basketball has contributed to the Bears strong start to the basketball season. Going into Friday's Greater Spokane League game with district-rival University, CV was 4-0.
"The way they do summer leagues now you can get in an awful lot of games over the summer," Sloan said. "That goes a long way to helping to jump start the season. It helps that we have six players back who played last year on a pretty good team.
"Any time you go 4-0 it's a great start. We're not playing our best basketball by any stretch, but we're playing pretty well right now. And to be honest, a big part of it is luck. We've been pretty injury free these last few years, and it helps to be lucky."
The Bears have one game scheduled for the Christmas break, a trip to the Tri-Cities to face Richland Dec. 28 before coming home to face Lewis and Clark on Jan. 3 in GSL play.
"That Richland game will be a good one for us," Sloan said. "Richland is one of the favorites in that league, and we'll get an idea of where we are."
Local journalism is essential.
Give directly to The Spokesman-Review's Northwest Passages community forums series -- which helps to offset the costs of several reporter and editor positions at the newspaper -- by using the easy options below. Gifts processed in this system are not tax deductible, but are predominately used to help meet the local financial requirements needed to receive national matching-grant funds.
Subscribe to the Coronavirus newsletter
Get the day's latest Coronavirus news delivered to your inbox by subscribing to our newsletter.
---
Subscribe and log in to the Spokesman-Review to read and comment on this story