Sports > Outdoors
Longtime outdoors writer dies at 96
Roskelley's cast-and-tell reporting in Chronicle netted legions of loyal readers
Sat., Feb. 2, 2013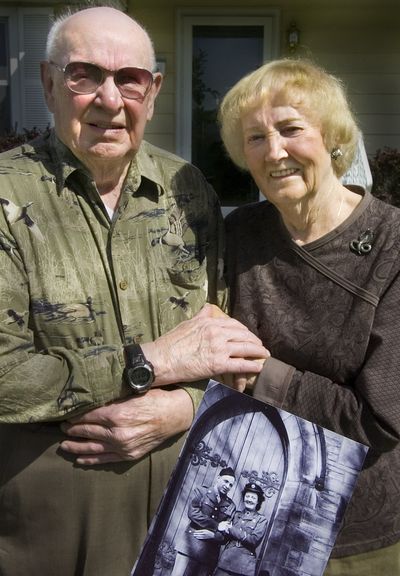 Fenton Roskelley, former outdoors writer for the Spokane Daily Chronicle and the newspaper's only employee to have a company car equipped with a boat hitch, died of natural causes Wednesday. He was 96.
He never missed a day of work, writing as many as six stories or columns a week, said his son, John Roskelley, a world-class mountaineer and former Spokane County commissioner.
On the other hand, going fishing and hunting was part of the job description.
From 1958 through 2003, Fenton Roskelley was the Spokane region's best-known author of the cast-and-tell story. While he covered a range of outdoors, hunting and conservation topics, he catered to fishing. Especially fly fishing.
To Roskelley, it was a dream job that never left him longing for promotion. Even after he retired in 1982, he negotiated a contract that maintained his hunting and fishing columns as a twice-weekly feature in the Spokane papers.
Newspaper staffers respected him as a newsman who told it like it was.
"I remember going through the old clip files for history on the (Snake River) dams," said Dan Hansen, former natural resources reporter for The Spokesman-Review. "Everyone was gung-ho to get them built at the time. Fenton was the only one talking about what would be lost: the orchards, the shoreline habitat, the fish, the rapids."
Hunters and anglers pored over his columns for outdoor news, updates and tips, but they also gave him mixed reviews. In a 1990 interview, Roskelley said his life had been threatened after writing a story about waterfowl hunting near Potholes Reservoir.
"Right from the beginning, I vowed never to write about specific hunting areas or small fishing holes that could be damaged by publicity," Roskelley said. "Most sportsmen work hard to find productive places. Others should do the same.
"But it's selfish for some people to say I shouldn't write about public resources like the St. Joe River, Potholes Reservoir or Lenore Lake. Publicity is partly responsible for regulations that have made these waters great."
After graduating from the University of Idaho in journalism in 1938, Roskelley was hired by the Chronicle in 1940 for $18 a week as a copy editor and beat reporter. He was drafted into the Army in 1942, but returned to his newspaper job after World War II, bringing along a British woman he'd met while stationed in England. Roskelley and Violet May Shipman were married in 1945. She died in 2012.
In 1958, he convinced the editors that Spokane needed a full-time outdoors writer. The newsroom became his part-time office from then on. Even after his retirement and the demise of the Chronicle in 1992, Roskelley continued writing The Spokesman-Review's hunting and fishing reports until 2003.
Paid to give his opinion, Roskelley chastised game hogs and sportsmen who turn a blind eye to violators. He showed little patience for animal-rights activists who got in the way of scientific wildlife management and groused about the rise of tournament fishing.
"I think fishing should be contemplative rather than a competitive sport, except between friends," he said.
Roskelley is survived by his daughters, Patricia Loomis and Heather Roskelley, his son, John, and six grandchildren.
A memorial service is set for 11 a.m. Thursday at Ball & Dodd Funeral Home, 5100 W. Wellesley Ave.
Burial will follow in the Eastern Washington Veterans Cemetery, just a few long casts from West Medical Lake, a trout fishery Roskelley covered every year for decades.
Local journalism is essential.
Give directly to The Spokesman-Review's Northwest Passages community forums series -- which helps to offset the costs of several reporter and editor positions at the newspaper -- by using the easy options below. Gifts processed in this system are not tax deductible, but are predominately used to help meet the local financial requirements needed to receive national matching-grant funds.
Subscribe to the sports newsletter
Get the day's top sports headlines and breaking news delivered to your inbox by subscribing here.
---