News > Spokane
STCU will move offices, new branch into historic Hutton Building
Feb. 8, 2013 Updated Sat., Feb. 9, 2013 at 9:07 a.m.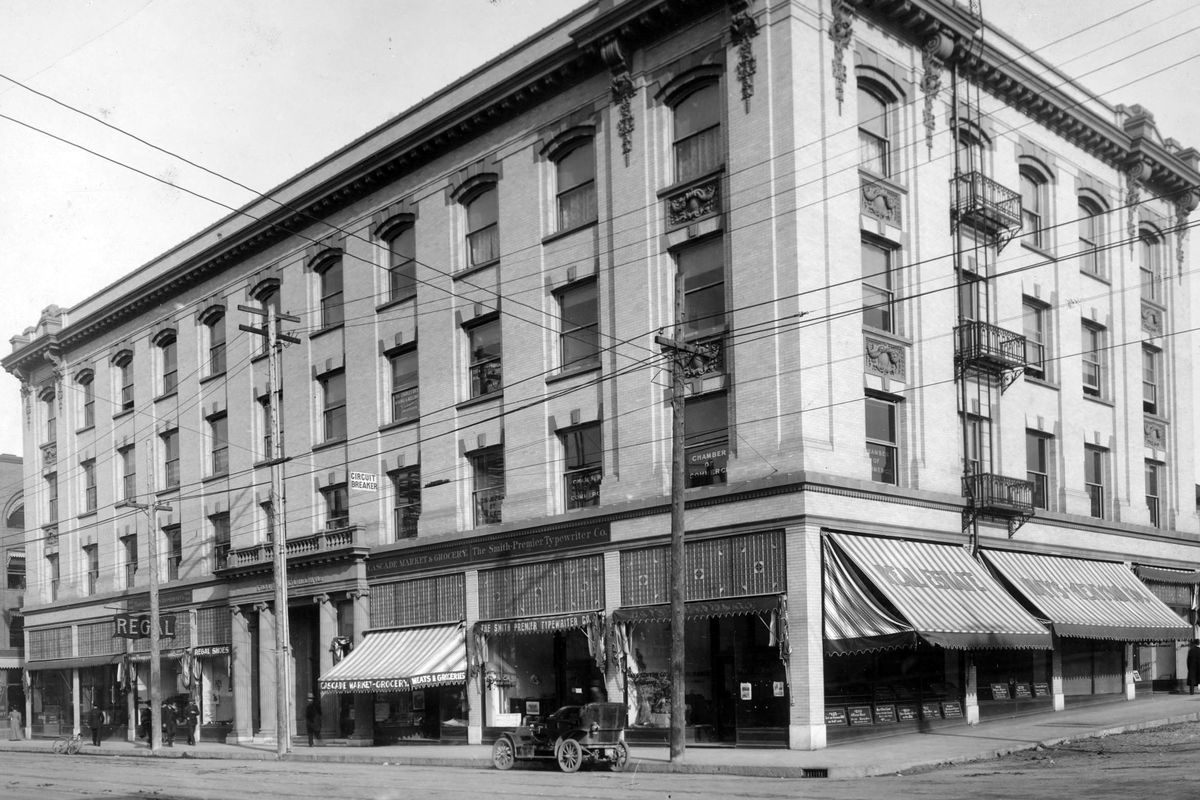 The Hutton Building is seen in 1909. Additional floors were added in 1910.
Spokane Teachers Credit Union is turning a foreclosed downtown building into one of its most prominent offices.
The credit union announced Friday that it will move its commercial lending operations to the Hutton Building, a 105-year-old landmark at 9 S. Washington St. that it owns following a foreclosure last year.
The seven-story building is valued at $3.5 million by Spokane County.
Credit union President and CEO Tom Johnson said the region's largest credit union was running out of space for its commercial lending department at its current leased space at the Schade Brewery building near the Riverpoint Campus.
Since it already owned the building and the credit union desired to keep commercial lending offices in downtown Spokane, the Hutton Building was an ideal choice for expansion, Johnson said.
The credit union will use the top two floors, as well as some space on the ground floor for a branch.
Much of the rest of the building will become business condominiums.
"There aren't many options in Spokane for small businesses to own space," Johnson said.
Credit union spokeswoman Traci McGlathery said the credit union may have to move some tenants within the building.
The Hutton had been owned by Selkirk Trading, a company run by Rob Brewster, who at one time had several prominent historical buildings in Spokane.
Only half the building was leased when Selkirk Trading filed for Chapter 11 bankruptcy last year, according to a statement Brewster filed in federal court. He could not be reached Friday. A federal judge last year dismissed the bankruptcy after Brewster established that Selkirk Trading had no assets to distribute. Brewster listed debts for Selkirk of $3.9 million. The property was valued at around $3.4 million in the bankruptcy documents.
Selkirk Trading had only one asset, the Hutton Building. No other Brewster properties were included in that LLC.
Selkirk Trading bought the building in 2001. Spokane Teachers Credit Union has held the loan since 2003, according to court records.
The building was added to the National Register of Historic Places in 1983.
It was built with money from Levi "Al" and May Arkwright Hutton, who then lived in the penthouse from 1907 to 1915, according to the national register records. The couple grew rich from their Hercules Mine in the Silver Valley. May Hutton was a prominent suffragist, and the couple donated the land for Lincoln Park on the South Hill.
The building "has been neglected a bit" in recent years. Johnson said the elevators and other parts of the building will be updated before offices are moved this spring.
"We certainly are going to treat it with respect," Johnson said.
The Hutton Building will be home to the credit union's 17th branch. The headquarters for STCU, which has about 85,000 members and assets of $1.6 billion, will remain in Liberty Lake.
Spokesman-Review staff writer Tom Sowa contributed to this report.
Local journalism is essential.
Give directly to The Spokesman-Review's Northwest Passages community forums series -- which helps to offset the costs of several reporter and editor positions at the newspaper -- by using the easy options below. Gifts processed in this system are not tax deductible, but are predominately used to help meet the local financial requirements needed to receive national matching-grant funds.
Subscribe now to get breaking news alerts in your email inbox
Get breaking news delivered to your inbox as it happens.
---