Sports
Cougars focus on Bruins after another frustrating defeat
Sat., Feb. 9, 2013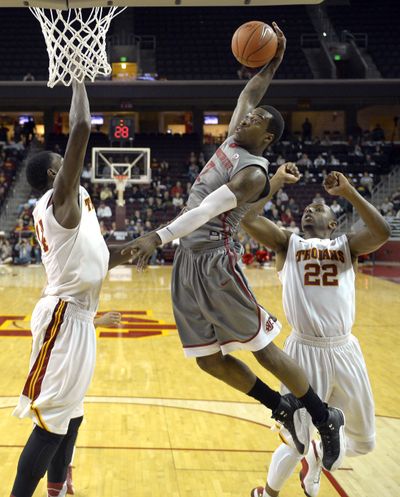 LOS ANGELES – They boarded a bus back to their hotel late Thursday night, not all that long before it turned Friday morning.
Roughly 10 hours later, the Washington State Cougars were back on a bus, then back on the court, this time at Pauley Pavilion to prepare for tonight's game at UCLA.
Memories of Thursday's 72-68 loss at USC were still fresh in their minds, no doubt. But coach Ken Bone said it appeared everyone at Friday's practice was eager to simply move on and start thinking about the Bruins.
"I think it's best to just get back out on the floor, talk about a few things and get on to your next one," Bone said in the lobby of WSU's hotel in Culver City. "Especially when it's a quick turnaround."
Quick and not easy, either. The Bruins have overcome a couple of bad early losses to find themselves in the thick – or is it thin? – of the Pac-12 title chase, tied with Arizona State and Oregon at 7-3 in conference play.
UCLA lived dangerously on Thursday night, escaping with a 59-57 win over Washington thanks to Larry Drew's buzzer-beating jumper. The Bruins made just 22 of their 66 field-goal attempts.
That near-miss further proved UCLA's mortal status when playing at the newly-renovated Pauley Pavilion. The Bruins lost there to Cal Poly early in the year, narrowly avoided a similar fate against UC Irvine, and lost in overtime to USC there last week.
So the Cougars say they know they can play with UCLA. It's just a matter of playing with the Bruins for 40 minutes, something WSU again failed to do in Thursday's frustrating, come-from-ahead loss to the Trojans.
"I'm pretty sure we're going to be right in the game," said sophomore guard DaVonte Lacy, whose 21 points led WSU against USC. "It just depends if we're going to get focused and execute, and see if we can finally come out with a 'W' in a close game."
The Cougars (11-12, 2-8 Pac-12) have now led at some point in the second half of 21 of their 23 games this season. They've played 12 games against teams from major conferences, have led in the second half of 10 of those games, and have won just two.
The talented, athletic Bruins (17-6, 7-3) play at a faster pace than they typically have under coach Ben Howland, and are led offensively by star freshman Shabazz Muhammad.
Local journalism is essential.
Give directly to The Spokesman-Review's Northwest Passages community forums series -- which helps to offset the costs of several reporter and editor positions at the newspaper -- by using the easy options below. Gifts processed in this system are not tax deductible, but are predominately used to help meet the local financial requirements needed to receive national matching-grant funds.
Subscribe to the sports newsletter
Get the day's top sports headlines and breaking news delivered to your inbox by subscribing here.
---