Sports
Oldest marathon runner retires
India's Singh decides to call it quits at age 101
Mon., Feb. 25, 2013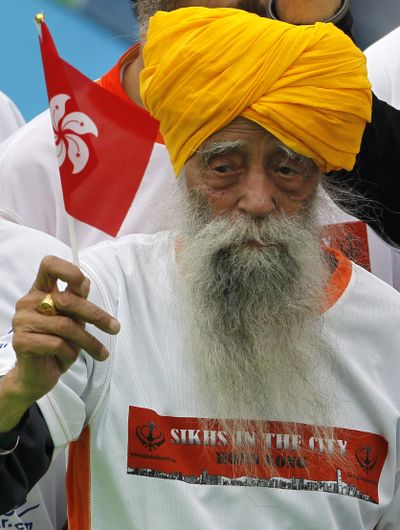 HONG KONG – The world's oldest marathon runner ran his last race on Sunday at the age of 101.
Fauja Singh finished the Hong Kong Marathon's 10-kilometer (6.25-mile) race in 1 hour, 32 minutes, 28 seconds.
Singh, a Sikh with a saffron turban and a flowing white beard, followed the route along the northern lip of Hong Kong island. He was accompanied by a group from the city's local Sikh community, joining about 72,000 other runners taking part in the marathon.
The Indian-born runner, nicknamed the Turbaned Torpedo, had said that he would hang up his sneakers after the race in the southern Chinese city, just before his 102nd birthday.
"I will remember this day. I will miss it," Singh said minutes after crossing the finish line.
Singh, a great-grandfather, became the oldest man to run a full marathon at Toronto in 2011, at the age of 100. His accomplishment was not recognized by Guinness World Records because he doesn't have a birth certificate to prove his age. Singh has a British passport that shows his date of birth as April 1, 1911, while a letter from Indian officials states that birth records were not kept in 1911.
"I am feeling a bit of happiness and a bit of sadness mixed together. I am happy that I am retiring at the top of the game but I am sad that the time has come for me to not be part of it," Singh said in a prerace interview. "And there will always be times in the future where I will be thinking, 'Well, I used to do that (running),' " the Punjabi-speaking Singh said through his coach and interpreter, Harmander Singh.
Singh took up running at the age of 89 as a way to get over depression after his wife and son died in quick succession in India. The death in 1994 of his son took a particularly hard toll on Singh because of its grisly nature. Singh and his son, Kuldip, both farmers, were checking on their fields in the middle of a storm when a piece of corrugated metal blown by the wind decapitated Kuldip in front of his father's eyes.
In 2000, at the age of 89, he ran the London Marathon, his first, and went on to do eight more. His best time was 5 hours and 40 minutes at the 2003 Toronto Marathon.
"From a tragedy has come a lot of success and happiness," Singh said before the race as he explained how running has changed his life, allowing an illiterate farmer to travel the world, meet dignitaries and stay in five-star hotels.
Local journalism is essential.
Give directly to The Spokesman-Review's Northwest Passages community forums series -- which helps to offset the costs of several reporter and editor positions at the newspaper -- by using the easy options below. Gifts processed in this system are not tax deductible, but are predominately used to help meet the local financial requirements needed to receive national matching-grant funds.
Subscribe to the sports newsletter
Get the day's top sports headlines and breaking news delivered to your inbox by subscribing here.
---
Subscribe and log in to the Spokesman-Review to read and comment on this story