Sports > Gonzaga basketball
Mark Few turns into a juggler with bigs
Mon., Jan. 7, 2013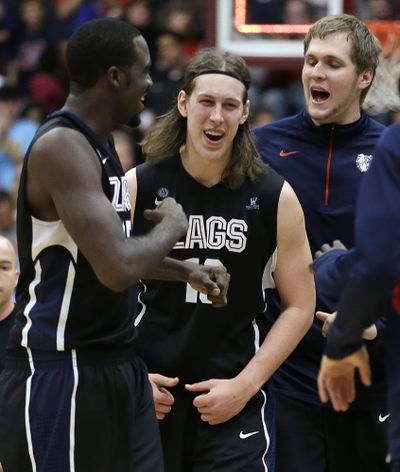 Gonzaga men's basketball coach Mark Few has every intention of utilizing four talented front-court players, but juggling the playing time probably isn't quite as simple as it sounds. Take Saturday's game against Santa Clara. Junior Kelly Olynyk was virtually unstoppable, scoring 33 points in 35 minutes. Senior Elias Harris was steady again, scoring 14 points for his 14th game in double figures in 15 outings. He played 26 minutes. That left just 19 minutes for backups Sam Dower and Przemek Karnowski, who didn't play in the second half. Olynyk and Harris combined for 51 minutes against Pepperdine – approximately their season average – and 56 against Oklahoma State. "It is hard, but at the same time we're better when we can get those guys in there and we're coming at you with multiple guys," Few said. "We always have to remind ourselves to continue to do that. When we haven't, I think we've slipped a little bit, but it is hard because at times (Olynyk and/or Harris) are getting on pretty good rolls. "It's probably the one downside to great depth." The reality is there are 80 minutes per game at the "4" and "5" positions with four capable options. In addition to a player being on a hot streak, as Olynyk has been in generating five games with at least 20 points in the last eight, there are countless variables: Practice performance, matchups and what's needed in a particular situation (scoring, rebounding, defense, experience, size, finesse, low block, help breaking the press, etc.). "We're winning and that's all that really matters," Dower said. "When I do get in there, I'm going to do whatever I can to make this team better. I haven't been down about anything. We're playing good. We're playing great." It's hard to argue with the results. The quartet combines for an impressive 47.4 points per game, led by Olynyk's 17.1 and Harris' 15.1. Olynyk ranks among the national leaders in field-goal percentage at 67.5. Karnowski (67.1) would be right behind if he met the qualifying standard of five made field goals per game. The four make 60.5 percent of their shots. That climbs to a whopping 63.6 percent when 33 3-point attempts are subtracted. And then there's the ability to absorb foul trouble while exerting foul pressure on opponents. Olynyk, with two, is the only Zag to foul out this season. Fifteen opposing players, all forwards and centers, have exited with five fouls, and that doesn't factor in minutes lost when a player in foul trouble is forced to sit on the bench. Olynyk, who played behind Harris and Robert Sacre earlier in his career, understands Dower's situation perhaps better than anyone. "I told him to stay positive," said Olynyk, roommates with Dower for three years. "He can put up 20 a night easy, but he's not getting as much time as he should because me and 'E' are playing a lot. "Something amazing with our team … is even though guys aren't playing on a certain night, no one is down on themselves. …, nobody is quitting. It shows how much of a family, how much of a team we are and how much … everyone wants total success rather than individual success."
Notes
Olynyk was named WCC Player of the Week after averaging 23.3 points and 7.7 rebounds in three victories. …Guard Kevin Pangos wore protective glasses at Monday's practice. Pangos, who was poked in his right eye by Santa Clara's Evan Roquemore, said his eye is improving every day. Steven Gray had a similar experience at Santa Clara three years ago when he was poked in the eye and was seeing double for a short time. … Gonzaga (15-1) moved up to No. 9 in the AP poll and No. 8 in USA Today rankings. The last time the Bulldogs had a single-digit ranking in the USA Today poll was Feb. 20, 2010, when they were ninth. Gonzaga was No. 7 in the AP poll on Dec. 23, 2008.

Local journalism is essential.

Give directly to The Spokesman-Review's Northwest Passages community forums series -- which helps to offset the costs of several reporter and editor positions at the newspaper -- by using the easy options below. Gifts processed in this system are not tax deductible, but are predominately used to help meet the local financial requirements needed to receive national matching-grant funds.
Follow along with the Zags
Subscribe to our Gonzaga Basketball newsletter to stay up with the latest news.
---