Sports
Cougars go cold, fall to Stanford
Thu., Jan. 10, 2013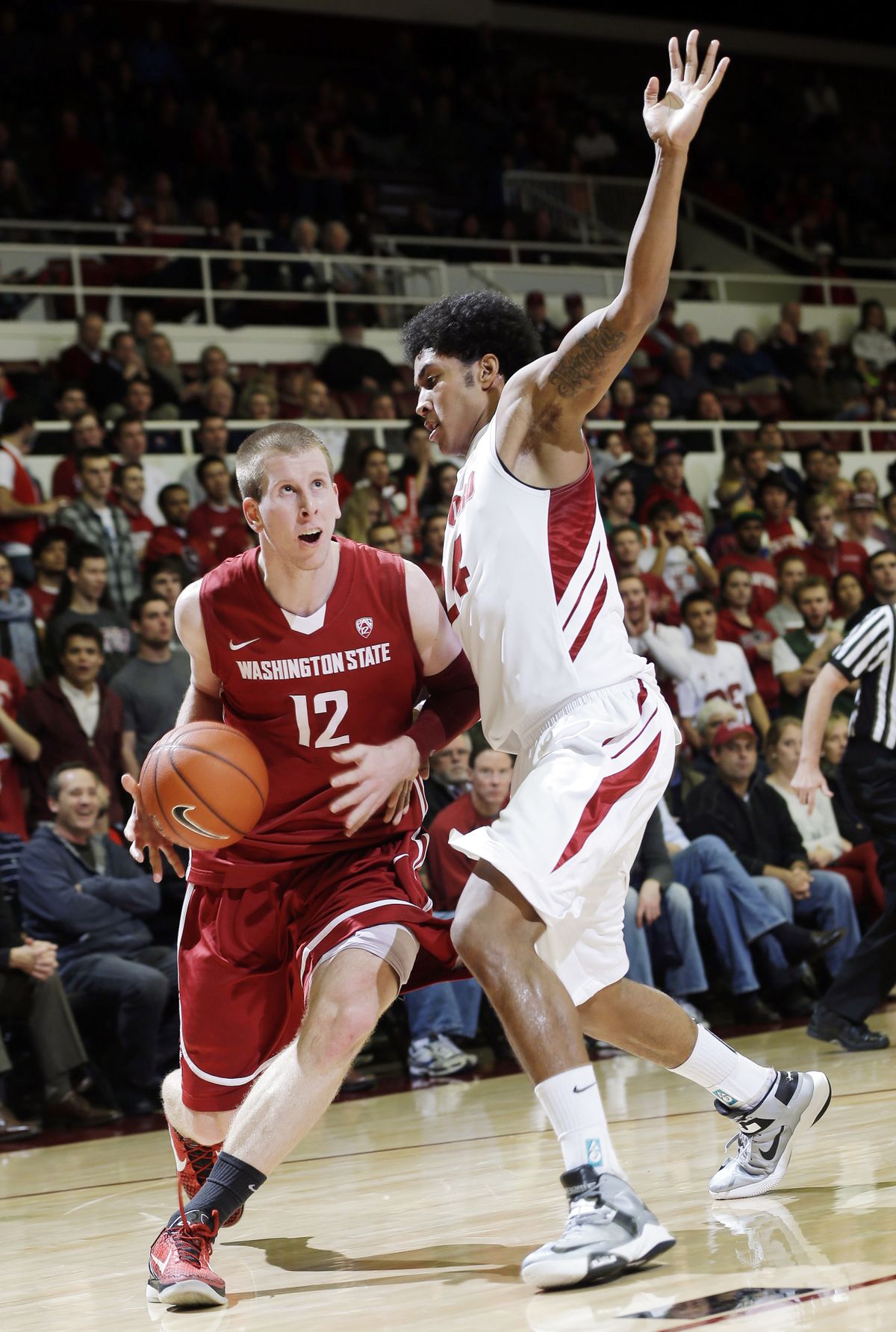 Stanford's Jush Huestis tries to slow WSU's Brock Motum. (Associated Press)
STANFORD, Calif. – There were no last-minute heroics by the opponent this time, no "if only" scenarios for Washington State to replay as it boarded a charter flight back to Pullman late Wednesday night.
Well, maybe one: If only Stanford hadn't made two-thirds of its 3-point attempts and its first 24 free throws, maybe the Cougars wouldn't be answering for another late-game meltdown.
Stanford didn't win here because it made the bigger play in the final seconds, as a handful of Cougar foes have this season. The Cardinal won because it made plays, consistently, for 40 minutes. And the Cougars stopped making theirs after 35.
Add it up, and a winnable game escaped WSU before 4,476 at Maples Pavilion on Wednesday, with Stanford victorious 78-67 behind an 8-for-12 effort from 3-point range and a near perfect performance at the free-throw line.
So efficient was Stanford (10-6, 1-2 Pac-12) at the foul line that as the game slipped away from WSU late, senior forward Brock Motum said he scanned the floor without a clue which Cardinal player he should foul to stop the clock.
Can you blame him? None of them could miss. And especially not Bellevue native Aaron Bright, who came off the bench to score 21 points – he was 8 for 8 from the free throw line and 3 for 4 from 3-point range – 10 of those in the game's decisive final six minutes.
Before that, though, WSU (9-6, 0-2 Pac-12) had leads of 53-48 and then 57-54 after Motum scored with 5:47 to play. The offense looked crisper than it did during a sluggish first half. Motum, who made just 3 of 10 field goal attempts before halftime, finished with a game-high 29 points, including four 3-pointers.
And then …
"In its simplest form," WSU coach Ken Bone said, "they made shots, and we didn't."
Well, yes. Following Motum's bucket, Stanford ripped off 14 points before WSU scored again. Chasson Randle made a pair of free throws before scoring on an impressive take to the rim. Dwight Powell, who scored 16 points, flushed a put-back dunk and made a pair of free throws. Bright tossed in a flip shot over Mike Ladd.
And the Cougars simply went quiet, forcing shots that weren't there and missing the ones that were. Motum stopped the bleeding with a 3-pointer that cut Stanford's lead to 68-60 with 1:53 to go, but the damage had been done.
"Our offense was pretty good," Ladd said of WSU's 44-point second half. "But it was just the defensive end that was killing us, getting stops in clutch situations. We need to get stops there."
"We were scoring and they were scoring, but when we stopped hitting a couple shots they hit them, and that sort of gave them a buffer," said Motum, who attempted a career-high 24 shots. "And then next thing you knew, there wasn't much time left and we started to foul and they hit a bunch of free throws."
A whole bunch. Stanford finished 24 of 26 from the free-throw line, its only two misses coming with 26.5 seconds left when forward Andy Brown clanged a pair.
"I thought our energy was a little bit deflated when they did start making some shots," Bone said.
So it's back to Pullman, where the Cougars will attend class and practice Thursday before flying back down here on Friday night for their Saturday game at California.
Intense study will not be required to explain this one.
"They closed out the game well," Motum said, "and we couldn't close it out with stops when we needed them."
Local journalism is essential.
Give directly to The Spokesman-Review's Northwest Passages community forums series -- which helps to offset the costs of several reporter and editor positions at the newspaper -- by using the easy options below. Gifts processed in this system are not tax deductible, but are predominately used to help meet the local financial requirements needed to receive national matching-grant funds.
Subscribe to the sports newsletter
Get the day's top sports headlines and breaking news delivered to your inbox by subscribing here.
---