News > Washington Voices
Artist Waddington mixes messages with her work
Thu., Jan. 17, 2013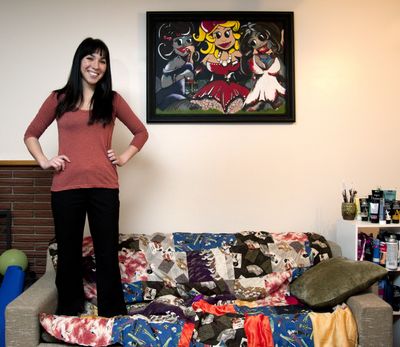 If you were an amateur philosopher who gazed at Haley Waddington's paintings, met the artist and then flipped through a notebook filled with images of her work, you just might point at the print titled "Teddy Alien" and ask if it was a self portrait. Her answer would be, "No, I did that for my brother when he was younger," but you would still wonder because Waddington has more sides than one.
"Teddy Alien" is a modern yin-yang; assuring on one side and slightly disturbing yet endearing on the other. It is the representation of a well-rounded childhood; equal measures of sweet dreams and monsters under the bed, and it is something that almost everyone can relate to.
"I have been told that I am just creating images of myself in some way but I would like to think that I am creating images that others can see themselves in also," she said.
Many of her acrylic paintings contain the female form done in an exaggerated fashion that would fit right in with Betty Boop, Jessica Rabbit and Dolly Parton, characters that fascinated Waddington when she was a child. "The female form is amazing and so is a woman's ability to fit into so many molds and play so many roles in life," she said.
In her work, she captures the traditional and the "far out" and a sort of truth by representing the pleasant with the unpleasant – the yin and the yang. Almost cartoonlike, some of her paintings mix fairy tales with nightmares so well that it's barely noticeable. Her ongoing series called "The Many Deaths of the Glitter Princess" shows an adorably sweet character maintaining a smile through certain death – slit wrists, hanging by a golden noose, and being chomped on by equally lovely and grinning zombie princesses.
Waddington, a Tlingit/Tahltan Alaskan native, was born and raised on the island of Wrangell. Raised by her mother and grandmother, Waddington embraces tradition and all things feminine, and her childhood drawings included the women and the nature that nurtured her.
Also fascinated with Disney and Pixar, Waddington, 29, attended Full Sail University in Winter Park, Fla., on an Alaskan Native scholarship. She graduated in 2004 with a degree in computer animation. She then returned to Wrangell, where she had art exhibits and worked for the arts and her community at the Wrangell Chamber of Commerce, Wrangell Community Arts, and the Ketchikan Area Arts and Humanities Council. She also created custom logos, greeting cards, and prints for clients. She also began a business called Marie Case Creations.
In October, Waddington graduated from the esthetics program at Glen Dow Academy in Spokane. Currently, a few of her pieces are displayed at Spokane Public Market, 24 W. Second Ave., and one painting hangs at Cashmere Skin and Body in the Flour Mill.
"I create art because it lets me express myself," she said.
Local journalism is essential.
Give directly to The Spokesman-Review's Northwest Passages community forums series -- which helps to offset the costs of several reporter and editor positions at the newspaper -- by using the easy options below. Gifts processed in this system are not tax deductible, but are predominately used to help meet the local financial requirements needed to receive national matching-grant funds.
Subscribe to the Coronavirus newsletter
Get the day's latest Coronavirus news delivered to your inbox by subscribing to our newsletter.
---
Subscribe and log in to the Spokesman-Review to read and comment on this story