Sports
Ex-Coug Thompson shows engaging side as pro
Sat., Jan. 19, 2013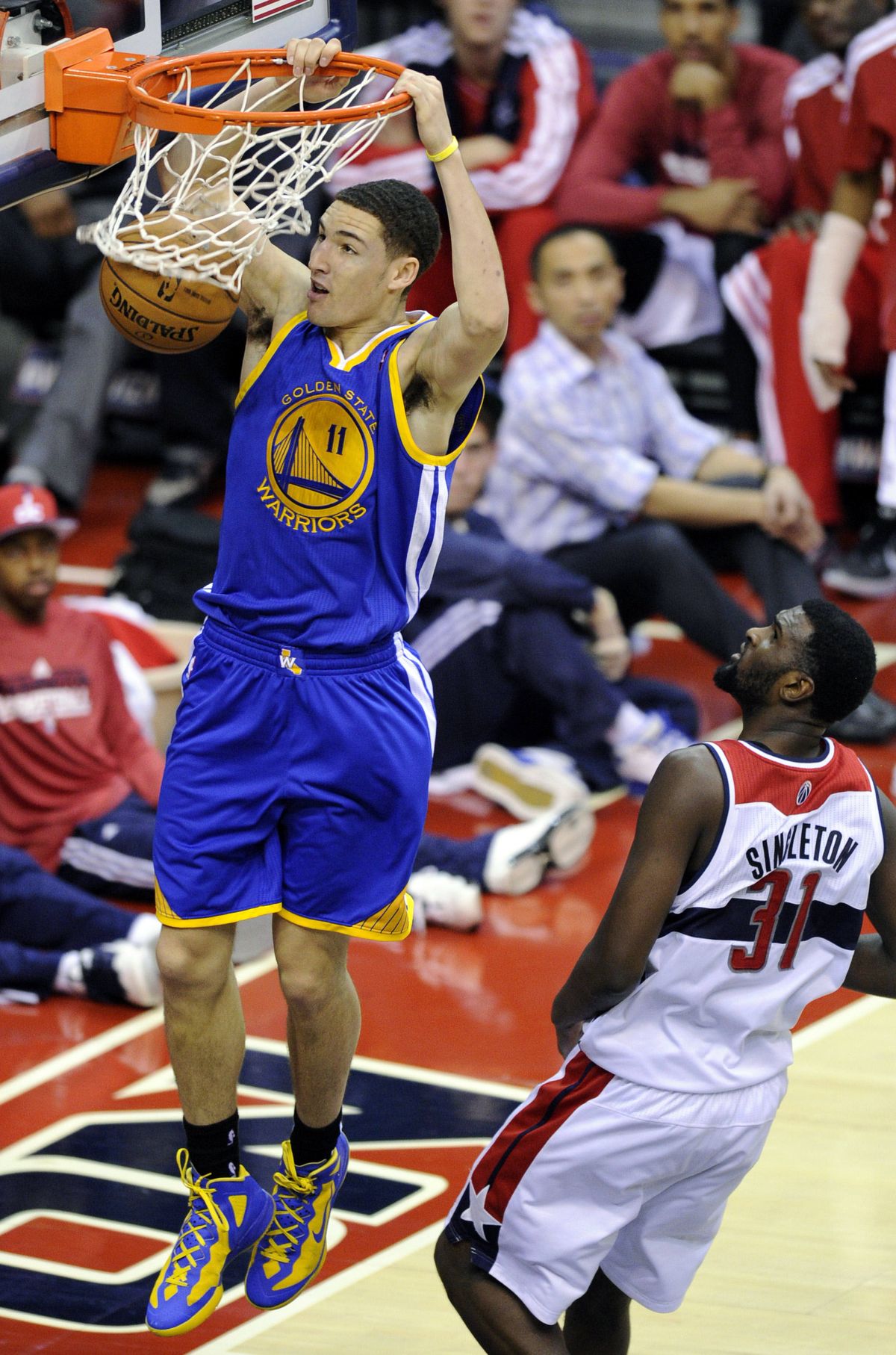 Klay Thompson throws down a dunk, but the former Cougar has worked hard on his defense. (Associated Press)
OAKLAND, Calif. – The way Klay Thompson speaks now, it's hard to imagine him as the same guy who stood before a Beasley Coliseum crowd less than two years ago, microphone in hand, apologizing for the fact he was suspended and couldn't play in Washington State's season finale against UCLA.
Prior to a Jan. 11 game against the Portland Trail Blazers, Thompson, now in his second season with the Golden State Warriors, sits in front of his locker and offers thoughtful analysis of his former college program, the run-in with the law that marred his final days as a Cougar, the future of WSU basketball.
This is a side of Thompson few saw in Pullman, at least publicly. He's talkative. He laughs. Teammates poke fun at him as he conducts interviews with reporters who used an off-day during WSU's trip to the Bay Area to catch up with one of the school's most prolific scorers.
Thompson, a 6-foot-7 shooting guard, is averaging 15.4 points and four rebounds per game as a fixture in Golden State's starting lineup. But he also speaks of a dedication to defense, a focus of his during a summer spent in Las Vegas practicing against Team USA, and his coach, Mark Jackson, describes him now as an adequate post defender against taller players.
The Warriors, Thompson said, apply many of the same principles defensively as former WSU coach Tony Bennett. And the conversation turns to the Cougars.
Thompson said he's optimistic about the future of WSU basketball under the current coaching staff, despite some of the Cougars' early-season struggles.
It's not Ken Bone's fault, Thompson says, that heralded freshman Que Johnson (ineligible) and Reggie Moore (dismissed for violation of team policy) aren't available this season.
"I like what they're doing. Not having Que this year definitely hurt, because Que's really talented, one of the better recruits to come in there in a long time," Thompson said. "And losing Reg was tough. So you've got to cut Coach Bone some slack. Losing their senior point guard, assist leader, is tough on anybody.
"They've had some tough losses. A couple points and they should be 12-3 instead of 9-5 or 9-6. I watched the Gonzaga game and they played great and showed they can play with anybody in the country."
Thompson's own WSU career – which included 1,756 points, third-most in school history, as well as a school-best 242 made 3-pointers – ended in somewhat dubious fashion.
His arrest for marijuana possession in March of his junior year resulted in a suspension from a game pivotal to WSU's NCAA tournament chances (they lost). It was also the second of three marijuana-related incidents involving Cougars players that season.
But that shouldn't be an indictment of the program's culture, Thompson said.
"They've kept it clean this year," he said. "I can tell those guys enjoy playing for each other. I'd love to see them win. I would really like to see them win. I think Pullman could be a great sports town for any team, any sport. It's just unfortunate what happened to me, Reggie and (DeAngelo) Casto. In hindsight, it wasn't anything that had to do with the coaches. That was a personal matter. So you can't blame it on the program at all. That's just something that the players chose to do."
Thompson sees NBA potential in Brock Motum, WSU's 6-foot-10 senior forward who led the Pac-12 in scoring last season and is among its leaders again this year. Motum and Thompson were teammates for two seasons under Bone.
"I always thought Brock Motum was going to be a pro," Thompson said.
"Super-skilled big man, one of the most skilled I've ever seen. He actually reminds me of David Lee's game, as far as how he can face people up and be a mismatch nightmare from about 20 feet and in. I think he can flourish in the NBA."
Thompson, who scored 16 points that night with WSU players and coaches in attendance, appears to have found a comfortable home of his own.
Local journalism is essential.
Give directly to The Spokesman-Review's Northwest Passages community forums series -- which helps to offset the costs of several reporter and editor positions at the newspaper -- by using the easy options below. Gifts processed in this system are not tax deductible, but are predominately used to help meet the local financial requirements needed to receive national matching-grant funds.
Subscribe to the sports newsletter
Get the day's top sports headlines and breaking news delivered to your inbox by subscribing here.
---