News > Nation/World
GOP takes on image problem
Jindal: 'We must stop being the stupid party'
Sat., Jan. 26, 2013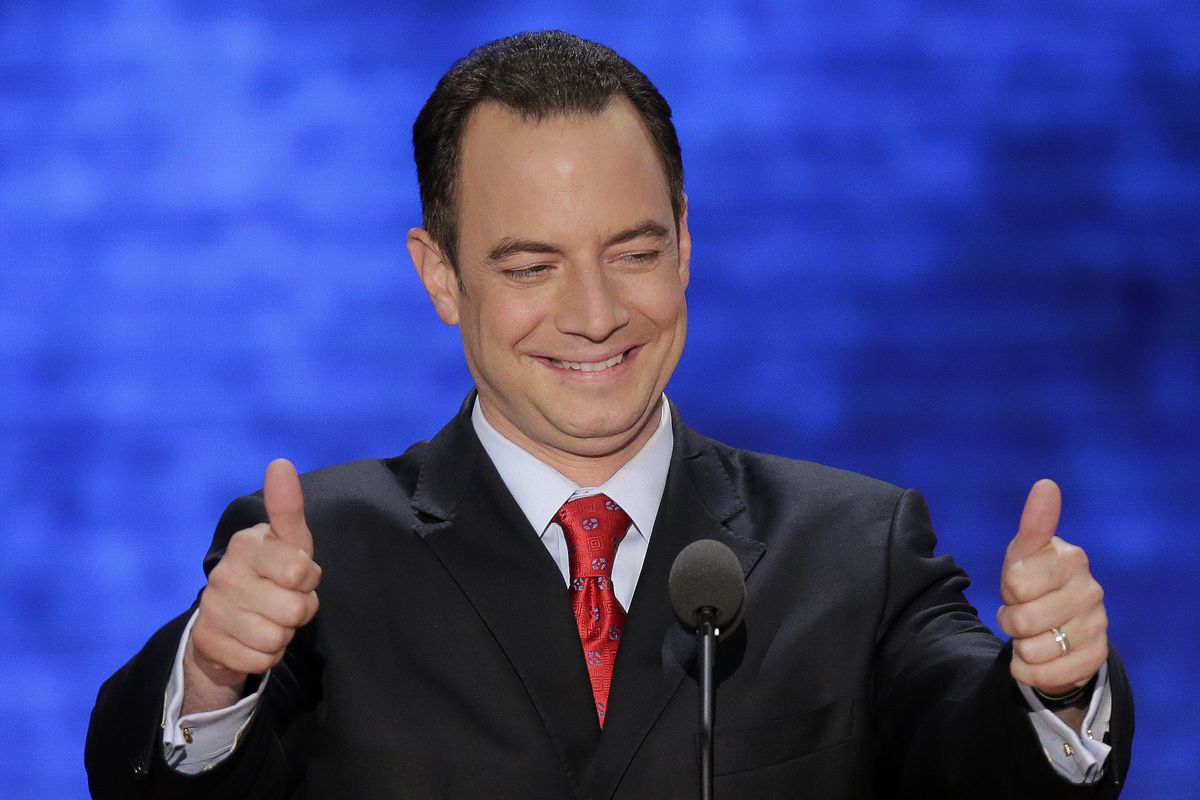 Priebus
CHARLOTTE, N.C. – Stung by an image that it's too rigidly conservative and too "stupid" about its words and tactics, a somber Republican Party vowed Friday to change its ways.
But the party's first meeting since the November election featured little public dialogue about how specifically to adjust, or at least tolerate, policies that would have broader appeal, particularly on guns, immigration and social issues. And few wanted to discuss where the conservative and politically difficult tea party movement fit.
The party re-elected Wisconsin's Reince Priebus, 40, to a new term as chairman, but the talk centered on the need for change.
"Demographic changes in America are changes in the Democrats' direction. We have to figure out how to make it come our way," said Ari Fleischer, who was the White House press secretary under President George W. Bush. Fleischer is among several Republican leaders who have spent recent months studying ways to expand the party's reach.
Louisiana Gov. Bobby Jindal was more blunt.
"We must stop being the stupid party," Jindal, a potential 2016 presidential hopeful, told colleagues.
Republicans are still studying to how to proceed – as Fleischer put it, they're in the fourth inning of a nine-inning game – and throughout the party's winter meeting, which began Wednesday and is to wrap up today, they have been inundated with tactical ideas.
Most involved reaching deeper into communities where the party has had trouble winning votes.
"We are a populist party, and we need to make that clear," Jindal said.
President Barack Obama won 93 percent of the black vote last fall and 71 percent of the Hispanic vote. Republican presidential candidate Mitt Romney also lost the women's vote.
Republicans have to compete on a broader scale, Priebus said. Stop thinking only about "battleground states," he said, in which polls say Republicans have a chance, though he quickly said of his home state, "We turned a very 'blue state' pretty darn red."
The old red and swing state strategy meant virtually ignoring some of the nation's biggest states, notably California and New York, during last year's election.
Priebus also urged the gathering to keep drawing sharp contrasts with Democrats. Obama, he said, has made them "one of the most government-dependent parties that we've ever seen in the modern era."
Republican Party leaders take some solace in history, knowing that in this age of instant communication, neither political party stays up or down very long. Priebus displayed a chart recalling how, in 1988, Republicans carried California, Illinois, Connecticut and Delaware.
There's also been talk here of trying to change the Electoral College so votes may be awarded proportionately, rather than statewide, in Ohio, Pennsylvania, Michigan and Virginia.
"Every party goes through this," said Sally Bradshaw, a Florida Republican strategist.
It was only 2010 when Republicans won control of the House of Representatives as the tea party movement helped sweep 87 Republican House freshmen into office. But this week, party stalwarts were uneasy and defensive when asked about the tea party and its lack of involvement in the party meeting.
"You don't have anybody over 6-foot-5 on our (study) committee, or anyone from the West Coast, or whatever," said panel member Henry Barbour, a Republican committeeman from Mississippi.
Former House Speaker Newt Gingrich argued, however, that the tea party not only remains relevant but also has been important in party successes. He pointed to candidates who have won with its support and asked, "Do you think that once they're elected they don't count anymore?"
Candidates backed by the tea party, or those considered favorites of die-hard conservatives, beat more mainstream Senate Republicans in several states over the last two years. Had some of the center-right Republicans won in states such as Delaware, Nevada and Indiana, the party very well might control the Senate today. Democrats control 55 of its 100 seats.
Nor was there much talk about some of the party's extremes – candidates whose views cost them winnable elections – other than vague references to the problem, as what happened in Missouri last fall. Conservative Todd Akin won the state's Republican U.S. Senate primary, but was hurt by his comments about "legitimate rape" and lost the general election to incumbent Democratic Sen. Claire McCaskill.
"We must stop insulting the intelligence of voters," Jindal told a dinner crowd Thursday night.
Party officials instead wanted to talk "about relationships," said Glenn McCall, a national committeeman from South Carolina, one of the members of the outreach study committee.
"Whether it's a college activist recruiting volunteers in Pasadena, or a small-business woman running for town council in New Jersey, let's host Skype-based training sessions and Google hangouts on campaign strategy, fundraising, door-to-door advocacy and digital tools," Priebus said. "We need to give the next generation of organizers access to the brightest experts."
There was little talk, though, about how to set these tactics in motion.
Fleischer described Republicans today as a "tale of two parties."
One has governors who reflect their constituencies on policy and win in supposedly non-Republican states, such as Chris Christie in New Jersey and Scott Walker in Wisconsin. Then there's the other face of the party, with the reputation of being too narrowly focused.
"Look at the federal candidates," said Fleischer. "That's where the challenge really lies."
Local journalism is essential.
Give directly to The Spokesman-Review's Northwest Passages community forums series -- which helps to offset the costs of several reporter and editor positions at the newspaper -- by using the easy options below. Gifts processed in this system are not tax deductible, but are predominately used to help meet the local financial requirements needed to receive national matching-grant funds.
Subscribe now to get breaking news alerts in your email inbox
Get breaking news delivered to your inbox as it happens.
---