Sports
Cougars clutch, top Oregon State
Ladd has career night; Woolridge delivers late
Sun., Jan. 27, 2013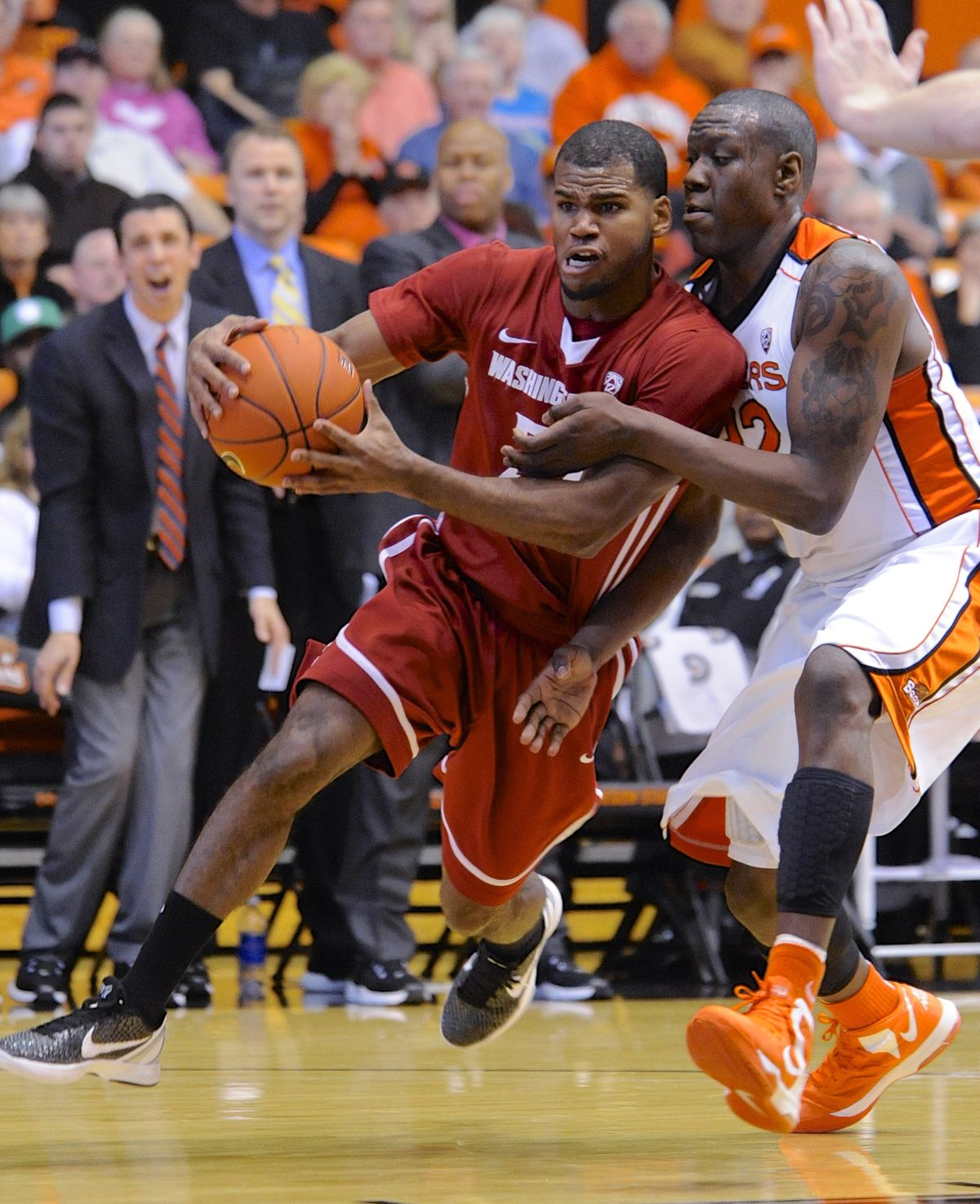 WSU's Royce Woolridge drives against OSU's Jarmal Reid. (Associated Press)
CORVALLIS, Ore. – Royce Woolridge walked out of Gill Coliseum with a hefty bandage over his left eye, the result of a gash opened by Oregon State forward Eric Moreland and one of his bothersome arms.
Stitches would be required, Woolridge said. He was smiling.
That's because Washington State began repairing something else here on Saturday afternoon: its reputation as a squanderer of second-half leads and a pushover on the road.
The Cougars were neither this time, finally winning a close game thanks in part to Woolridge's clutch play down the stretch of a 71-68 victory before a healthy gathering of 6,592 mostly perturbed spectators.
And it's fitting that it was this building in which WSU overcame its end-of-game woes. The Cougars have won their last four games at Gill, two of them last season and one in 2011.
They've now beaten the Beavers 12 of the last 15 times they've played, and have won five out of the last six matchups despite none of those being played in Pullman.
And, as coach Ken Bone said afterward, "when you're 1-5 coming in, you need it."
They needed senior guard Mike Ladd's career-high 23 points, 17 of them scored in the first half when a barrage of Ladd jumpers, put-backs and layups was the only thing keeping WSU in the game.
"I get put in certain situations, and I make the most out of those type of situations," said Ladd, who made 10 of his 11 field-goal attempts. "It was a slow start for some guys, shooting-wise, and I felt like I should be more aggressive and attack. And that's what I did."
They needed senior forward Brock Motum to get going in the second half, when he scored 16 of his 20 points and keyed a 10-0 run that ultimately decided the game. He also grabbed 10 rebounds for his second double-double of the season.
They needed Woolridge, whose driving layup and runner on back-to-back possessions inside the final 2 minutes kept WSU ahead by four points, then the two free throws he made to put the Cougars ahead by three points with 7.8 seconds left.
"We've been talking about poise this whole time," said Woolridge, who shot just 2 for 10 from the field but scored WSU's final seven points. "So I felt like it was my time to step up and show some poise and some leadership, because Mike had been doing so well."
OSU guard Ahmad Starks got off a lengthy 3-point attempt in the final seconds, but missed everything. The Cougars needed that, too.
It wasn't easy. WSU took a 59-51 lead after D.J. Shelton's 3-pointer with 6:42 remaining, the fans still roaring about a technical foul called against OSU coach Craig Robinson 2 minutes prior.
But the Beavers chipped away, eventually cutting the lead to 63-60 after Starks made a jumper with 3:57 left. Woolridge's two baskets came after a Motum free throw, and Woolridge split a pair of free throws with under a minute remaining to put WSU ahead 69-64.
Roberto Nelson's bucket for OSU (11-9, 1-6) was answered by a pair of missed free throws by DaVonte Lacy, and Starks drove to the basket for a layup with 7.9 seconds left to cut WSU's lead to 69-68.
Starks grabbed Woolridge immediately after the ball was inbounded. The sophomore guard calmly sank both shots, and Starks' lengthy look failed after WSU called timeout.
"It's just one of those things where you just focus in because those are important free throws," Woolridge said. "So I felt like I just had to knock them down, so I just stayed focused."
Bone said he tried to manage his players' minutes a little more, playing walk-on guard Bryce Leavitt 6 minutes in the first half to help assure Ladd, Woolridge and Lacy would have something left at the end of the game.
"Hopefully we can get the ball rolling now," Motum said, "and this will turn into a couple wins and winning turns into a habit rather than losing those closer games."
Local journalism is essential.
Give directly to The Spokesman-Review's Northwest Passages community forums series -- which helps to offset the costs of several reporter and editor positions at the newspaper -- by using the easy options below. Gifts processed in this system are not tax deductible, but are predominately used to help meet the local financial requirements needed to receive national matching-grant funds.
Subscribe to the sports newsletter
Get the day's top sports headlines and breaking news delivered to your inbox by subscribing here.
---