News > Spokane
Stevens County animal shelters put faith in law enforcement
Sun., Jan. 27, 2013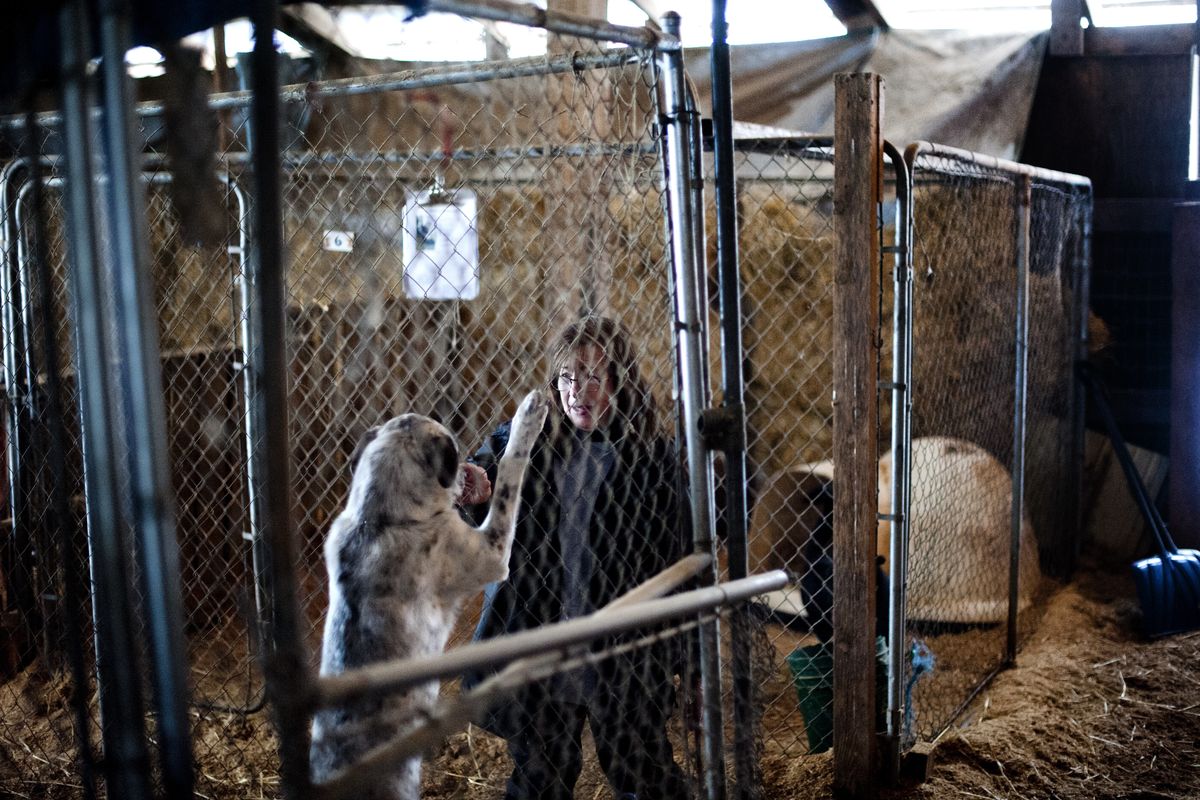 Shelter director Nancy Rose pets a dog at the Colville Valley Animal Sanctuary on Jan. 7. Rose, a full-time shelter volunteer, says the sanctuary found homes for about 800 animals last year. (Tyler Tjomsland)
COLVILLE – The scene about a mile from U.S. Highway 395 might look picturesque: a small herd of horses, standing peacefully in the gently falling snow, tucked into the evergreen landscape.
A closer look reveals a different story.
A flimsy wire fence keeps the horses in a pasture, but gates block the animals from getting to hay, which is located under the only shelter. With no people living on the property, the horses are left to fend for themselves.
It's a case that's troubled locals for years, but they say complaint after complaint has fallen through the cracks.
Stevens County has no countywide animal control program; the Sheriff's Office handles animal abuse, neglect and abandonment cases.
The Colville Valley Animal Sanctuary and smaller privately owned organizations funded through donations and adoption fees have become the safety net for those animals. But without jurisdiction to remove animals they believe need rescue, the shelters also are dependent on law enforcement.
Sheriff Kendle Allen said his deputies respond to animal abuse and neglect complaints just as they would any other call. But he hasn't specifically assigned a deputy to handle animal cases.
"We barely have enough time to get our deputies to other complaints, let alone animal complaints," Allen said. He adds that animal welfare is subjective – what one person views as criminal mistreatment may not be seen that way by someone else.
When deputies do investigate claims of neglect, he said, if the owner can bring the conditions up to par fairly quickly, the case is closed.
"We do not go back out and check once they've alleviated the problem at that time," Allen said. "It's unfortunately just the way it is."
The result: Animals are dumped across the border in Spokane County, crowding shelters, and residents take matters into their own hands, said Nancy Rose, director of the Colville Valley Animal Sanctuary.
Rose, a full-time shelter volunteer, said the sanctuary found homes for about 800 animals last year. With 15 volunteers and two staff members, her life revolves around feeding and medication schedules, rehabilitation and finding homes for animals. And it's still not enough.
"Obviously we get more phone calls than we can possibly handle because there are more animals than we can possibly take in," Rose said.
Not all callers are sympathetic to overcrowding, she said.
"It's always a threat: 'If you don't take them, I'm going to shoot them.' "
Ordinance passed, then rescinded
The Colville Valley Animal Sanctuary started as an effort to find homes for dogs that were in the city pound. As dog calls poured in from the countryside, the Colville organization expanded to try to help canines from all of Stevens County.
Then people began dropping off cats.
With nowhere to put cats, Rose built cages in the organization's office. Her own apartment, located above the office, has been transformed into a quarantine area for sicker animals.
Dogs are kept outside, either in a barnlike facility or under a tin roof with tarps covering the sides.
"This is what they think is good enough," Rose said of the county.
The city of Colville has the only government-run animal control program in the county.
It consists of one part-time police officer to handle dog cases within the city limits and a small building to house the dogs.
Police Chief Bob Meshishnek said Colville doesn't handle cases outside city limits but can accommodate a few dogs at times if the Sheriff's Office needs somewhere to put them.
The animal control officer used to be a full-time position, he said, but it was cut to part time in the 2009-2010 budget.
The chief said that officer is helping the city hold its own with dog control problems, but "it would be nice to get her back to full time."
While Stevens County has never had any kind of centralized animal control unit, it has come up as a concern before commissioners in the past.
In 2007, following a year's worth of hearings on unleashed dogs, Stevens County passed a dog-control ordinance. The local law provided guidelines for registering and keeping dangerous dogs within the county.
The next year commissioners rescinded the law to save money.
Commissioner Don Dashiell said dog control comes up a couple times every year, but budget concerns always end the conversation.
"Eighty percent of this county never calls the sheriff for animal control issues," Dashiell said. "They handle it themselves. Dogs that need help usually find help without getting the county or sheriff involved."
The dogs that find their way back home are the ones that actually have homes. The others, Dashiell said, often cause problems for farmers and ranchers. And often, those dogs are "terminated somehow," Dashiell said.
A rancher trying to protect his cattle isn't going to wait around for someone from the county to show up and deal with the dog, he added. As a result, it doesn't make sense to have a dogcatcher.
"It's actually a fairly efficient solution when there's a problem like that," Dashiell said.
'Everybody just turns their head'
Dave Richardson, director of the Spokane Humane Society, said his organization accepts animals from anywhere. But animals brought across county lines can cause crowding in Spokane County shelters and shift the financial burden of caring for the animals onto Spokane County taxpayers.
The city of Spokane pays SpokAnimal to handle its animal control services but recently decided to end the agreement and instead contract with the Spokane County Regional Animal Protection Service starting in 2014. Spokane Valley and the county already contract with SCRAPS.
Nancy Hill, director of SCRAPS, said her agency frequently gets calls from Stevens County residents looking for someone to deal with their animal problems. When she explains that Stevens County is out of her jurisdiction, people come up with their own solutions, she said.
"The next day, that description of the same animal turns up just over the line into Spokane County," Hill said. "It's just too coincidental."
Rose said she is aware of people taking animals across the border as well.
"A lot of people take things into their own hands because they're so fed up with lack of concern, lack of reason," she said of Stevens County's lack of animal control services. That sometimes includes people feeding their neighbor's pets or shooting anything that comes onto their property.
Richardson, with the Spokane Humane Society, said a public-private partnership would be ideal to handle animal control in Stevens County. He has spoken with county commissioners there about joining an agency like the Colville Valley Animal Sanctuary, but it hasn't been made a priority.
"There are quite a few private organizations up there that are helping to fill that void, but those private organizations are really underfunded, they're understaffed, and they're really overworked," Richardson said. "Somewhere along the lines there's got to be a public-private partnership in order to really secure not only public safety but animal welfare."
However, Dashiell, the commissioner, said any animal control effort in the county would be operated by the Sheriff's Office.
Rose, of the animal sanctuary, said she would like to see the county help fund some of the private organizations that are carrying the burden of the county's animal control problems.
But "everybody just turns their head," she said. "I honestly don't know what's going on."
Four formal horse complaints
Rose said one of the biggest gaps in current practice is follow-up.
After receiving complaints last summer about the condition of the horses on Highway 395, for example, Rose said she called the Sheriff's Office and was told the case had been handled. She drove to check on the horses herself and found them to be in decent condition with plenty of food.
She let it go. Then this winter she drove by again. She said the animals had no access to food. One young colt was too skinny and its hair coat too thin.
She again called the Sheriff's Office, which again informed her it was being handled.
The Sheriff's Office has taken four formal complaints since 2006 from residents concerned about the welfare of the horses. Each time deputies determined the horses required additional care but didn't call for removal of the animals.
Several other people, including Rose, say they also complained to the Sheriff's Office, but those calls aren't included in the formal reports.
The property where the horses are located belongs to a family trust; the trustee is Andrew Hydorn, past president of the Colville Chamber of Commerce.
Hydorn said he brings feed onto the property but that it is the responsibility of other family members to drop it into the pen twice a day.
He said the situation is a matter of opinion on how people think animals should be kept.
"A hundred years ago, how were horses kept? A hell of a lot worse conditions than they were today," Hydorn said. "They still survived just fine. People used them just fine."
Local journalism is essential.
Give directly to The Spokesman-Review's Northwest Passages community forums series -- which helps to offset the costs of several reporter and editor positions at the newspaper -- by using the easy options below. Gifts processed in this system are not tax deductible, but are predominately used to help meet the local financial requirements needed to receive national matching-grant funds.
Subscribe now to get breaking news alerts in your email inbox
Get breaking news delivered to your inbox as it happens.
---