Sports > Seattle Mariners
Mariners make one hit count to beat Astros
Saunders' 2-RBI double provides winning runs
Sun., July 21, 2013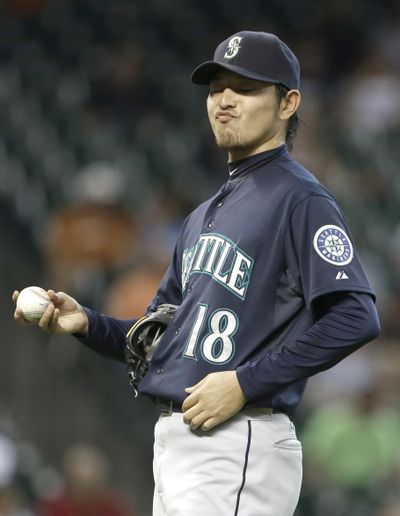 HOUSTON – Drained but delighted, bordering on delirious, the  Mariners were in full agreement on one thing after they had – somehow – pulled out  a 4-2 victory over the Astros on Saturday night.
This one was special. Special, as in a win to savor. And special, as in, you might not see another quite like this for a while.
"It's the oddest win I've ever been a part of," said Michael Saunders, whose fingerprints were all over the Mariners' fifth straight triumph.
"What a crazy game," said  Tom Wilhelmsen, who finished it off – with a major assist from Saunders – for his 21st save.
"A very unique set of circumstances," marveled manager Eric Wedge.
Houston starter  Erik Bedard, the former Mariner, worked 6 1/3 innings, not allowing a hit. And yet he was the losing pitcher as Seattle, on the strength of its lone hit in the game – a booming two-run double by Saunders off reliever  Jose Cisnero in the seventh – rallied past the Astros at Minute Maid Park.
Oh, yeah: The Mariners struck out 15 times. And they became just the second team since 1916 to score four or more runs with one or fewer hits. The White Sox did it in 1990 while being no-hit by the Yankees; but unlike the White Sox, the M's did it without benefit of any errors, though two runs were indeed unearned as the result of two passed balls.
"I would say it was the strangest game I've been involved in from Little League to the big leagues when you give one hit and punch out 15 guys and end up on the losing side of it," Houston manager Bo Porter said. "But it's crystal clear how we ended up on the losing side of it. When you walk seven guys (actually just six) and all four of their runs that score are via the walk, there's no defense for it."
Bedard walked five, and Porter lifted him, with the no-no still intact, with one out in the seventh after the lefty walked  Justin Smoak. Bedard had thrown 109 pitches, matching his season high. The score, improbably, was tied at 2-all.
"The plan was to see if he could have a quick inning," Porter said. "He was kind of at the end of the rope. Even when I went out there, I went out there with kind of a chuckle. … He goes, 'I'm done.' 'Are you sure?'
" 'Yes, I'm sure.' At that point, I took the ball."
Said Bedard: "I've had three shoulder surgeries, and I'm not going over 110 (pitches). "
Cisnero struck out pinch-hitter  Dustin Ackley, but he walked Mike Zunino. Saunders then came through with the Mariners' first (and only) hit, and made it count: A blast over the head of center fielder  Brandon Barnes and up the incongruous hill that resides out there.
Both runs scored, and Saunders wound up on second with a double, missing a triple only because he slipped rounding second.
Here's the kicker: The go-ahead run was charged to Bedard, so he wound up absorbing the loss on a night when visions of a no-hitter were alive much of the night. Though as Bedard's pitch count mounted, it became increasingly clear he wasn't going to do it alone.
For Bedard, the start was the 206th of his career, and he's thrown just one complete game. But his stuff was electric on Friday night.
"He had a great breaking ball going, a live fastball," Wedge said.
Bedard became just the sixth pitcher, dating back to 1916, to give up no hits over at least six innings and allow two or more runs. It hadn't been done since ex-Mariner Matt Young, then with Boston, in 1992.
Overshadowed early, Mariners starter  Hisashi Iwakuma prevailed for the victory, giving up two runs over seven innings. The Mariners' streak of 23 straight games with a homer ended, and so did Kyle Seager's 15-game hitting streak.
Local journalism is essential.
Give directly to The Spokesman-Review's Northwest Passages community forums series -- which helps to offset the costs of several reporter and editor positions at the newspaper -- by using the easy options below. Gifts processed in this system are not tax deductible, but are predominately used to help meet the local financial requirements needed to receive national matching-grant funds.
Subscribe to the sports newsletter
Get the day's top sports headlines and breaking news delivered to your inbox by subscribing here.
---
Subscribe and log in to the Spokesman-Review to read and comment on this story