News > Washington Voices
Bridge master plays it forward
Brenda Simpson teaches workshop for kids, families
Sat., July 27, 2013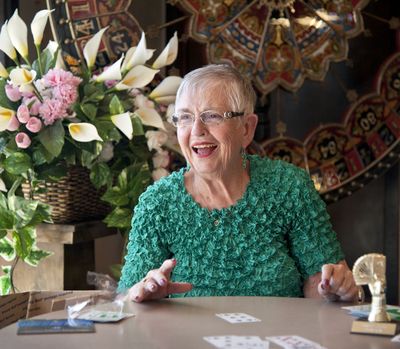 It's a card game for an older generation, but Brenda Simpson, 72, is on a mission to interest Spokane Valley kids in bridge.
"These kids are like sponges," she said of teaching the game to kids.
Simpson, who sometimes works on cruise ships teaching bridge, is a retired physical education and science teacher who left North Pines Middle School in 2001. She said she used to teach it as a class at the school.
Bridge relies heavily on math skills and teaches children to work as a team. They get to socialize and learn etiquette and manners and how to get along with others, as well as solve problems.
"Skills you have to learn anyway," she said.
She said it's also good for the older generation.
"It's so good for your memory," she said. She said bridge works much like crossword puzzles in keeping senior brains active.
Over the years, she has seen adults who have lost their spouses come to learn bridge at the senior center or at the Elk's Lodge. Bridge offers them company, camaraderie and something to do.
Simpson, now a life master, began playing bridge in her 30s, when she first moved to Spokane in 1968. She plays competitively and is a member of the American Contract Bridge League. She has also received a grant from the ACBL Education Foundation which received funding from Bill Gates and Warren Buffet, to teach bridge to kids and turned to Spokane Valley Parks and Recreation to set up the classes. The workshop is a series of four, two-hour classes at CenterPlace, 2624 N. Discovery Place.
"Bridge isn't something you can learn in one day," she said. A session is scheduled to start today. People interested in a future session should contact Spokane Valley Parks and Rec.
Kids who attend the classes receive instruction, plus a trophy, a certificate, a deck of cards and a hat. She hopes parents or grandparents will join in with the lessons so they can play at home.
"They're more than welcome to come," she said. "But they don't get a hat."
She said she has bribed her own family members over the years to learn to play by offering to take them as her assistant on the cruises she works.
"It's a game the whole family can play," she said.
She starts them off playing a card game familiar to most kids, War. Bridge combines a lot of other games such as Spades, Hearts, War and Crazy 8s.
When she teaches the actual game, she uses a coded deck that tells her exactly how to deal the cards so the same hands are at every table. For the kids, she also uses an oversized deck of cards so everyone can see what she's doing.
She spends a lot of time teaching and overseeing games, but only gets to play twice a week, which she still loves. She wishes she learned to play earlier in life.
"I liked winning," she said of those first years playing bridge. She is very competitive and enjoys the challenge.
"I'm still learning," Simpson said.
Local journalism is essential.
Give directly to The Spokesman-Review's Northwest Passages community forums series -- which helps to offset the costs of several reporter and editor positions at the newspaper -- by using the easy options below. Gifts processed in this system are not tax deductible, but are predominately used to help meet the local financial requirements needed to receive national matching-grant funds.
Subscribe to the Coronavirus newsletter
Get the day's latest Coronavirus news delivered to your inbox by subscribing to our newsletter.
---