News > Washington Voices
Landmarks: Jewelers, banks often used street clocks
Thu., June 27, 2013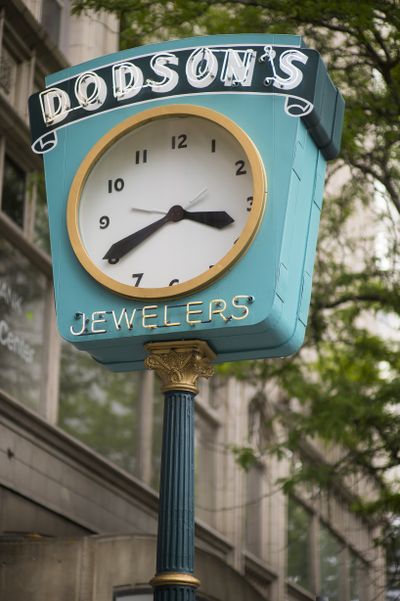 Street clocks have existed in the central core of American cities since the mid-19th century.
Also known as post clocks, these time pieces – with one, two or four faces – have most often stood outside jewelry stores or banks.
They are tradition for jewelers, especially those with long roots in a community, said Penn Fix, president of Dodson's fine jewelers, the oldest family-owned jewelry store in the Pacific Northwest.
Located at 516 W. Riverside Ave. in downtown Spokane, Dodson's twin-faced clock in its free-standing cast iron case sits atop its original cast iron pedestal just outside the front door, as it has since 1987 – and before that when it was located across the street in Dodson's previous location in the now-demolished Mohawk Building.
Dodson's was founded by jeweler and engraver George Dodson in 1887 in a building adjacent to The Spokesman-Review building at Riverside Avenue and Monroe Street. A different clock stood outside until Spokane's great fire of 1889 consumed 32 city blocks.
Although its building was not burned, in 1890 Dodson's moved into the Mohawk Building down the street at 509 W. Riverside Ave. – but with a new pedestal clock.
And then when the Mohawk burned in 1914, Dodson's reopened in the second Mohawk building, built at the same site, and remained there until its across-the-street move to its current location.
How the current Dodson's street clock came to the company is lost to time, Fix said, but he recalls that it was originally an unadorned round-face clock. A metal shell and lighting were added, Fix isn't sure when but believes it was in the early 1950s when the store was remodeled.
Originally it – like all early street clocks – was operated with weights and a pendulum, but it was modernized to keep time with an electric motor. David Stillman, a clock repairman in Spokane, regularly cleans and repairs the clock, which he identifies as a Seth Thomas timepiece. Seth Thomas was one of the earliest manufacturers of street clocks in America. Other Seth Thomas clocks in Spokane include the clock on the second floor of the Davenport Hotel and the Burlington Northern Clocktower timepiece in Riverfront Park.
Use of these clocks for advertising was especially popular in the first few decades of the last century. But by midcentury, as city streets began to see more and more vehicles and neon lighting became more in vogue, the clocks began to be viewed as obsolete, relics of an earlier and old-fashioned time. In some areas efforts were undertaken to remove them to help increase pedestrian flow.
Fix, grandson of Dodson's founder, said when they moved their clock and its pedestal from across the street – with the appropriate permits and permissions in hand – there were those in the downtown area not so happy about the clock. So as not to cause a stir, they made the move at 3 a.m. Of course, there has been no problem ever since, and the clock remains a well-recognized landmark – along with the street clock outside U.S. Bank at Riverside and Stevens Street and the one in front of the Great Western Building near Riverside and Lincoln Street, among others.
Each of the downtown clocks does more than just tell time. Every one has a story of its own, the telling of which is also the telling of the story of Spokane and its people, many of whom walked by and checked their pocket watches against the post clocks as they set about building an Inland Northwest city, a hub of commerce in a growing nation.
Local journalism is essential.
Give directly to The Spokesman-Review's Northwest Passages community forums series -- which helps to offset the costs of several reporter and editor positions at the newspaper -- by using the easy options below. Gifts processed in this system are not tax deductible, but are predominately used to help meet the local financial requirements needed to receive national matching-grant funds.
Subscribe now to get breaking news alerts in your email inbox
Get breaking news delivered to your inbox as it happens.
---