News > Spokane
Man backing wolf laws brings badly hurt dog
Thu., March 21, 2013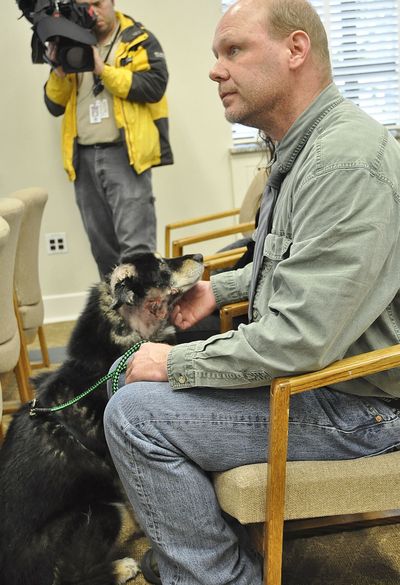 OLYMPIA – The key witness at a hearing Wednesday on whether Eastern Washington needs new laws on wolves didn't say a word.
Shelby, a 6-year-old Siberian Husky mix, sat or lay quietly while county commissioners, cattlemen and wildlife officials warned about the growing danger posed by wolves in Eastern Washington. Then she followed her owner John Stevie to the witness table, where he explained how the 60-pound dog knows about wolves firsthand.
One attacked her on the porch of Stevie's home outside Twisp 10 nights earlier.
Stevie told the House Agriculture and Natural Resources Committee he let Shelby out in the evening and awoke a few hours later when his bigger dog inside the house was going crazy and Shelby was whining on the porch. He looked outside to see a wolf – he estimated it weighed more than 100 pounds – with Shelby's head in its mouth. The larger dog charged out and the wolf let go of Shelby, jumped off the porch and ran.
"She's got holes all over her head," Stevie said of Shelby, who made her appearance with large parts of her head and neck shaved. "Another four seconds and she would've been dead."
One of the two bills the committee heard Wednesday would allow a person in some areas of Eastern Washington to shoot a wolf causing an "immediate threat" to people, livestock or pets without first obtaining a permit. That permit, now required, shows steps have been taken to reduce the likelihood of such attacks. The other bill would provide funding to pay for livestock losses caused by wolves.
Sen. John Smith, R-Colville, the sponsor of the bills, agreed that preventive measures need to be tried, as a wolf-management plan suggests.
But the wolf population in Eastern Washington is growing much faster than the plan anticipates, he said. The proposed law only covers the areas of the state east of U.S. Highway 97. West of that, wolves are still relatively rare and a permit would be needed.
Washington had five wolf packs in 2012, said Dave Ware of the state Department of Fish and Wildlife. Now it has 11 packs. The state spent $750,000 on wolf management programs last year; at the current rate of growth of the wolf population, it might spend $2.3 million this year.
The department supports the proposed law, Ware added, and doesn't think it will affect wolf recovery in the state.
Jim DeTro, an Okanogan County commissioner, said Eastern Washington has a wolf problem. He told legislators to "separate your egos" from the issue: "It is time for you to stand up and pronounce that the reality check has bounced on the philosophical, progressive, liberal ideology of this situation."
If the Legislature doesn't act, commissioners in some Eastern Washington counties are prepared to declare a state of emergency over the increasing wolf population, DeTro said.
But Diane Gallegos of Wolf Haven International, a sanctuary for the animals in Tenino, Wash., said the law already provides enough nonlethal options to keep wolves at bay, such as using air horns or shooting over their heads. Dogs can be attacked by all sorts of predators, and pet owners need to keep them close, she said.
Stevie said his family has the two dogs at their 40-acre spread in part to protect them from wolves and other predators. When his 12-year-old son goes outside, the dogs go with him.
"Wolves aren't even afraid of you," he said. "I will protect my son whether this bill goes through or not."
The two wolf bills passed the Senate earlier this month.
Local journalism is essential.
Give directly to The Spokesman-Review's Northwest Passages community forums series -- which helps to offset the costs of several reporter and editor positions at the newspaper -- by using the easy options below. Gifts processed in this system are not tax deductible, but are predominately used to help meet the local financial requirements needed to receive national matching-grant funds.
Subscribe to the Coronavirus newsletter
Get the day's latest Coronavirus news delivered to your inbox by subscribing to our newsletter.
---