News > Spokane
Race filled with big, small moments
Mon., May 6, 2013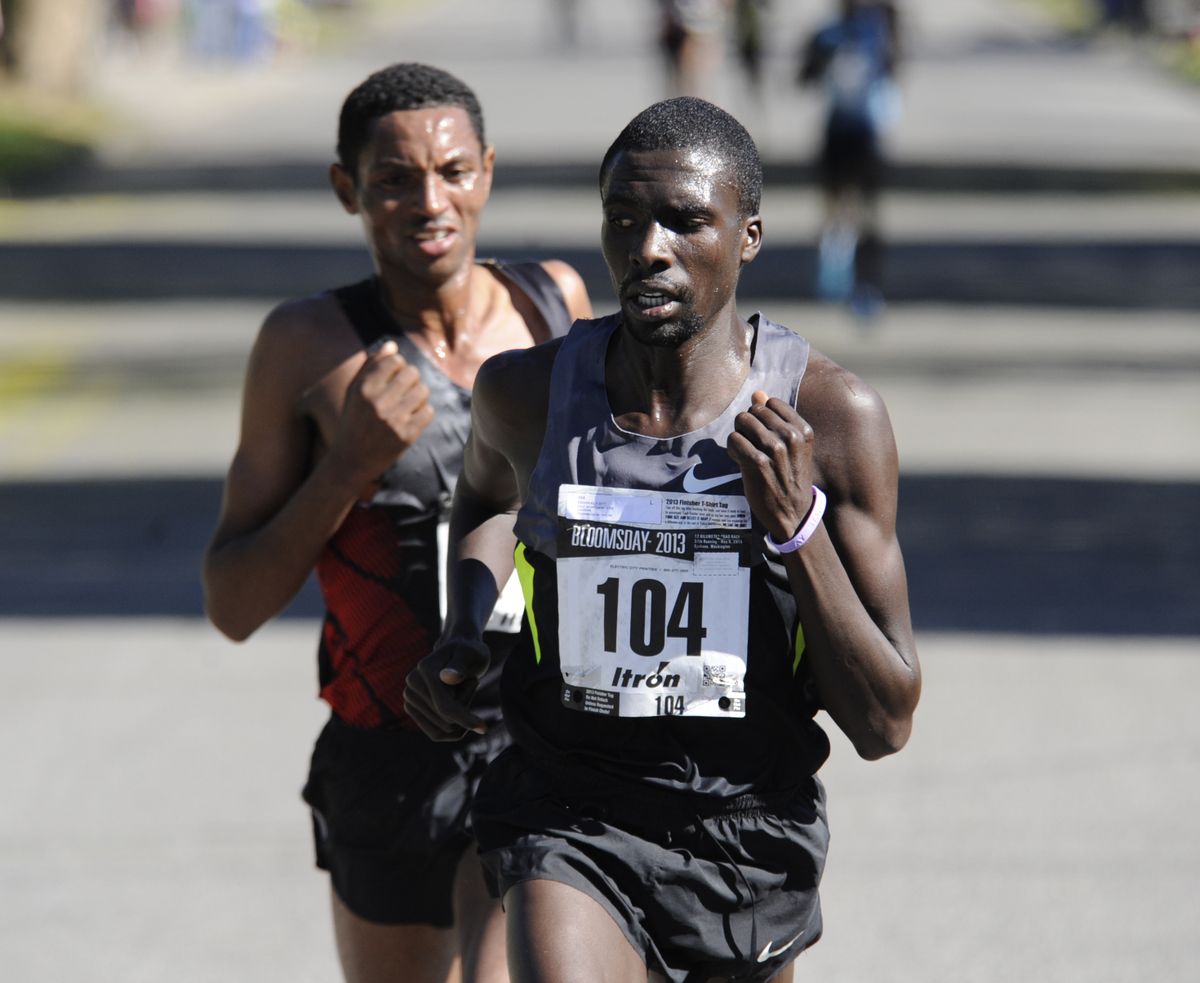 Kenyan Emmanuel Better, right, looks back at eventual winner of Bloomsday 2013, Ethiopian Balete Assefa, left, running south on Lindeke Sunday, May 5, 2013 at Bloomsday 2013. It was a two-man race for the last half. (Jesse Tinsley / The Spokesman-Review)
Seventy-eight-year-old Dora Saw, of Spokane, ran her second Bloomsday race Sunday with the help of two wooden canes. She moved faster than just walking, so "ran" is apt. Her husband, Spokane physician Eng Chuan Saw, was ahead of her and Dora was keeping up not far behind.
"I use them to protect my knees," Dora Saw said of the canes.
Giving the 'Inside' scoop
Runner Bill Iffrig, the Lake Stevens man knocked down at the finish by the first Boston Marathon bomb, finished Bloomsday in about 1:02. "A little slower than last year," said 78-year-old Iffrig, who ran while his wife, Donna, walked the course.
Iffrig has run in more than a dozen Bloomsdays and has usually won his age group. How he finished wasn't available as of Sunday afternoon.
"Inside Edition," the TV news magazine, sent a crew to Spokane to interview and film Iffrig during the run. The interview will air on the syndicated show this evening, Iffrig said.
No laughing matter
A band member playing on Broadway Avenue got a few terrified looks from runners when he jokingly announced over loudspeakers: "There's been an addition to the course. They've added two more miles." He added shortly after, "Just kidding!"
Finisher line
Doug and Patti Kearsley brought out their Bloomsday T-shirt display Sunday. It sports 29 of the 37 Bloomsday finisher shirts, strung side by side like a prayer flag.
Doug said he has stopped running, but Patti went out Sunday to get the 2013 T-shirt.
Runners would see the display at about the 1-mile mark, on the north side of Riverside Avenue. Many who saw it waved a greeting toward Kearsley standing along the sidewalk.
Bolt from the blue
Sarah Duncan got a surprise as she walked across the finish line: a proposal from her boyfriend of four years, Jim Goforth.
The Issaquah, Wash., couple walked the course with several family members, including Goforth's elementary school-age daughter Gena, who was trusted with the proposal secret but only for the last leg of the race.
"I'm just shocked and really happy," Duncan said.
Gena told her father he "did a good job." She joked, "I just hope they don't have any more children."
Boston remembered
Patriotism was on display for the race, given the tragedy in Boston's race last month. One man had "Boston" and "Spokane" written on his chest and was wearing American flag shorts.
One house along the route displayed dozens of American flags across a fence.
Others sported Boston and Red Sox gear, along with shirts specifically acknowledging the Boston attacks.
Chief's first Bloomsday
Spokane police Chief Frank Straub experienced his first Bloomsday, spending all day on the course.
"I'm a little upset I didn't get to run it or walk it or crawl it," Straub said. "But I got to watch it."
He said he had fun and that it was a testament to the city that they could pull off such a large event.
Sweet incentive
A house at the top of Doomsday Hill has become famous for its free doughnuts.
Edward Sather said he comes to his friend Ben Cosby's house every year to watch the race, and every year, the price of admission is at least a dozen doughnuts to hand out to runners.
This year, Sather said, they went through about 50 dozen doughnuts, which were gone in about an hour.
Local journalism is essential.
Give directly to The Spokesman-Review's Northwest Passages community forums series -- which helps to offset the costs of several reporter and editor positions at the newspaper -- by using the easy options below. Gifts processed in this system are not tax deductible, but are predominately used to help meet the local financial requirements needed to receive national matching-grant funds.
Subscribe now to get breaking news alerts in your email inbox
Get breaking news delivered to your inbox as it happens.
---