News > Washington Voices
Heylman work part of Mother's Day tour
Architect pleased with home's owners
Thu., May 9, 2013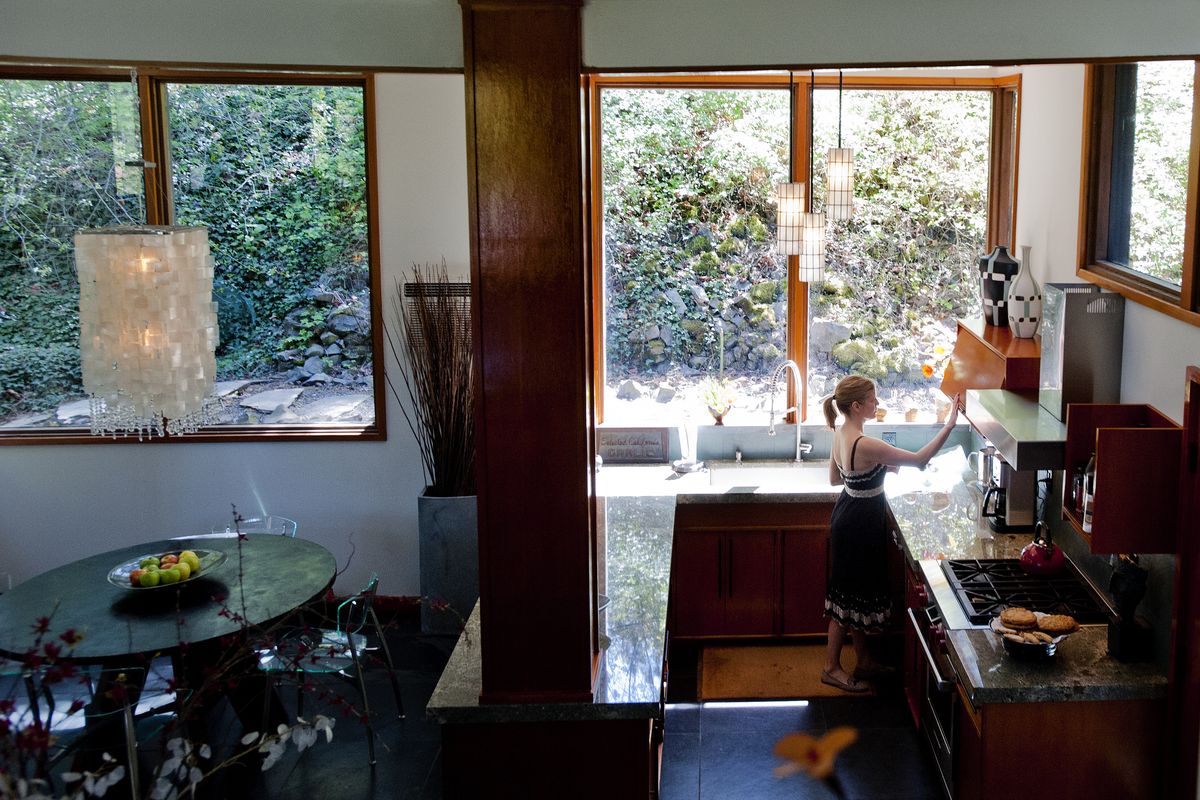 Kate Odorizzi works in the kitchen of the South Hill home she shares with Pat Smith on Thursday in Spokane. The early 1950s home designed by architect Warren C. Heylman will be part of the Mother's Day Home Tour. (PHOTOS BY TYLER TJOMSLAND)
Considering that Spokane architect Warren C. Heylman designed the downtown Parkade, Spokane International Airport and the Spokane Regional Health District building, just to mention a few of his many public projects, it may come as a surprise to some that Heylman also designed and built midcentury modern homes in the 1950s.
One of those is located at 2020 E. 18th Ave. and it is part of the annual Mother's Day Home Tour this weekend put together by the Northwest Museum of Arts and Culture.
On a recent Thursday afternoon, Heylman came back to visit the house he designed and built on a $20,000 budget – including the lot – in 1954.
"I feel very good coming back to this house," Heylman said, while walking through the open and airy home. "So often you come back and you don't even recognize the house you built, but you've done a great job here."
That made current owners Pat Smith and Kate Odorizzi beam.
The couple have gently and carefully restored the house, which sits nestled into the slope north of Southeast Boulevard. With its open floor plan, flat roof and very tall, bare windows the home is a textbook example of midcentury modern design.
Standing on the top floor and looking out over the kitchen and dining area, the windows on the south side of the house show off the huge trees and ivy-covered hillside just outside. What was originally a concrete floor has been replaced with black slate tile and new cabinets – carefully copying Heylman's original design – by Smith and Odorizzi.
From the outside, the home has the classical midcentury modern boxy profile. Smith and Odorizzi added a weathered copper trim around the flat roof, and they are working on an outside cooking and dining space off the kitchen to the west of the home.
The home was built for Dorothy and Norman Wells, who requested "an exhilarating" living space when they contracted with Heylman.
He chuckles while looking at the original drawings and the contract.
"There was nothing fancy about this house," Heylman said. "We were on a tight budget. That's why we put in concrete floors and we used vertical grain fir for the doors – there was no extra money."
The home features hot water baseboard heating, which took some tinkering when Smith and Odorizzi bought the place.
"The previous owners were running the heating system off a hot water heater," Smith said. "It got so cold in here. We had to put in a real boiler to get it to work."
Heylman said he probably built 20 homes in Spokane, but he's not sure.
"I never liked the business end of things much," Heylman said. "I just wanted to sit around and draw. I think in shapes – that's just how my head works."
Heylman said he got some inspiration from famous American architect Frank Lloyd Wright, but designing buildings with straight lines and right angles isn't his preferred style.
"I like curves, but curves are expensive," he said with a chuckle.
This year's Mother's Day home tour features six midcentury modern homes located north of 29th Avenue, east of Grand Boulevard and south of 15th Avenue, and the tour is meant to complement the MAC's midcentury modern design exhibit.
Odorizzi and Smith were delighted to finally meet the creator of their home and look forward to being on the home tour.
Asked if they've done anything special to prepare for the showing, they both laugh.
"We are having a big garage sale before the tour," Odorizzi said. "We are getting rid of a lot of stuff that was cluttering things up, so in that way the tour has been good for us."
Local journalism is essential.
Give directly to The Spokesman-Review's Northwest Passages community forums series -- which helps to offset the costs of several reporter and editor positions at the newspaper -- by using the easy options below. Gifts processed in this system are not tax deductible, but are predominately used to help meet the local financial requirements needed to receive national matching-grant funds.
Subscribe now to get breaking news alerts in your email inbox
Get breaking news delivered to your inbox as it happens.
---