Sports
Lines should play major factor in EWU-MSU game
Big Sky star attraction starts between tackles
Fri., Nov. 8, 2013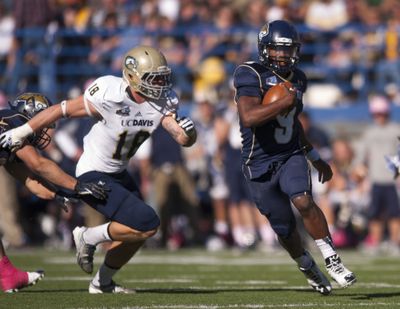 Once you get past the hype, you still have to get past the line of scrimmage. That's Beau Baldwin's message for today's showdown between Eastern Washington and Montana State, a game that will probably be won between the tackles on both sides of the ball. The Bobcats have been doing that for years, even with two-time Big Sky Conference Offensive MVP DeNarius McGhee at the controls – regardless of the opponent or the stakes. The stakes couldn't be much higher today at sold-out Roos Field, where the third-ranked Eagles and No. 4 Bobcats (both 5-0 in the Sky and 7-2 overall) will play for sole possession of first place with two games remaining. "We're excited," Eastern coach Beau Baldwin said. "And not to get into coaching clichés, but you want to treat each game the same." Today, that means dealing with perhaps the most efficient offense in the Big Sky, which averages 237 yards passing and 203 on the ground. The Bobcats have shared three straight conference titles partly because of the dual threat of McGhee and a strong running game, this year led by Cody Kirk (894 yards, with 5.3 yards per rush and 16 touchdowns). "I like their (Eastern's) front, they're very tough up front, but our offensive line is bigger and stronger than it's been in past years," MSU coach Rob Ash said. "We've been able to fix the running game since early in the season and be pretty effective at that." Ash had an assignment for offensive coordinator Tim Cramsey. "I'd like 14- to 16-play drives that end in a touchdown. That's what we're going to try to do," Ash said. Easier said than done. Last year in Bozeman, the Bobcats ran the ball 52 times … for 70 yards. It fell to McGhee to win the game. Instead, he was intercepted twice, the second time on a pick-six by Jordan Tonani that wound up being the winning score. "You never know what kind of defense you'll see until the ball is snapped," McGhee said earlier this week. This game could play out the same, with Eastern's stout defensive line and linebackers forcing MSU to the air against an Eastern secondary that will be missing at least two of its top three safeties. "We are definitely in a spot right now where we will be playing some young players, and some guys might be moving position-wise," Baldwin said. If that invites the Bobcats to take a few more shots downfield today, Ash said he isn't buying it. "We can't go dialing up new things that we haven't worked on," he said. The Eastern offense, on the other hand, is getting almost two-thirds of its yardage through the air, with spectacular results. Redshirt sophomore quarterback Vernon Adams is the top-rated passer in FCS with a staggering 185.6. Through nine games, Adams has completed 197 of 298 pass attempts for 3,078 yards, 35 touchdowns and nine picks. "There's a lot of different video to watch, and everybody's tried different things," Ash said. "They're just a good football team, and they've handled everything that they've seen so far." While the yardage is almost 2-to-1 passing, the Eagles have run the ball 321 times and thrown 312. "You can't lose track of their run game," Ash said. "If you do, you're going to have a major problem in the game. They like to get in two tight ends, create a lot of gaps, and come off the ball and get after you." MSU's defense is among the best in the conference, ranking second of 13 teams against both run and pass. Defensive end Brad Daly leads the nation in sacks and tackles for loss. Opponents are averaging just 137 yards on the ground, and MSU is fourth in FCS in turnover margin at plus-12 after nine games. "They do a great job of tackling and they do a great job of finding ways to put pressure on the quarterback," Baldwin said. On the other hand, the Bobcats have struggled in recent weeks, including a fourth-quarter, 35-28 comeback win last week at Northern Colorado. "We just have to come out with high energy right away," EWU center Ashton Miller said.
Notes
Special teams have been a big factor in the last two meetings. MSU kicked five field goals in a 36-21 win in Cheney in 2011 – the Eagles' first loss on the red turf. Last year, trailing by four points early in the fourth quarter, the Eagles blocked a punt for a touchdown to take the lead for good. A few minutes later, the Bobcats missed a crucial field goal. This year, MSU leads the nation in kickoff returns with a 29.0-yard average. … Since 2010, MSU is a league-best 26-3 in conference games, while Eastern is 24-5.

Local journalism is essential.

Give directly to The Spokesman-Review's Northwest Passages community forums series -- which helps to offset the costs of several reporter and editor positions at the newspaper -- by using the easy options below. Gifts processed in this system are not tax deductible, but are predominately used to help meet the local financial requirements needed to receive national matching-grant funds.
Subscribe to the sports newsletter
Get the day's top sports headlines and breaking news delivered to your inbox by subscribing here.
---