News > Washington Voices
Savannah Hoekstra's goals push Bears to strong start
Sat., Oct. 5, 2013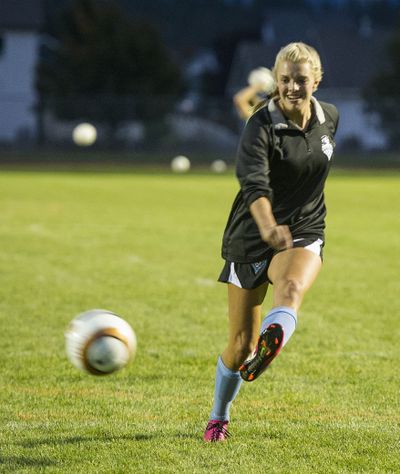 You cannot overlook Savannah Hoekstra.
That's both a warning and a fact of soccer life at Central Valley.
The 5-foot-10 senior center forward with sprinter's speed and a constant smile was the Greater Spokane League's Co-Offensive Player of the Year as a junior, and she's picked up where she left off a year ago – scoring six goals in the Lady Bears first eight games as CV has rolled to 7-0-1 record.
What makes that start even scarier for opposing defenses is the fact that Hoekstra's not the only goal scorer to be worried about. Freshman Kelsey Turnbow, who netted a hat trick in the 3-1 win over University on Wednesday night, also has a half-dozen goals and senior Sara Grozdanich already has five goals – all of them scored in an 8-0 win at Rogers.
"I love the start of the new season and seeing what our new freshmen can do," Hoekstra said. "It's exciting. Some of them I've played with in club soccer so I'm really familiar with them."
Hoekstra said she remembers what it was like to be a freshman soccer player at CV.
"I was afraid to talk to anyone," she said. "I didn't know anyone and I was afraid to talk. I remember what it was like, so I go out of my way to try to talk to them and make them feel comfortable. I think that has to be the responsibility of the leaders on a team. You have to make the new girls feel like part of the family."
When you're new and battling for playing time, she said, you have to play hard.
"I think you have to be aggressive and go for it when you're fighting for playing time," Hoekstra said. "We all want playing time and you have to go for it."
With just four seniors lost to graduation, there have only been a few new additions, but the new team members have filled those positions with new skills.
Not eligible for the first two nonleague games in the Tri-Cities to start the season, Hoekstra said she enjoyed watching the newcomers fight for the four open spots left by graduation.
"I drove down to watch the second game (at Pasco) and I really enjoyed watching these young kids fighting for a spot in the lineup," she said. "What I especially like is seeing what qualities they bring to the team. Sometimes it's a little more speed, sometimes it's a little more aggression at a spot. It's great to see how it can all fit together."
Central Valley coach Andres Monrroy loves to call the GSL a U-18 league, meaning that it's a league that plays a tough, physical game dominated by 17-and 18-year old players.
"It really is just that," Hoekstra said. "When you're a freshman trying to play against older players like that, you do have to be ready. I think most of us have experience playing up from being in club soccer and always playing on older teams."
The Lady Bears have an advantage as they defend their league and district championships from a year ago: experience.
"We've all been together now for several years and we haven't had to fill very many positions," Hoekstra said. "That experience is so important to us. We know each other so well – we know where each other are going to be, how we each want to get the ball and where we want the ball.
"We fit together so well that it's really fun to play together – especially because we all know each other."
Central Valley is gunning for a third-straight berth in the state tournament.
"We're concentrating on playing one game at a time right now because we're not going to get to the playoffs if we don't win now first," Hoekstra said. "But I do think we're ready to face the kind of competition you see in the playoffs. As tough as it is to play the physical game of the GSL, it's even tougher in the playoffs.
"The teams coming from Seattle are especially tough. They play all their games on turf and they're so fast. I think we can step up our game to play with them because most of us all play on club teams that play in Seattle quite a bit so turf isn't new to us. In fact, I love playing on turf because they game is so much faster.
"But I do think it would be interesting for those Seattle teams to have to come over here and play us on grass."
Local journalism is essential.
Give directly to The Spokesman-Review's Northwest Passages community forums series -- which helps to offset the costs of several reporter and editor positions at the newspaper -- by using the easy options below. Gifts processed in this system are not tax deductible, but are predominately used to help meet the local financial requirements needed to receive national matching-grant funds.
Subscribe to the Coronavirus newsletter
Get the day's latest Coronavirus news delivered to your inbox by subscribing to our newsletter.
---
Subscribe and log in to the Spokesman-Review to read and comment on this story