News > Spokane
Home day care providers, state clash over stricter rules
Sun., Sept. 8, 2013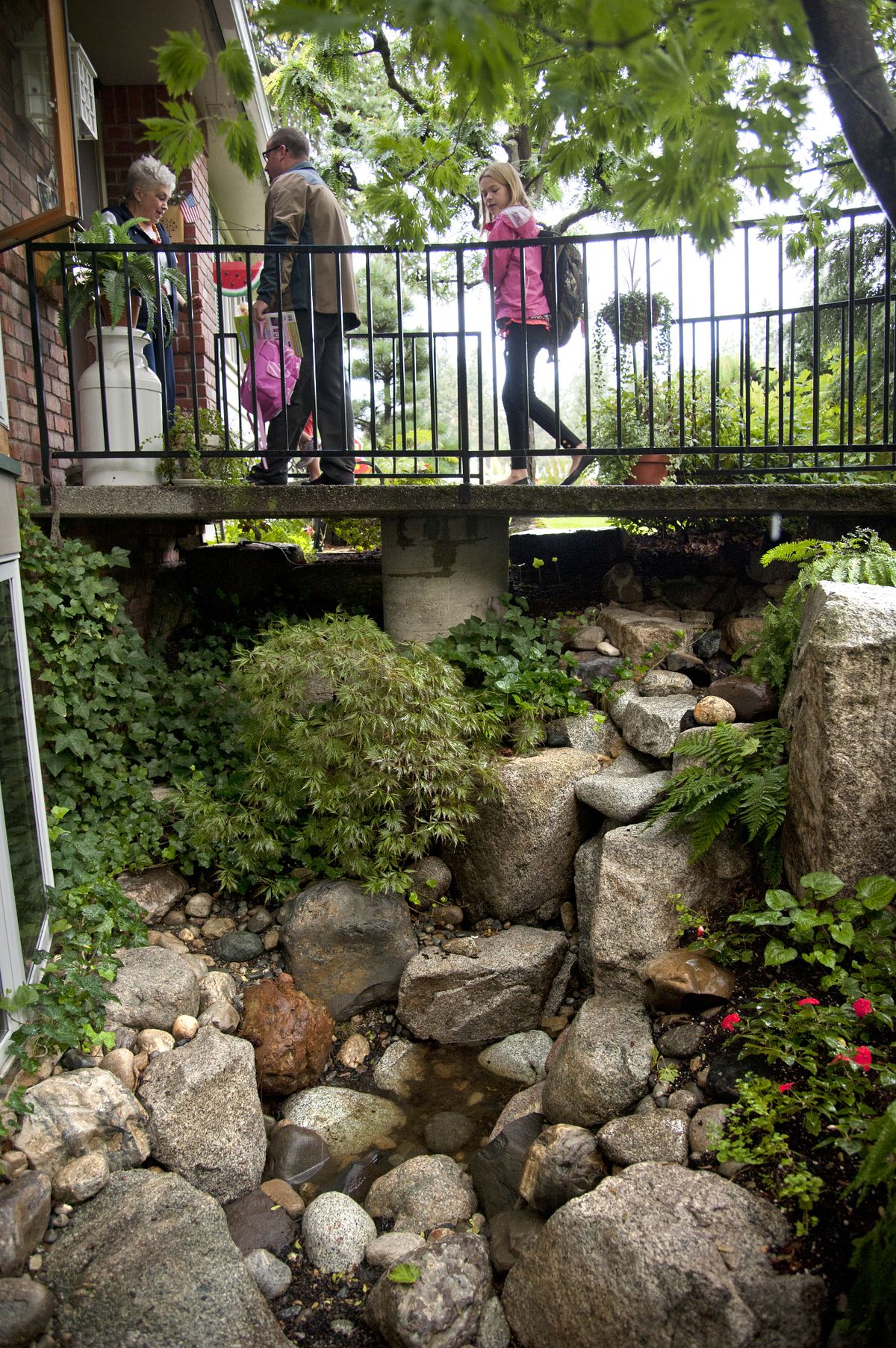 Day care provider Liz Kocherhans greets Jason Harris and his daughters Kendall Harris, 4, hidden, and Kaitlyn Payne, 10, right, as they cross over the water feature in front of her northwest Spokane home on Thursday. Kocherhans was ordered by the Department of Early Learning to shut the water feature off and drain it during business hours. (Dan Pelle)
Each of the child care providers gathered in the backyard of Gib and Liz Kocherhans' north Spokane home has a story.
The Kocherhanses, who own this single-story rancher where children have played for more than 20 years, point to the water feature in their front yard that's been deemed dangerous.
Genie Kennedy, an in-home provider caring for 12 children, details the fire escape her husband gave up a day of work to build along the wall of their first-story bedroom window.
The rocket ship playground equipment in Tim and Shannon Benn's front yard has been the source of many headaches.
The stories involve scrutiny by the state's Department of Early Learning, a Cabinet-level organization some say was created to bully family day care providers out of the market and pave the way for the spread of larger, corporate day care centers.
They point to a precipitous decline in home day cares, from 8,600 licensed businesses in 1996 to about 4,100 last year. The department, meanwhile, says the drop is a reflection of the economic downturn. Whatever the reason, the number of Spokane-area children in licensed day care has fallen by 30 percent since 2008.
"The public should be furious," said Tim Benn, a Spokane child care provider who last year led a failed campaign for the state Legislature as a Republican, running chiefly on a platform promoting child care providers' rights.
Benn and others met last month at the Kocherhanses' home to launch an advocacy group, Parents & Providers 4 Children. The group will mount legal defenses on behalf of home day cares as they deal with more robust regulations that took effect last year – regulations the Early Learning Department says are designed with safety in mind.
Yet department officials say they're working on improving the regulatory relationship between licensers and the homes they serve.
Couple ordered to drain water feature
The Kocherhanses have lived in their North Side home for 40 years, and Liz Kocherhans has operated a day care for more than half that time. The babbling water feature in their yard, lined with stone and 2 feet deep, was created in the early '90s. It drew the attention of the Associated Garden Clubs of Spokane and graced the pages of The Spokesman-Review four years ago.
Shortly after, the Department of Early Learning citations started.
"They came for the first time in 2009," Liz Kocherhans said. "They tightened the screws on us."
In response to requests that the couple drain the water feature because it posed a drowning hazard, the Kocherhanses said it was located outside the licensed boundaries of their day care. Instead, they adopted a safety plan barring children from touching the front door and requiring kids to hold their parents' hands when crossing the bridge leading to the house. But with revised regulations taking effect in March 2012, prompted by the drowning death of a Western Washington toddler in a pond across the street from his day care, unlicensed areas became subject to safety standards.
Last month, the department closed the Kocherhanses' business until they drained the water.
"When they came at 5:10, I still had three families," Liz Kocherhans said. When the children left the home, representatives from the department were on hand with a hotline number for parents to arrange care for the next day, Kocherhans said.
The closure didn't last long. The Kocherhanses contacted Benn and state legislators to meet with the Department of Early Learning and develop a plan to reopen. With their backing, children were allowed to return to the Kocherhanses' in August.
"Those politicians moved us in a direction we could never have done on our own," Liz Kocherhans said.
A compromise allows the Kocherhanses to turn on their water feature on the weekends, when kids aren't present.
Rep. Marcus Riccelli, D-Spokane, accompanied the Kocherhanses and said he was pleased with the outcome.
"I thought there was a lot of common sense," Riccelli said.
But other providers have questioned that common sense since the state rules were revised.
Rules developed with providers' input
New day care regulations were designed in consultation with home care providers, child care center staff, health professionals and social workers, said Amy Blondin, government and community relations manager for the Department of Early Learning. The 100-plus pages of regulations represent up-to-date practices for child safety, Blondin said.
"The rules are stringent. That is by design," Blondin said. "They're not meant to be punitive. They're meant to be based on research."
Preventing injury and death are the chief goals of the new rules, Blondin said. The state's Family and Children's Ombudsman investigates child fatalities in Washington and has released reports yearly since 1997.
Four years ago, the ombudsman office began cataloging deaths occurring at state-licensed day cares. Nine children have died since 2009. The state reports 37 children have died since 1997 at Washington day care facilities – 33 at home-based day cares.
One of those deaths was a 1-year-old Spokane boy in March 2000 whose licensed home caregiver left him in a car seat on her bedroom floor for more than three hours.
The boy died of asphyxiation after the car seat tumbled over, and the caregiver pleaded guilty to second-degree manslaughter for her involvement.
Service Employees International Union Local 925 disputed the rule-making process shortly after the new regulations were released. The Seattle-based organization said the rules did not reflect the consensus reached during the meetings.
Blondin said she thought about 90 percent of rule changes proposed by home providers made it into the final regulations. On the other 10 percent, the department couldn't budge, she said. The department is sensitive to the passion of the home care providers, she added.
"This is their business, and this is also their private home," she said.
Genie Kennedy's home now includes a platform beneath a first-floor bedroom window that serves as a fire escape.
The regulations require "a deck, landing or platform constructed to meet current building codes" if the distance between the window sill and the ground exceeds 4 feet.
But Kennedy, the Kocherhanses and other providers say fire marshals have told them first-floor windows are for firefighters' entry to a home, not the exit of inhabitants. Kennedy's husband, a contractor, also could find no relevant code to guide his construction of a residential first-floor fire escape. He took a day off work to complete the job for his wife.
"It would have cost thousands of dollars," said Kennedy's husband, Dan.
A tense relationship
Tim Benn knows the Department of Early Learning isn't his biggest fan.
The father of three helps run a day care out of his home near Cooper Elementary with his wife, Shannon. After what he considered harassment by the department, Benn declared the playground separate from his licensed day care area. Every trip to the front yard is now technically considered a "field trip," Benn said.
"It shouldn't be adversarial," Benn said of relationships with in-home inspectors, who are required to visit providers unannounced every 18 months. "It shouldn't be a power struggle."
The Benns have felt that way since the department was created in 2006, taking over licensing duties from the Department of Social and Health Services. Bob Kerwin assumed duties as the department's regional administrator of licensing for Eastern Washington in the fall. The former State Patrol officer said he inherited an environment that was contentious.
"It wasn't as settled as it could be," Kerwin said. "I think there was a lingering impression of an antagonistic environment."
Kerwin said part of the problem has been discrepancies in enforcement and standards statewide. That's an issue the department has been trying to correct since 2010, following a directive from the state's Joint Legislative Audit & Review Committee to create a uniform health and safety compliance checklist that would apply to child care, from state-funded preschools to in-home providers.
Kerwin said regional administrators meet regularly to discuss enforcement in their areas and are working on a process to inform potential providers of how rigorous the licensing process can be.
"We don't want the provider to think, every time we're calling, we're here to find a problem with you," Kerwin said.
Choice for parents
The legislation establishing the Department of Early Learning calls for the agency "to respect and preserve the ability of parents and legal guardians to direct the education and development of their children." Department officials said promoting options, including home care, is a goal in the licensing process. Both Kerwin and Blondin said a majority of providers praise efforts by the department to keep kids safe and home day care doors open.
"We need providers from all walks of life," Kerwin said.
Blondin shared department data that showed after new regulations were put into place last year, the number of home day cares in Spokane jumped to its highest level in four years. However, the number of both day care centers and home-care businesses has continued its plunge this year. Department statistics show 176 home day cares and 149 child care centers in the Spokane area in the fourth quarter of 2013, down from 330 homes and 245 centers at the beginning of 2008. In total, about 13,000 children are in licensed day care in the Spokane area, down from about 18,000 five years ago.
Rep. Riccelli said he wants to see raw numbers before deciding whether the department's regulations might be forcing home providers out of business.
"I can't sit here and say (the recession) didn't play a part in it," Riccelli said. And he wants more than anecdotes to guide policy, he said. While the nuts and bolts of the regulatory process may be in dispute, Riccelli said, there's a common origin for the passion of all parties.
"We need more access for quality child care," Riccelli said. "I think everybody on every side of the issue agrees on that."
Local journalism is essential.
Give directly to The Spokesman-Review's Northwest Passages community forums series -- which helps to offset the costs of several reporter and editor positions at the newspaper -- by using the easy options below. Gifts processed in this system are not tax deductible, but are predominately used to help meet the local financial requirements needed to receive national matching-grant funds.
Subscribe now to get breaking news alerts in your email inbox
Get breaking news delivered to your inbox as it happens.
---