News > Spokane
Hayden Meadows Elementary puts new focus on technology
Thu., Sept. 12, 2013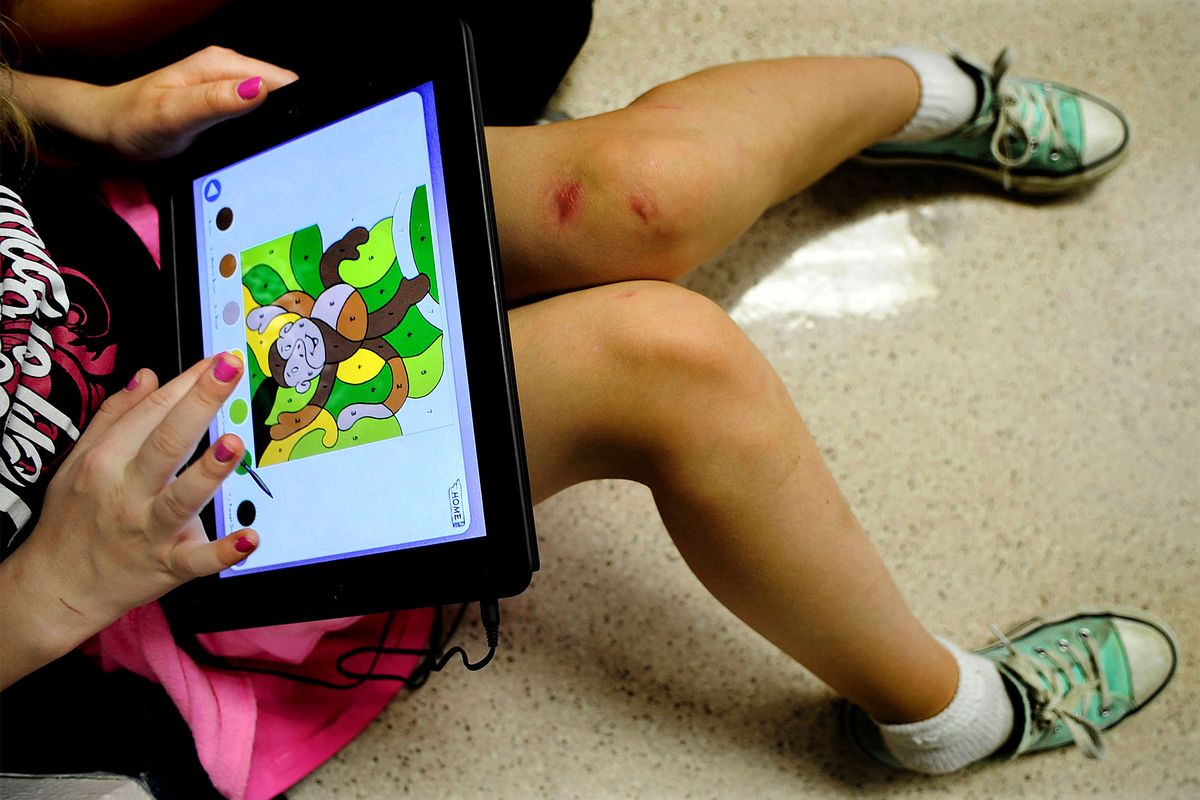 Hayden Meadows Elementary second-grader Josey Damron works on an iPad during class on Tuesday in Hayden. Students, parents and teachers are embarking on a new curriculum emphasis: technology. (Kathy Plonka)
Some North Idaho fifth-graders sat in their school library earlier this week and chatted with students across town on a brand-new video-conferencing system.
Before long they may use the high-end equipment to embark on virtual tours of distant museums, drop in on classrooms around the world or watch a team of surgeons at work.
"It's very exciting. This opens up so much for us," said Lisa Pica, the principal at Hayden Meadows Elementary School.
Down the hall, second-graders sat quietly on their classroom floor, absorbed in interactive math programs on new iPads. They handled the tablets with the skill of a teenager.
These are the first steps Hayden Meadows is taking toward an embrace of technology as a central focus of the school, like science and art are emphasized at other schools in the Coeur d'Alene district.
The Hayden Meadows staff has been busy unpacking new gadgets, many of them purchased through grants and fundraising, that will transform teaching and learning at the school.
"Our teachers are very technologically savvy, and they wanted more technology in the building," Pica said. "And a lot of it was driven by what they already knew – the inquiry-based learning that we have been providing for many years and the research."
The new focus also dovetails with the new Common Core standards for Idaho schools that are intended to better prepare graduates for the challenges of higher education and today's workforce.
"It just felt like this fits with what Hayden Meadows is all about, and it is a direction the state of Idaho is heading," Pica said. "It will provide a tool for students to really be able to go to that deeper level."
The shift to technology came quickly in the aftermath of a Coeur d'Alene School Board decision a year ago to sever the school's association with the Primary Years Programme, which is affiliated with the International Baccalaureate program.
In a controversial move that angered teachers and many parents, the board voted last October to pull PYP out of Hayden Meadows and direct school officials to find something to replace it.
Pica huddled with her staff to devise a new direction. "Technology just came to the forefront," she said. Parents were consulted and largely support the new emphasis, she added.
Jennifer Hunt, mother of three Hayden Meadows students, is closely involved in the school's new direction. Putting laptops and iPads in the hands of students will enrich classroom lessons, she said.
"Having technology at their fingertips really helps them with that real-time information to aid in those discussions," Hunt said.
She also said parents will have a vital role in helping secure grants to buy more technology for the school.
"It's going to take a lot of parental participation to make this work," Hunt said. "We need to find the money."
The school is in the early stages of this change, starting with training teachers about the devices and what they can do with them. One of the first grants allowed the school to buy 28 iPads – one for every teacher. They spent much of the summer getting familiar with the tablets and taking courses through the University of Idaho.
"So a lot of our professional development is teaching teachers how to use technology in the classroom," Pica said. "That's where our real focus this year is going to be."
Kelli Ogle, a fourth-grade teacher and tech leader at the school, is barreling ahead full steam. Her students use iPads to record themselves reading passages and reflect on their technique upon replay. They also can take screen shots of their work and email it to Ogle for review.
She maintains a blog where parents can watch videos of classroom activities. In the evening, students jump on the blog to help each other with their homework.
Before long Ogle hopes to have them file homework in digital portfolios, "so you can have a record of the stuff they've done instead of papers everywhere," she said.
Hayden Meadows already has a computer lab but soon will have a second one – a "mobile lab" with 32 new laptops. Each classroom will have an interactive whiteboard. The school will have a wireless Internet network installed by Nov. 1, and more iPads are on order. Pica said her goal is to get an iPad in the hands of every third-, fourth- and fifth-grader.
In time, technology will be infused in just about every aspect of a student's experience at the school. And while that may sound revolutionary, it's really just meeting students in the world in which they already live.
"This is what they know," Pica said. "They're born and it's around them, and so many of our kids have iPhones, they have iPads or they're used to using their parents'. They're not afraid of it at all."
"At the same time it's not going to take over," said Andrea Naccarato, advanced learning teacher at Hayden Meadows.
The relationship between teacher and student will remain the most important element, Naccarato said. "The technology can never replace a teacher."
Local journalism is essential.
Give directly to The Spokesman-Review's Northwest Passages community forums series -- which helps to offset the costs of several reporter and editor positions at the newspaper -- by using the easy options below. Gifts processed in this system are not tax deductible, but are predominately used to help meet the local financial requirements needed to receive national matching-grant funds.
Subscribe now to get breaking news alerts in your email inbox
Get breaking news delivered to your inbox as it happens.
---