News > Spokane
Illusionist escapes straitjacket, trap at downtown mall
Sat., Sept. 21, 2013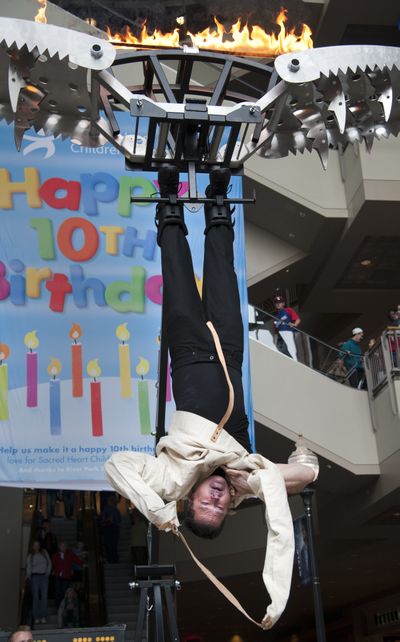 A straitjacket. A flaming rope. A 1,200-pound steel trap. Jay Owenhouse faced all three Saturday as he attempted to break the world record for escaping a six-buckle straitjacket while hanging upside down in River Park Square. Owenhouse said the record, originally set by legendary escape artist Harry Houdini, is 90 seconds. Dramatic music filled the mall atrium as the seconds ticked by. Shoppers peered over the railing of the upper floors, watching as Owenhouse was tied by his feet to the spiked metal trap held open only by a burning rope. Owenhouse struggled to escape the straitjacket, grunting as he pulled his arms over his head. "The hardest thing for me is to stay focused mentally," Owenhouse said later. After about two minutes, Owenhouse tore the straitjacket off, turned himself upright and dropped to the ground below. A moment later, the rope broke and the trap snapped shut with a bang. The crowd cheered as Owenhouse waved. It took him 2 minutes and 18 seconds to escape. "Unfortunately it does not look like I broke the record," he said. "But I'm just glad to be alive." Owenhouse will perform his illusionist act at the INB Performing Arts Center on Saturday at 4 p.m. and 7:30 p.m.
Local journalism is essential.
Give directly to The Spokesman-Review's Northwest Passages community forums series -- which helps to offset the costs of several reporter and editor positions at the newspaper -- by using the easy options below. Gifts processed in this system are not tax deductible, but are predominately used to help meet the local financial requirements needed to receive national matching-grant funds.
Subscribe now to get breaking news alerts in your email inbox
Get breaking news delivered to your inbox as it happens.
---