News > Washington Voices
The Verve: Freuen mixes forms, utilizing clay and drawing
Thu., Sept. 26, 2013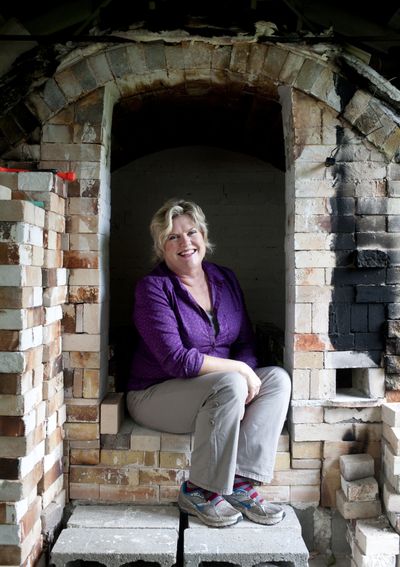 In a large detached studio on her property near the Little Spokane River, Gina Freuen contemplates the past, the present and the future – all coming together using a pencil, carving tools and chunks of clay.
She shares her findings and tells her stories through her finished products, sculpturally and narratively driven vessels and teapots. Known for her teapots, Freuen describes the form as figurative and ceremonial.
"It's used during quiet and contemplative moments, through the act of sharing a cup of tea or giving one's self the moment for a cup of tea, providing a level of solace, healing and connection."
Freuen was raised in Walla Walla in an environment of farming, gardening, books and fine art. Her mother raised seven children on a teacher's salary, offering art lessons in their basement to help out with the budget. Freuen enrolled at Pacific Lutheran University, initially thinking that she would focus on drawing, but walking by the ceramic studio every day led her in a different direction.
"I paired up my passion for clay with lots of drawing, in fact, I was given a graduate teaching assistantship in drawing, not ceramics," she said. She graduated with a bachelor's degree in fine art and has been studying her craft ever since doing some graduate studies and long and involved workshops. "Ceramics has one of the longest learning curves of all the arts."
Since settling in the Spokane area about 30 years ago, Freuen has immersed herself in her craft and the local art scene. She co-founded ArtFest and served as the event's director for 10 years and was instrumental in the creations of Spokane Art School and Inland Craft Warnings. She has exhibited her work at dozens of venues, has curated shows including the Northwest Atmospheric Ceramics Invitational at the Jundt Museum, has been featured in many publications, and has won awards including a Gap Grant from Washington State Artist Trust.
Currently, her work is featured at the Art Spirit Gallery in Coeur d'Alene, the Island Gallery on Bainbridge Island, and Earthworks Gallery in Yachats, Ore.
Recently, she became involved in Trackside Studio, 115 S. Adams St., where she will be curating a Northwest Ceramics Invitational in December and January. On Saturday, Freuen's studio will be one of four studios open during the Little Spokane River Artist Studio Tour.
Freuen's work is a catalyst for thought and contemplation. Her earlier works tended to be brightly painted and whimsical, reminiscent of fairy tales and children's dreams. Lately, her work has moved into the realm of more adult fairy tales, earthy colors created by the firing process rather than paint, and rooted in the human experience.
Carved within the clay, she shares her stories not in words but universal imagery including figures that seemingly float around the vessel, looking for hope, for solace, for love, for endings, and perhaps for a spoonful of sugar.
Local journalism is essential.
Give directly to The Spokesman-Review's Northwest Passages community forums series -- which helps to offset the costs of several reporter and editor positions at the newspaper -- by using the easy options below. Gifts processed in this system are not tax deductible, but are predominately used to help meet the local financial requirements needed to receive national matching-grant funds.
Subscribe to the Coronavirus newsletter
Get the day's latest Coronavirus news delivered to your inbox by subscribing to our newsletter.
---